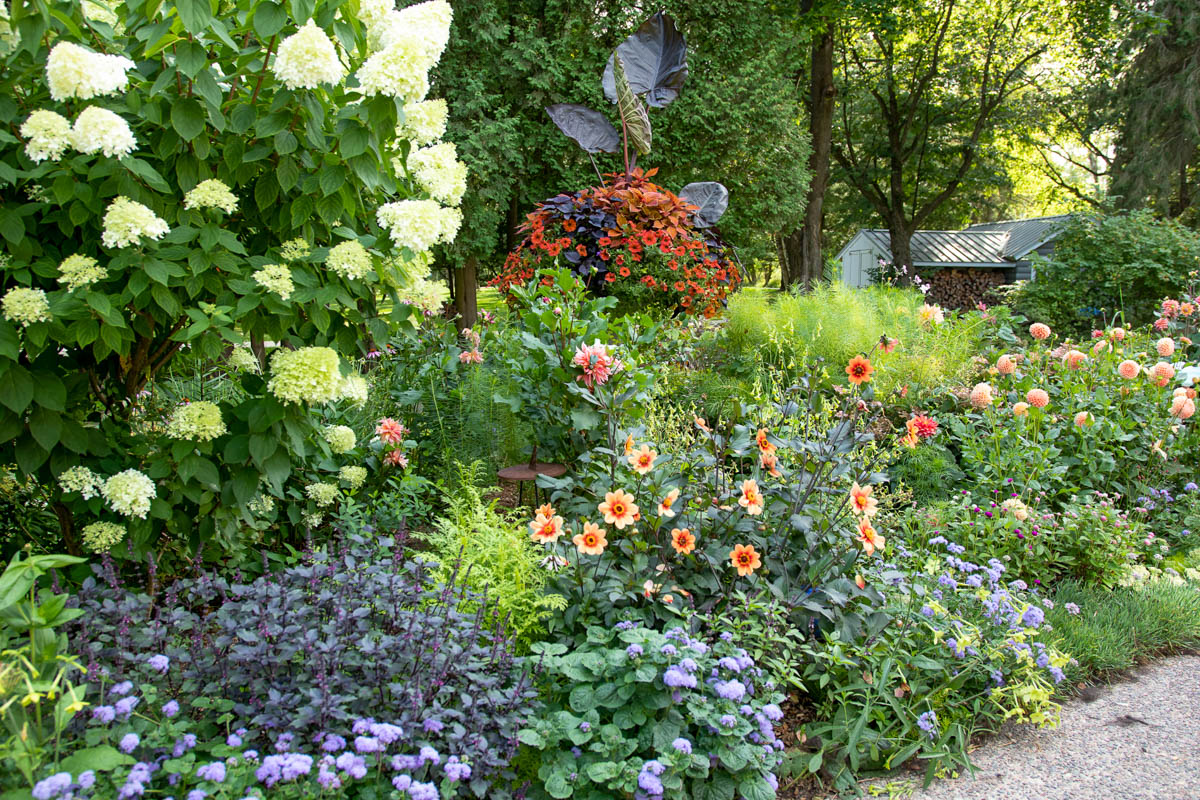 Thank you to Longfield Gardens for sponsoring this post and feeding my love of dahlias.
Over the next couple weeks I will go through all the dahlia tubers I overwintered and plant them up in pots along with all the new tubers I just had to have. Starting dahlias in pots works well for me in part because I mostly grow them as garden plants. 
I realize how strange that sounds. Of course they are plants, but sometimes the diva reputation of dahlias leads gardeners to think they demand segregation, their own perfect little plot of land where they can do their amazing flower thing without the hoi polloi flowers from the rest of the garden interrupting their show. But I'm all about plant inclusion here so you won't find any dahlia-only areas here.
Some dahlias are certainly better suited for such garden mingling. Shorter varieties that need less aggressive staking and particularly those with beautiful foliage work best. Some of the big flowering "dinnerplate" dahlias, which are often quite tall, can be just too much look to fit into a border, but it can certainly be done.
I'm always sensitive to texture in the garden and most dahlias fall into a medium texture category, which for me can translate to sort of a busy look. I get around this by planting dahlias in clusters, usually several of the same variety, but occasionally planting very similar varieties together. 
Although I don't do as much of it as I should, planting dahlias with a foliage accent is another great look. In my garden the Amsonia hubrechtii in the middle of the bed provides great texture contrast with its fine needlelike foliage that turns golden yellow in early fall when the dahlias are still blooming. An obvious combination would be to grow some tropical foliage like cannas or colocasias, especially purple-leafed varieties, next to dahlias to let those amazing flowers shine.
Truth be told, I'm in favor of mixing all kinds of plants together in the garden, and that goes for dahlias combined with annuals and even edibles. I love how one of my favorite dahlias, 'Crichton Honey' looks with 'Wild Magic' basil (a patented, sterile variety I buy as plants every year). 
GOOD VARIETIES FOR GARDEN GROWING
You can incorporate any dahlia into your garden, but I like some better than others for this purpose. The dahlias that offer a little something extra, such as dark foliage, always get a gold star for garden worthiness. Among my favorites are 'HS Date' (shown above), but you could go for a softer color palette with something like 'Bishop of Dover'.
The very easiest dahlias to incorporate into a garden are the Gallery series of very short  varieties that never need staking. In my experience they are also the first to start to bloom and they keep going all summer. Make sure to place them at the front of the bed so they don't get lost. 'Gallery Art Nouveau' is a favorite of mine, but if you're looking for something a little less punchy 'Gallery Serenade' would work beautiful in almost any color combination.
Ball dahlias are probably my favorite form, but there's something about the unexpected shapes that really creates a great look in a garden. The singles and collarettes, which I think of as singles that have been fancied up a bit, offer a nice contrast to more complicated flowers and a great way to create some color echoes in the garden. 'Impression Fantastic' would look stunning combined with some delicate white flowers, or even a small yellow-flowering plant. Since it's short it won't need any staking.
Dahlias might have a diva reputation, and I won't lie that for some varieties, it's well-earned, but so many varieties are no more difficult to grow than anything else you might plant in the garden. So grow them there!