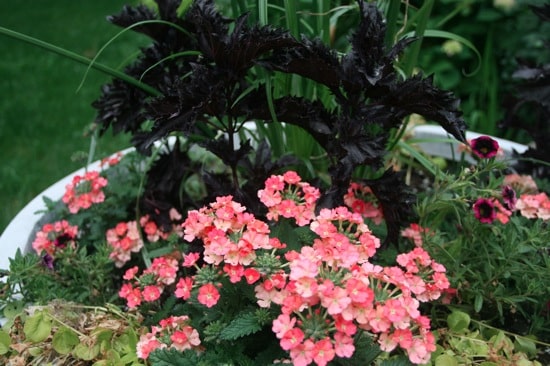 Sometimes plants work together. Sometimes they fall a bit flat. In general I find that plants that work best together exhibit contrast, either in color or texture.
Here are a few combos I found in the garden this weekend.
Here is Proven Winners Superbena Royale Peachy Keen with purple ruffles basil (and you can see Blackberry Punch in there too). This is in my big container which I haven't shown you much of because it's not looking too spectacular this year. Peachy Keen, though is showing off now.


 
Don't you love it when you turn around in your garden and, WOW, something catches your eye. That was the case with one of the frilly red poppies that seeds itself quick happily around the place. The seeds originally came from a co-worker  and at least four of us at work now grow them. For all of us, the first ones popped open on Saturday, which is pretty interesting because other things in our gardens can be two weeks or more different in blooming time because of the microclimates at our houses. I call them "Carolyn's Magic Poppies" which sounds pretty bad if you don't know what we're talking about.


 
I have a few growing in a corner of the circle garden that I've been trying to turn into a red and yellow garden and despite the ketchup and mustard comparison, I do love how these bold poppies look next to Heliopsis Loraine Sunshine.


 
I'm finally accepting more yellow into my garden after banning it for awhile (more on that soon) and one of the unlikely combinations I've fallen in love with is pink and yellow. One of my favorite plants that I was sent by Proven Winners for their garden writers' trials this year (in which they send plants for the next year's introduction) is Superbells Cherry Star. I'm a sucker for a bright fuschia flower and I love it with a sunny yellow. And I love it even in more in a blue pot. I wish I could say I came up with the combination of Cherry Star and Nemesia Sunsatia Lemon, but I didn't. I stole that baby right from Proven Winners because I loved the photo on their website. I couldn't find three Sunsatia Lemons, so the middle pot has Mecardonia Gold Dust, which was one of my favorite PW introductions last year.


I have very informal (to a fault, lately, given the amount of weeds taking over the joint) gardens, so it's ironic that one of my favorite spots in the garden is probably the most formal area of the garden. It's a tricky spot on the west side of the house, in front of the fireplace wall, which I think creates a testy microclimate. I've tried (and lost) both a rose and a Japanese maple in this spot. Now it's a combination of a witch hazel shrub (just a baby, as it was added last year, and I'm not sure exactly which one it is), heuchera Black Beauty and hakonechloa All Gold (which I've read is "overused" but I don't give a rip, I love it). There is also heuchera Miracle in the background but that doesn't really add much to the equation. Certainly it's the combination of the dark leaves of Black Beauty against the chartreuse of All Gold that makes this area pop.


 
And sometimes, Mother Nature makes her own combinations that don't follow any rules at all but just look good. Somehow a pulmonaria seeded itself in a piece of driftwood "art" in the garden a few years ago. I left it there because I thought it was kind of neat how it grew up through the driftwood. There is no reason why it should be blooming right now, but it is, and so is clematis recta Pamela, which I let creep around the garden. For whatever reason I love how the combination of the delicate white flowers of Pamela combine with the pink bell-shaped flowers of the pulmonaria against the rugged driftwood. There is no design rule in the world that says that those two flowers should look good together (or be blooming in the same place together for that matter), but I like it.


 
So what great plant combinations are growing in your garden this year?
 
Proven Winners sent me a selection of plants for review as part of their Garden Writers testing program. I have not been paid or instructed to write about them. All of the opinions on them expressed here are completely my own.