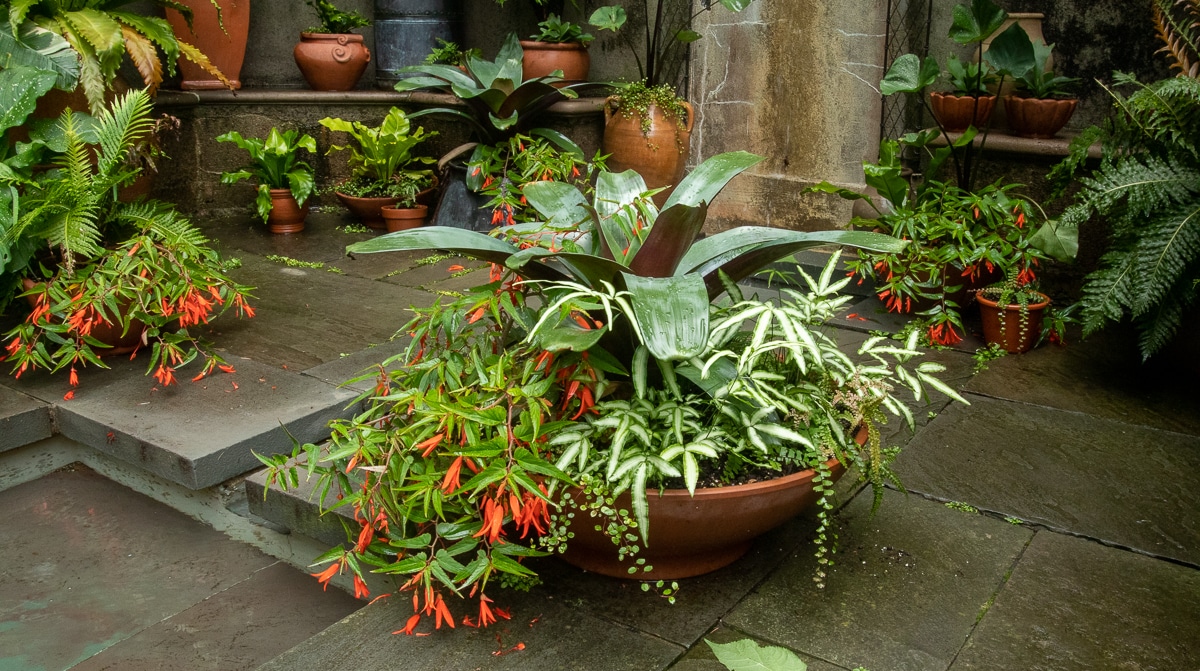 I always say that the best thing I do for my garden is get out of it. Visiting other gardens never fails to provide the kind of inspiration I can't find anywhere else. What is always interesting is that the photos I take on these visits continue to provide inspiration long after I've left, as I study the details of the images. Sometimes I take a picture because something is appealing to me, but it's not until I dissect what's happening that I get a better feel of why I liked that part of a garden. 
Looking back at photos from a trip to Pennsylvania a couple years ago I found so much container inspiration, not just in how they were planted but also how they were used. 
This cluster of pots at Longwood Gardens functions as one pot. Repeating plants, colors (just silver-blue, maroon-purple and a little hint of lavender) creates a massive display with a focus on texture. Note that the pots are all the same color and general style, but a good variety of sizes. Anyone with less restraint (that would be me) wouldn't be nearly as successful in pulling this off.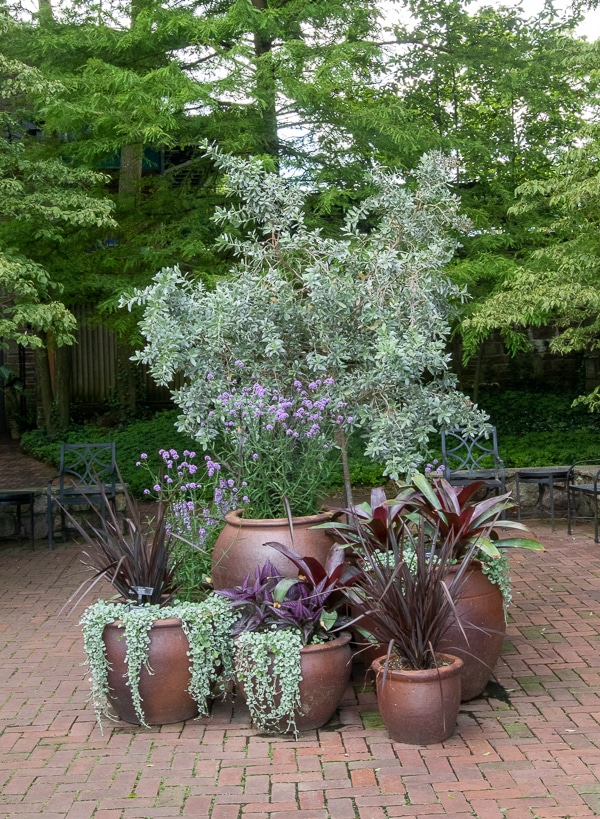 These pots that hovered over a garden bed really caught my eye. The plants in the ground are all chartreuse, with only texture to great interest. But then you throw in these floating pots with kelly green and red and the whole picture changes. Of course all that strappy foliage has a very tropical feel to it which is pretty fun too. Farther over in the bed, the read in the container is brought into the garden with the orange-red caladiums (second picture).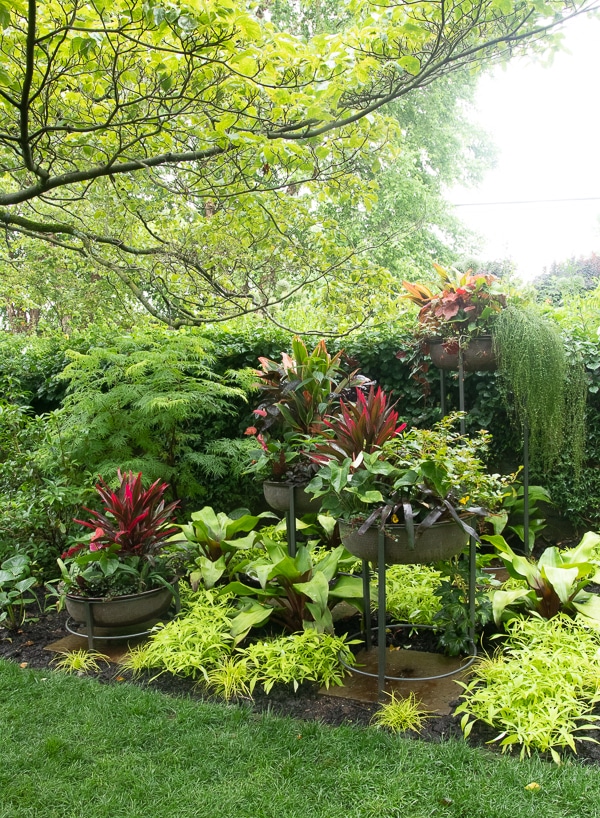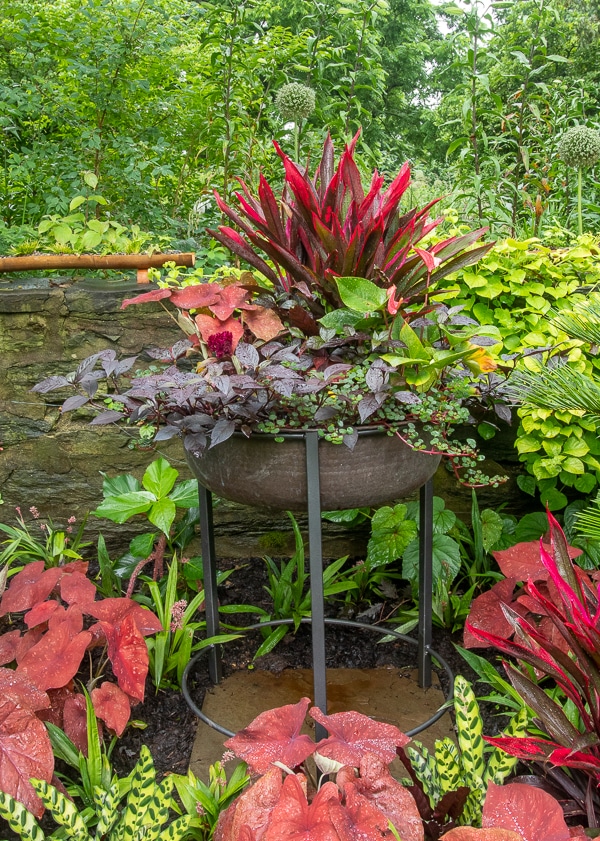 I love this scene and let's be clear, it would be great without the planters, but the wavy edge on these pots seems to echo the flowing feel of the hostas and hakonechloa. The pots are planted simply so they don't draw attention away from what's happening around them.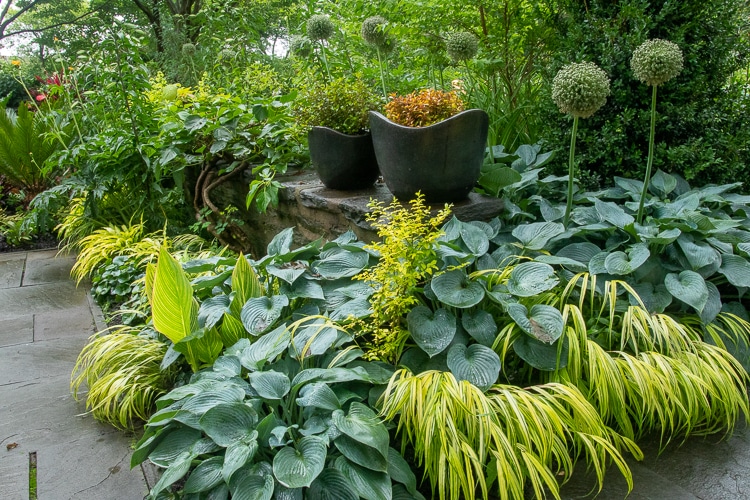 I thought this was such a clever idea. Here a collection of containers is used to block a drive. But rather than just stack a line of pots up (which would keep out utility vehicles), the pots are offset and planted with tall trees and bamboo to create a visual barrier that manages to blend in with the foliage in the garden beds.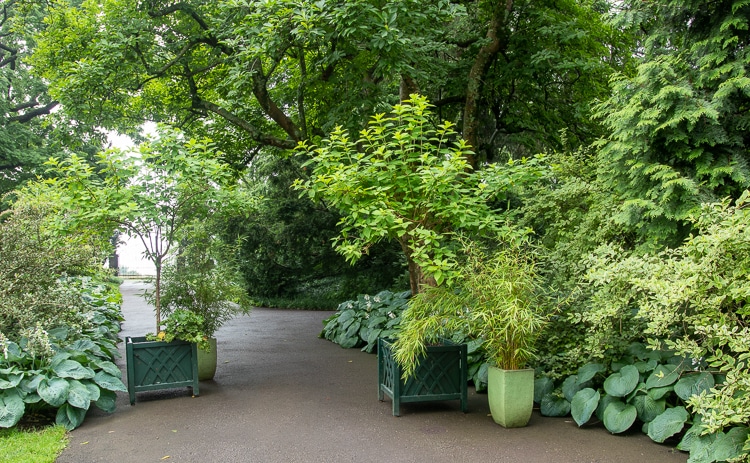 Classic orangery planters are certainly fitting for Longwood's conservatory but what was notable about this scene was how perfectly proportioned the trees (Italian cypress). Proportion is so important with containers and is not something to be brushed over.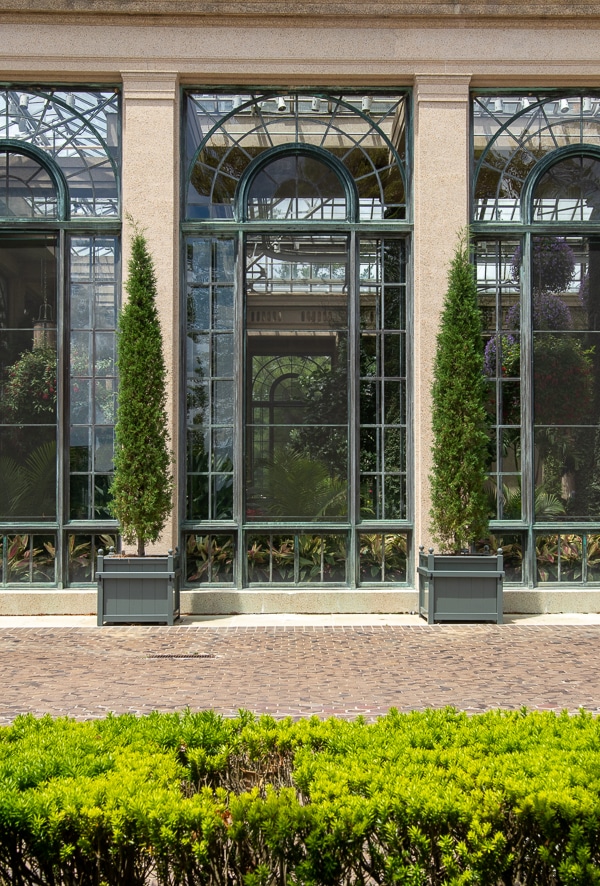 This scene is perfect, right? It is certainly inviting, but I think the thing that makes so good is actually the little hint of imperfection you see in the pots that flank a walkway to whatever lies beyond that hedge. See how they don't match? And it's not just that they are different colors, even the shapes vary slightly. If I were shopping for pots for this spot I would have gone nuts if I could find a matching pair. But no, it's so much better that they don't match. There's a just a hint of casualness there and of course they both reflect that gorgeous pool and copper roof. I never would have thought of it, but that's why the folks at Chanticleer do it better than just about everybody. Note, too, that the pots are not planted, which is definitely the right call in my mind. (Bonus points for noticing the see kale in the foreground also picking  up the turquoise theme.)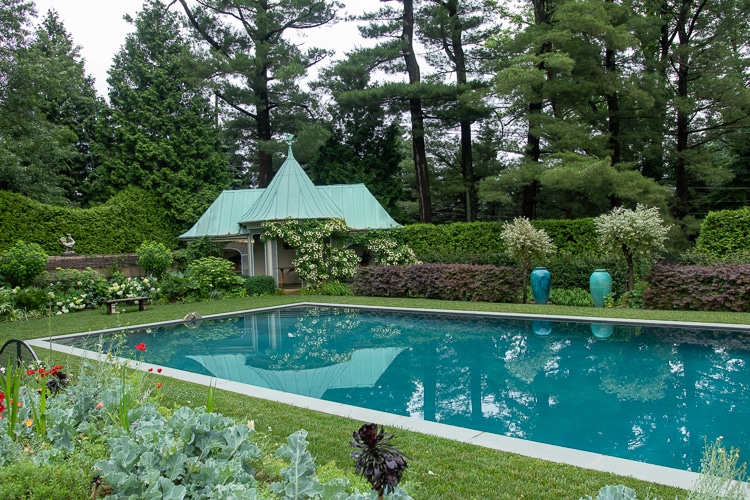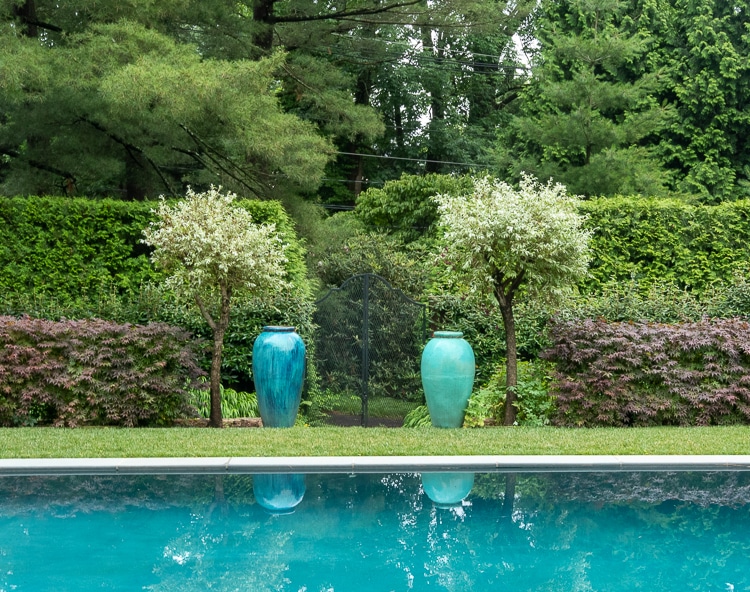 What if you didn't plant something in a pot, but let something grow up a pot? Well it turns into a bit of living art and I love this moment.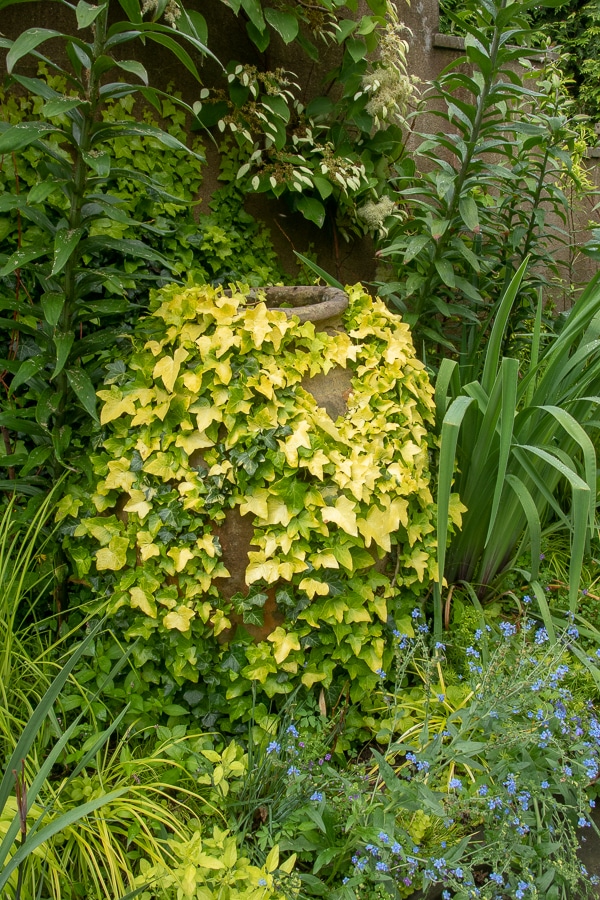 Certainly the container idea that stuck with me most from Chanticleer was their collection of pots used for floating flowers. I incorporated the idea into my own garden later that summer.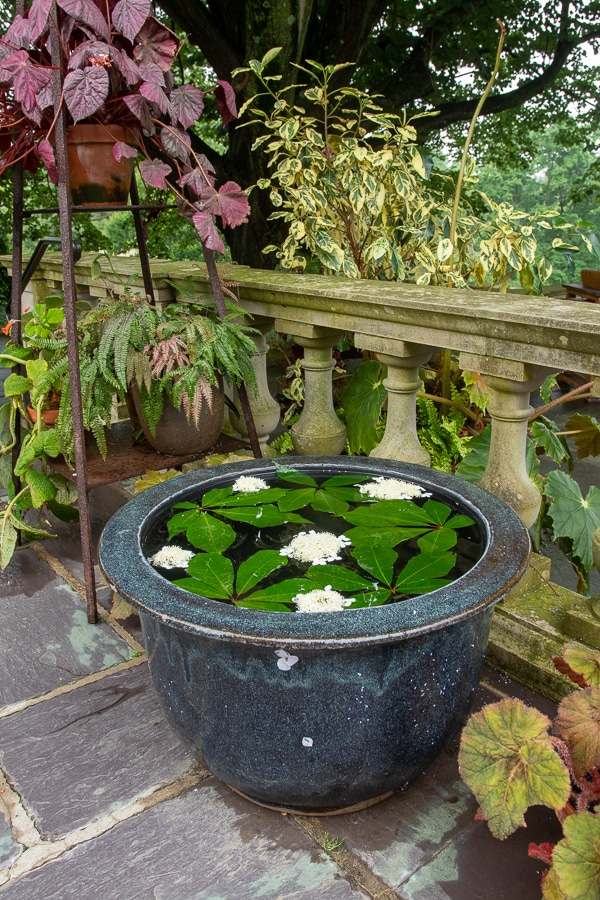 A mini water garden was equally charming.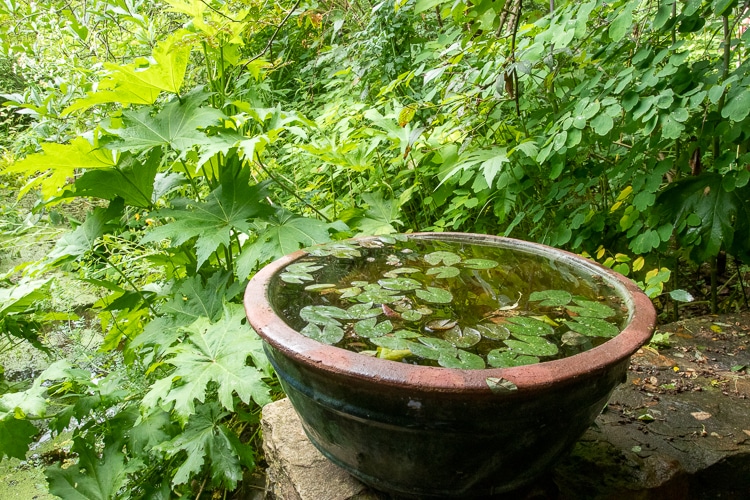 I know this is a fountain, but the effect is the same as a pot. Note how the paving draws your eye to the apex of the fountain and the path beyond mimics its curve.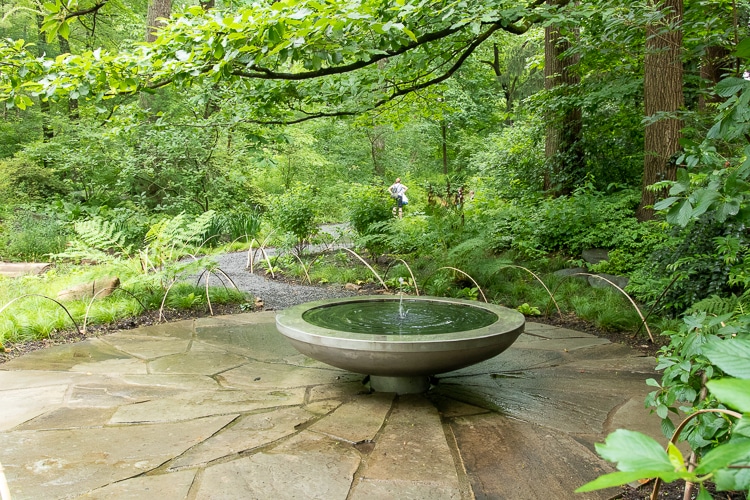 Speaking of solitary pots, this calming moment of Nassella tenuisima (Mexican feather grass) drives home the point that a simple planting + a great pot = garden magic.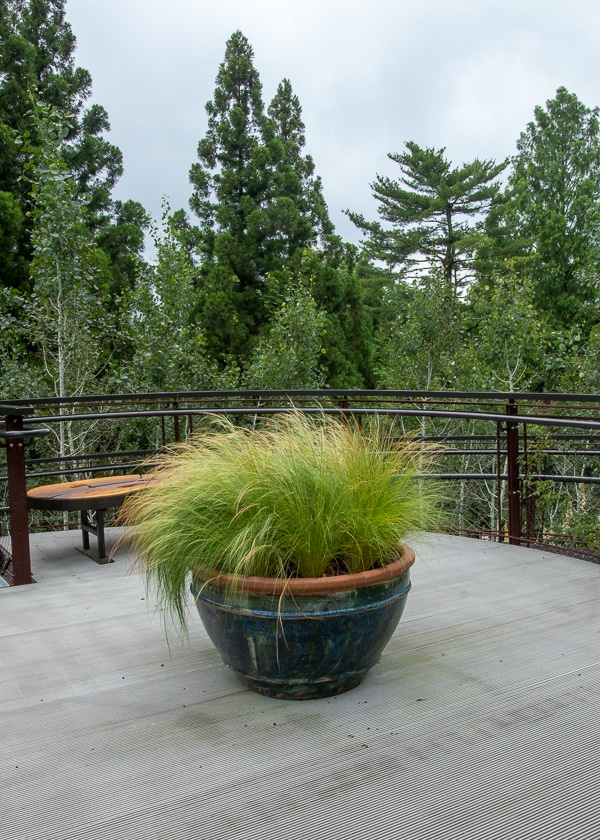 This pot might also be a fountain but the effect would be the same without the water. This planting at Longwood would be nothing special without the punctuation of the teal container, which provides bold texture much like foliage wood in a planting of otherwise fine textures.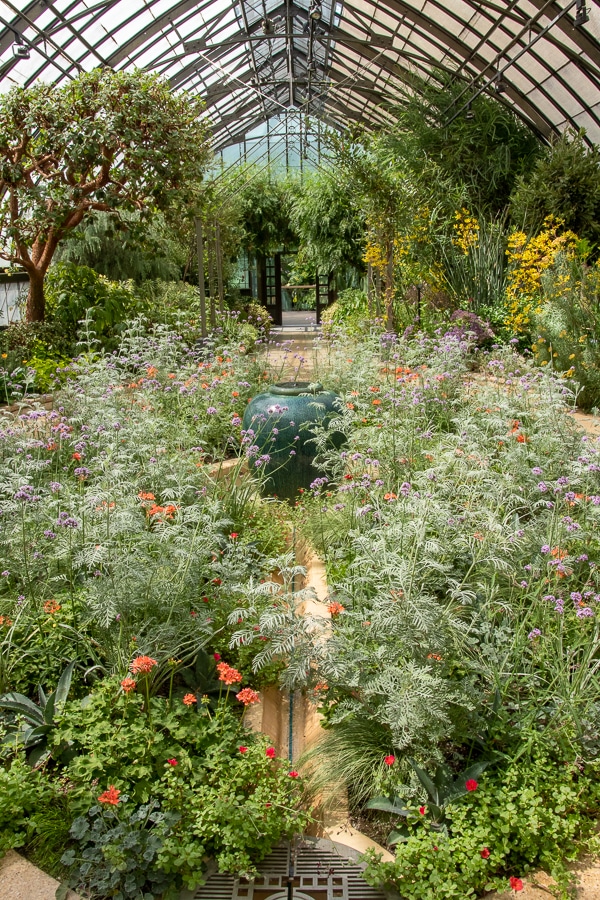 Chanticleer seems to shoehorn containers in just about everywhere and this was another takeaway from that visit.  It's such a good way to add height and interest. I wonder if this container was planned for this spot from the beginning or if the horticulturist in charge of this area thought the area was missing something and decided to plunk this pretty wood container in.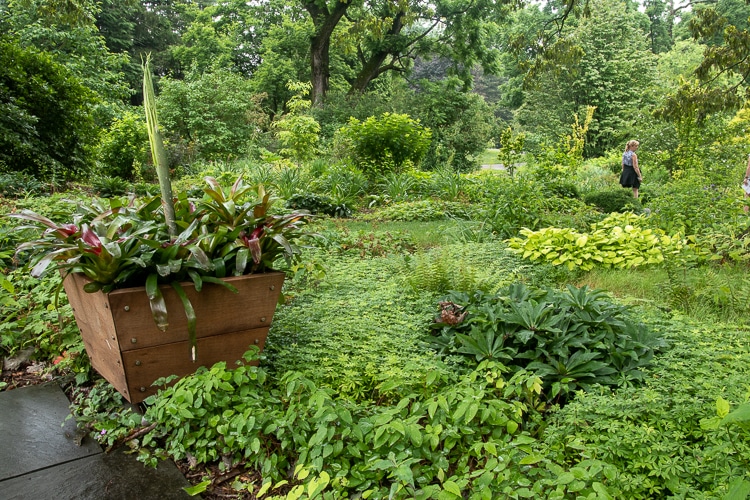 I love a simple container, but you're missing out if you don't take the opportunity to have some over-the-top container moments. This looks like it could be the hanging gardens of Babylon. Who would think that an area so exotic is right there in Pennsylvania? I count 13 pots in this photo, all with a common arching habit among their plants. The overall effect is just spectacular and a great argument for being a bit excessive.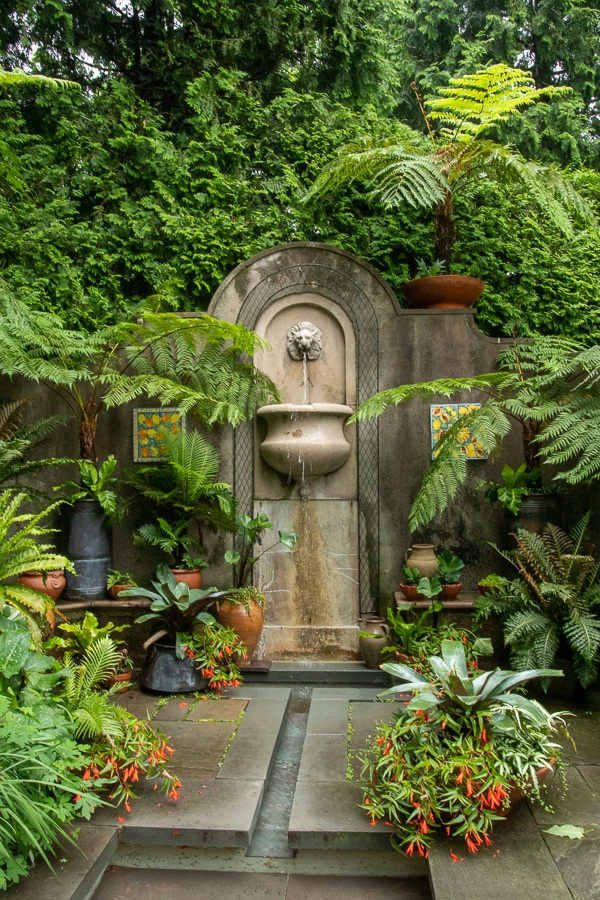 Making containers in unexpected places is a way to bring so much whimsy to a garden. This succulent mantel at Chanticleer's ruins (if I recall this is actually a recreated ruin) is over the top and fabulous.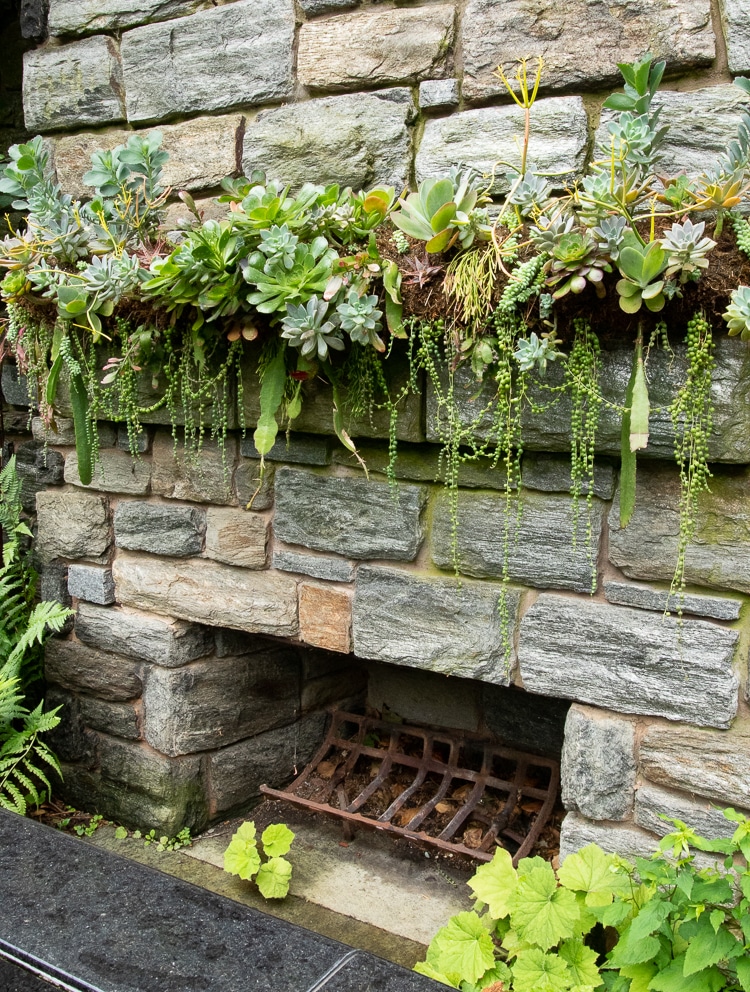 I've shared photos of this container before but I still can't get over how genius this is. By sticking with a strict color palette—coppery orange, of all things—and just two plants, this combination ticks all the boxes.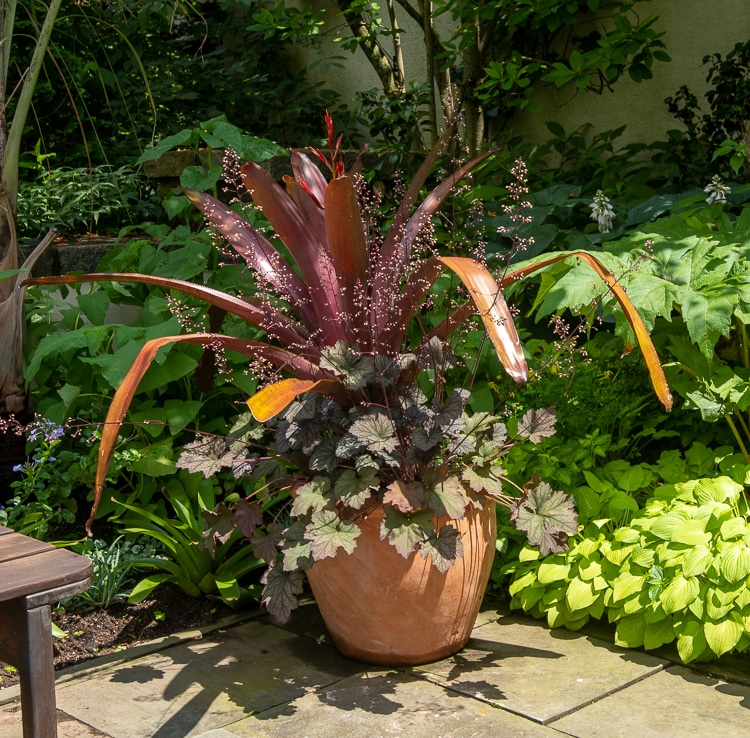 A container display doesn't have to just involve the plants. Here a hanging basket has had willow branches twined into it, to create interest underneath it, making a truly unique look. The creativity shown here is truly mind-blowing.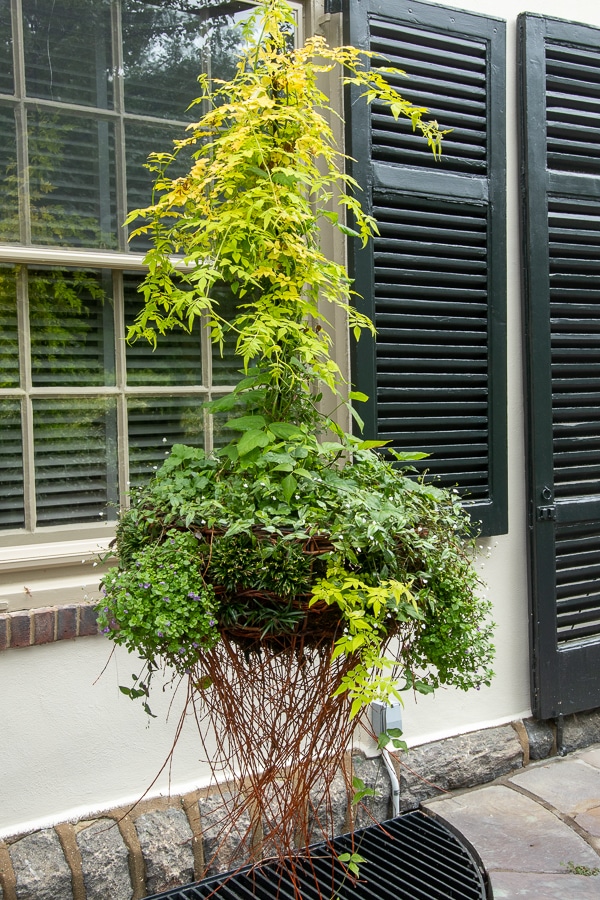 Containers are a great way to play in the garden and go a little wild. Do something different and make them serve a purpose. What's not to love?