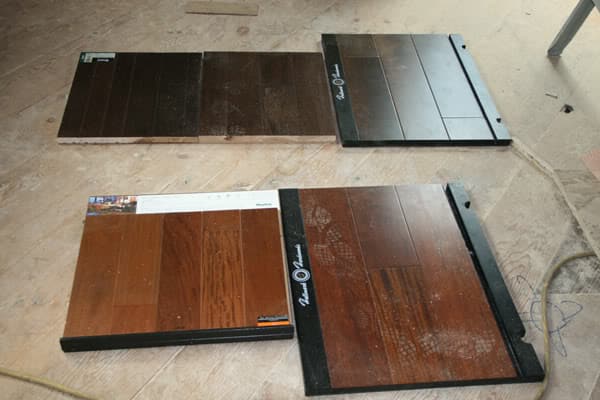 We hadn't planned on replacing the floors in the bedrooms. The construction guys tried to save it, but when they started pulling it up, it just broke into pieces. It was douglas fir, wood that the floor guys said was garbage wood when we had the floors refinished four or five years ago, but we told them to just do their best. We ended up loving the way they turned out, and I'll miss those floors.
We decided to go with a pre-finished floor (either engineered or solid wood) for the bedrooms because, frankly, we didn't want to go through the hassle of on-site finishing of a floor. Having been through it twice (the first time we had a bad batch of finish so the floor guys had to come back six months later to redo it), if I never have another floor done in my life, I'll be thrilled.
I went to two local floor places and grabbed a bunch of samples. The first floor I saw was one I fell in love with immediately. Brazilian teak. It's gorgeous. It was also expensive. I didn't take it home.
When I got home I did a little research on some of the floors I had brought home. Here's what I learned:
1. You can't really judge a floor on it's brand. Every type of wood is different, so one brand might have a great oak floor, but a lousy cherry.
2. Engineered floors (most of them, anyway) CAN be refinished, but not several times over the years. Fortunately most pre-finished floors come with warranties up to 25 years for residential applications, so with luck you'll be sick of it before you need to refinish it more than once.
3. It pays to shop around. Prices on the Internet were much less expensive than the local stores. Of course I like to patronize local businesses whenever possible, and I don't even mind paying a little more to do that, but we're talking more than $2 a square foot difference in some cases.
We didn't like these five samples for various reasons: too dark, too red and too "fake" looking (even though it was solid wood). You can see I gave them the full test by walking over them.
When I found out how much less expensive some floors were online, I looked up that beautiful Brazilian teak and found it at a price that put it in the running with some other options. But that didn't go far. Even though it's not really teak (like Chilean sea bass, which is really the Patagonian toothfish, Brazilian teak has been given a pretty name to make it sound like something it's not, it's actually Cumaru), it's still a slow growing hardwood. And because there was no mention of sustainable growing practices on this particular product, I'm assuming that's because there aren't any associated with it (most products proclaim environmentally friendly practices in a prominent place). And as much as I loved that floor, I think it's just bad karma to be sleeping in a room filled with wood that used to fill beautiful rain forests in South America.
In the interest of full disclosure, I should mention that we do hope to have a small amount of real teak in our house by the end of the renovation, which is really a homage to our nautical leanings. It will, however, come from responsibly managed teak forests, which doesn't exactly make it a green choice, but it's a heck of a lot better than random clear cutting.
We quickly discounted the darkest floors I had brought home. They were just too dark for the room, even though I loved them in the showroom (a perfect example of why it's so important to look at the samples in the space, even if the space is currently just dust and studs). Two others we didn't like because they were too red or a little fake looking, in our opinion.
Which left us with three options. It was pretty close between two of them.
Then, while I was downstairs, I heard a loud chirp and came upstairs to find a 10-inch redheaded woodpecker (I think it's actually correctly called a red-bellied woodpecker, but my bird book is buried somewhere in the bowels of the basement and the red is on their heads anyway) pecking at our newly installed windows. As quickly as we could, we cranked open the windows (no small feat since the hardware isn't on them yet and all we had was a small temporary handle) and sort of shooed him out, all while hoping he didn't decide to peck our eyes out.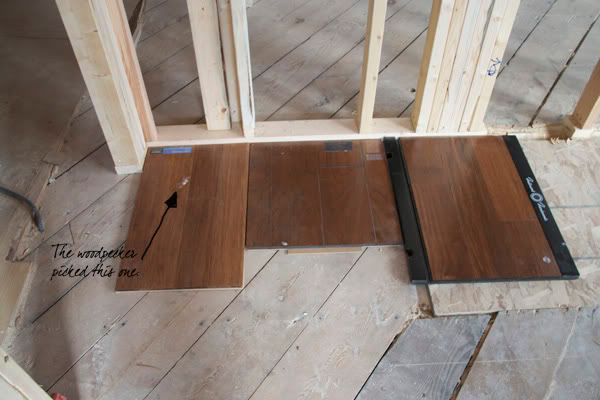 The shortlisted options. The first one is strand bamboo. The second is a wide-plank walnut, which was really pretty but pricey and made of a thinner veneer than the other engineered floors we were considering. The third was a wider plank engineered floor that we liked a lot but I noticed it was scratched just from carrying it around in my car for a few days so that one was out too.
Turns out that he left his mark on one of our shortlisted floor picks. Given that we were sort of stuck (we're suffering from decision fatigue I think), we took it as a sign. So I guess we're going with Woody's pick!
Here are all the previous construction posts:
Construction Update 1
Construction Update 2
Construction Update 3
Construction Update 4
Construction Update 5
Construction Update 6
Construction Update 7