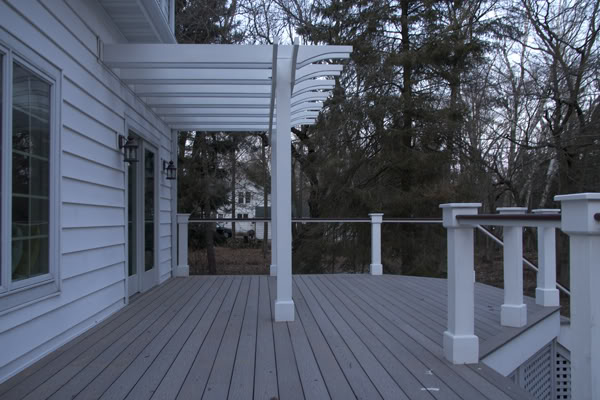 I bet Mr. Much More Patient had never heard the word pergola until about a year ago when I said, "Ooh, we should have a pergola!"
His response was, "What is a pergola for?"
Now that we actually HAVE a pergola, I thought it would all be clear to him. So when it was assembled on the deck last week he called me at work to let me know it was going in. The conversation went something like this:
Him: "The pergola is going in."
Me: "Awesome! How does it look?"
Him: "Pretty good I guess. What is this for again?"
Our next door neighbor has been anxiously awaiting the arrival of the pergola because he has pergola envy. A friend we saw at a holiday party lit up when I mentioned it. Her husband said "What do you need a pergola for?"
I guess you either "get" pergolas, or you don't. The answer to the question "What is it for", by the way, is nothing. In this case, it does nothing. We don't really need shade on this east-facing deck. I just like it.
I also think it serves the purpose of breaking up a rather large expanse of house that rises much higher than two stories normally do because our foundation is raised out of the ground quite a bit.
So here's what it looks like (at 4 p.m. on Sunday when I got around to getting outside to take some pictures):
It's smaller than I think it was supposed to be, but it's OK and I'm to the point where I'm not sweating the small stuff. Yes, I would have liked it better had it been another foot or 18 inches bigger, but it's OK the way it is too.
It's not very impressive when you look at it from that angle, but here's how it looks from the yard.
As an aside, do you know how excited I am to start planning the landscaping around it? I can't wait!
To get a better feeling for how it helps this side of the house, here's what it looks like without the deck or pergola.
And if you really want to have your minds blown, here's what the house looked like before we started all this.
I really can't get over how different it is.
By the way, did you notice the railings on the deck?
These fall under the "major score" category. We really wanted a railing that was sort of reminiscent of a ship railing. Since we'll be putting in cable railings (which look just like lifelines on sailboats because they ARE lifelines from sailboats) come spring, we thought a ship-type railing would look nice. As it turns out, hardwood railings are pricey items, and when you get to the end of an over-budget renovation it's hard to justify an expensive railing. So we had sort of given up hope, when our contractor called us and said he had found several lengths of Brazilian redwood (I'm sure that's a generic name for it) in the remnant bin at the lumber yard. It was all left over from a big deck job and there was enough for our relatively small deck. I think the cost was somewhere around $3.50 a foot, compared to the more than $10 a foot for Ipe. Not bad huh?
I love the look. We almost put the kabosh on the deck when it was obvious we were going to go over budget but I'm so happy we didn't. I think it's going to really expand the living space of the house and I can envision a lot of great parties on that deck when the weather warms up.
If you're interested in what else has been going on with this renovation, check out this post.