 I've been so caught up in painting and other house projects that I'm behind on construction updates. So let's catch up, shall we?
The new ceiling fan was hung in the living room. And then it was hung again.
Too low.
We actually purchased this fan well over a year ago to replace the hideous shiny brass thing with the ugly burned-out lightbulbs but realized that it would be no easy chore to actually mount it. We decided we'd just wait until some scaffolding arrived. Unfortunately when I bought it originally I guessed at how long the downrod was and ordered a four-footer. When we got it up, we realized that was way too long, as Rich was actually looking at the TOP of the fan (you know, where all the dust collects?) when he stood upstairs. So we got a new downrod and put it up a second time. The photo is of the longer downrod and taken from upstairs so you can see how it's RIGHT THERE.
They pieced in the paneling in the living room.
Old and new grays
Since we didn't have long enough pieces, some of them had to be spliced in but a little wood filler and paint later, you can't even tell. You can see the difference in the old and new colors here (we had one coat of paint on before they spliced in the boards to finish the walls). The light gray was the old color. The darker gray (BM Gray Husky) is much warmer and we like it a lot better.
They also finished the paneling in the hallway upstairs.
Bathroom on the left, and the second/guest bedroom next to that. That's Desdemona the cat checking out the progress and wondering when there will be a bed for her to sleep on all day.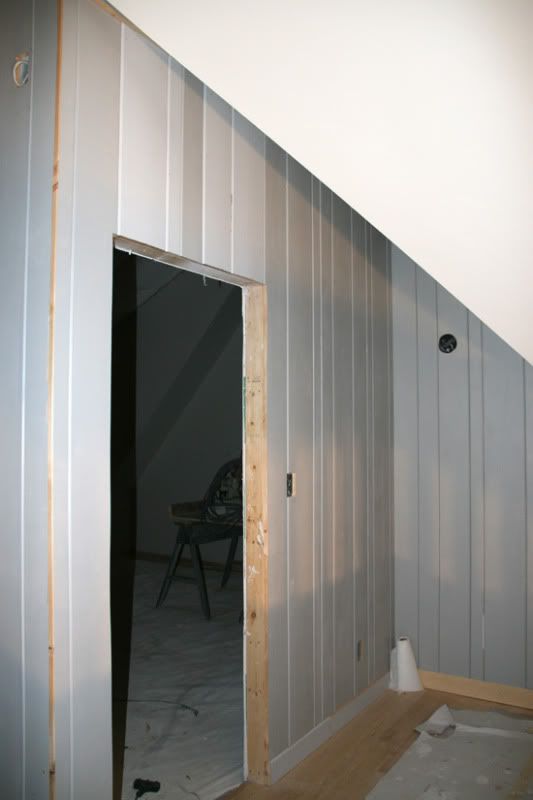 Other side of the hallway and the doorway to the master bedroom.
I'm so happy we decided to do this. Since the upstairs hallway is open to the living room we wanted to keep the paneling there to make it feel more cohesive. Even though we salvaged as much of the old paneling as possible and only had the minimum amount of new paneling made, this was definitely an upgrade over drywall. But worth every penny. I actually kind of liked how the mismatched board looked up there, but I knew over time it would look a little shabbier than chic to me. I wish we had thought to put small barn lights over each bedroom. I think that would have been so cute.
You can also see the rather severe roof angles it that hallway. Amazingly, even though Mr. Much More Patient is 6 feet, 3 inches tall he doesn't have a problem negotiating them.
We also got ALL of that paneling painted. Two coats. And sanding a primer before that. That was quite the project.
Then the board for the bedroom ceilings arrived.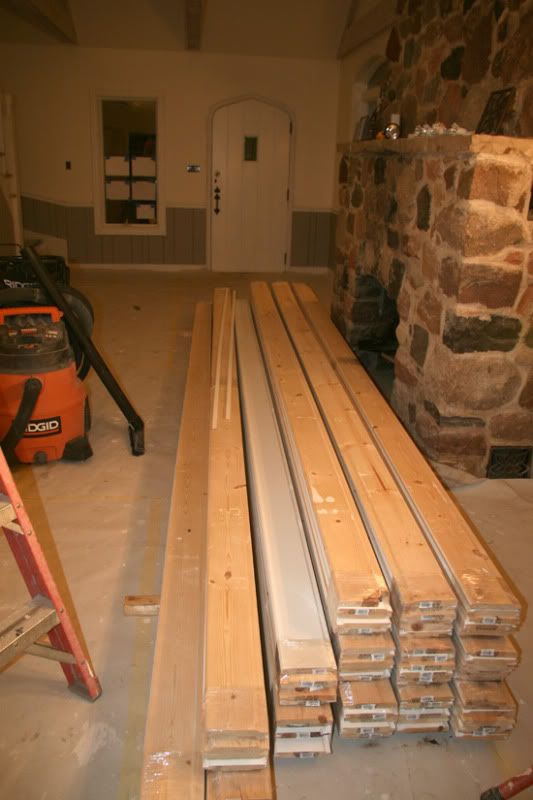 Doesn't everyone have a stack of wood boards in their living room?
They were all stacked in our living room for quite a few days. We had them pre-painted by a professional painter (after the kitchen I swore I'd never paint another ceiling again, much less a wood ceiling) and then put up. We actually got the boards at Menard's (a big box store, in case you're not familiar with it), and they cost about 75 percent less than if we had purchased them through the lumber supplier. They had some knots and a few cracks but we figured since we were painting them it wasn't a big deal. Although the installation cost was a little higher than if we had drywalled, I think the material cost was actually less.
Unfortunately when they were installed, the guys weren't very good about only nailing into the tongue, and we ended up having to have the painters come out and fill all the nail holes and spray it again, making that original spraying pretty much a giant waste of time.
The interior doors also arrived. We had these pre-painted by the painters as well. They've now been installed. Honestly, I didn't pick the door. I just specified a six-panel and I'm not thrilled with the trim detail on it, but since they were already painted there was nothing I could do about it, and frankly, it's just a door. I'll get over it.
Not to mention a stack of doors?
Mr. Much More Patient also headed up the yard grading project.
If you recall, the back yard looked like this in September.
Um, you left a mark.
Although we knew it was getting a little late in the season to be thinking about planting grass, we gave it a shot anyway. With the dogs, spring is already a very dirty season but the idea of having a giant mud pit in the back yard was rather unpleasant. He got three truckloads of dirt, a Bobcat, some grass seed, a bunch of straw and a lot of help from the on-staff landscaper at the company he works for, and went to it.
Hudson and Rita are in charge of holding the straw down.
This straw has been Hudson and Rita tested and approved. Kindly ignore the junk pile migrating toward the garage.
Here's the rest of what's been happening:
1. All walls are now painted. The bathroom has been painted about four times since I keep missing on the color but I think I nailed it last night. BM Healing Aloe seems to be the winner. For some reason the green helps keep it from getting too icy but it still reads blue-gray in the room.
2. We've moved back into the living room. This is cause for celebration. Having a place to relax other than the kitchen or bedroom is awesome.
3. We had a big talk with the contractor. According to the schedule we got, the project was supposed to be done November 6. Obviously that didn't happen. Apparently that was a "phantom schedule." Anyway, the conversation got a little tense and work did pick up pace for the next week or so. Overall I'm happy with where a lot of things are. Frankly, right now we're the holdup on some of these things. I'm not hoping that we'll be completely done by Christmas, but I wouldn't be surprised if the bathroom lingered on a little bit since some things, like ordering the shower glass and the countertop, can't be done until the last minute and both take some time and of themselves.
4. We installed the floor in the master bedroom! I'll have a whole post on this at some point.
5. The deck is about half done and I've stained almost all the cedar for the risers and skirting.
6. Most of the lights are in. The electrician broke one and cursed at most of the others, and the one light I bought off eBay turned out to be defective (I've contacted the seller but honestly I don't have a lot of hope that the situation will be rectified).
I still have to do a lot of painting to do. All the windows and trim upstairs, the staircase and little things here and there. I am now an expert painter, by the way. Tape? For wimps, I tell ya. I think I'm developing carpel tunnel syndrome from painting. Which is a sad state of affairs for a person who types for about 10 hours a day.
We have one more floor to go in and of course we'll be installing the cable railings on the deck (in winter it looks like). Still, it's starting to look like a house again.
Want to catch up on the whole process? Check out these posts:
Construction Update 1
Construction Update 2
Construction Update 3
Construction Update 4
Construction Update 5
Construction Update 6
Construction Update 7
Construction Update 7.5
Construction Update 8
Construction Update 9