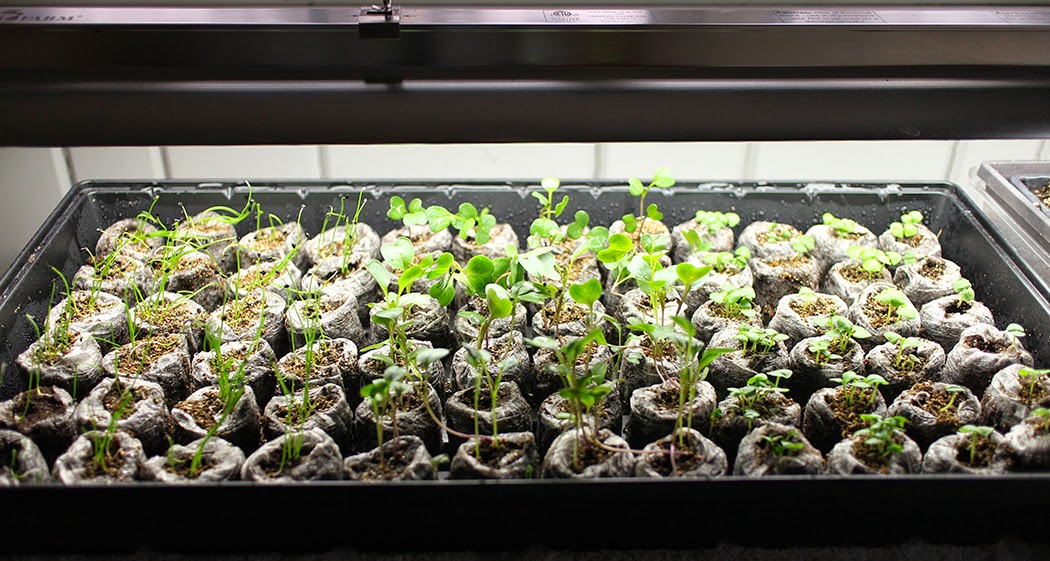 I know that it is high time to stop complaining about how bad winter was, but those of us who experienced it will be dealing with its aftermath for some time. In my area, where Lake Michigan reached an absurd 93% ice coverage this winter (for the first time since the 1970s), the water is going to be cold most of the summer.
And that means my garden, which is about 500 feet from Lake Michigan, will be plenty cold too. I wonder if there will be a ripe tomato before late September.
So this year I'm taking extraordinary measures to combat the lingering cold weather. In addition to tenting all my raised vegetable gardens with plastic to warm the soil, for the first time ever, I'm starting some things inside.
I'm embarrassed to say that I'm not much of a seed grower. I find it a little intimidating. You have to time it correctly, keep those little babies alive, harden them off and then hope they take to their new homes. Rather than mess with all that, I've always just bought plants for the vegetables I didn't need many of (tomatoes and zucchini) and direct sowed seeds in the garden for the other things. For the most part, this has worked out quite well.
But this year I'm afraid that if I wait until it's warm enough to direct sow seeds, there won't be enough growing time left to get any production out of my plants. If I can transplant things started from seed indoors at the same time I would have sowed seeds, I'll be weeks ahead of the game.
So I ordered a grow light (there's no way I can provide enough natural light to grow seeds inside without one), dragged out the heat mat I bought years ago for growing amaryllis in pots for Christmas gifts, and started sowing.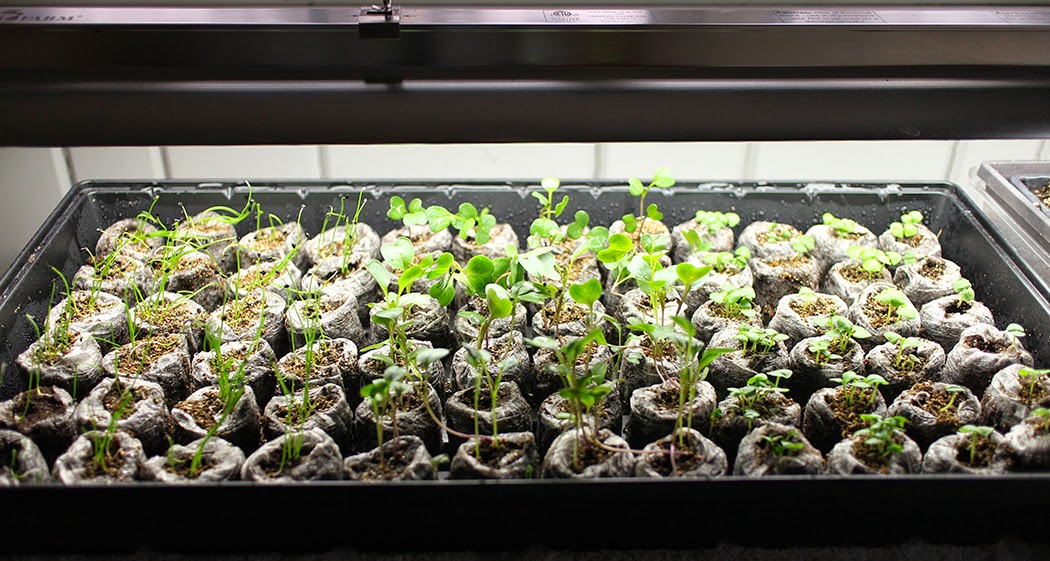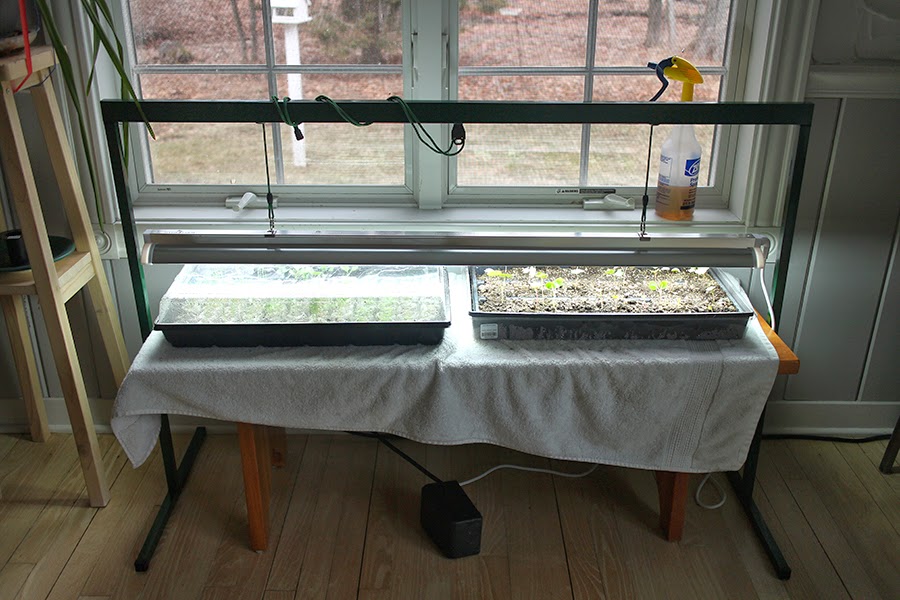 The future garden grows in a window with the help of a grow light. The spray bottle is full of composted manure tea, which is all I'm watering the seedlings with.
So far, I've sowed evergreen bunching onions, a variety of kale, basil and vining nasturtiums. I intend to plant seeds as well as the transplants of the onions and kale to extend the harvest. This is the first time I've grown basil from seeds, but I've had limited success with the small plants I buy in nurseries. Talking to fellow gardeners, it seems like the people who have those enormous basil harvests are the ones who grow from seed, so I'm giving it a shot. If it all fails, I can always go back to buying the plants.
The nasturtiums are meant for the window box. Last year I threw in some seeds and by the time the plants grew, they were gorgeous and I absolutely loved them as an element in the window box. However, I started them so late that they had sort of missed the peak of the display by the time they were really getting going. I can always stick the extra plants elsewhere in the garden so I'm not worried about that.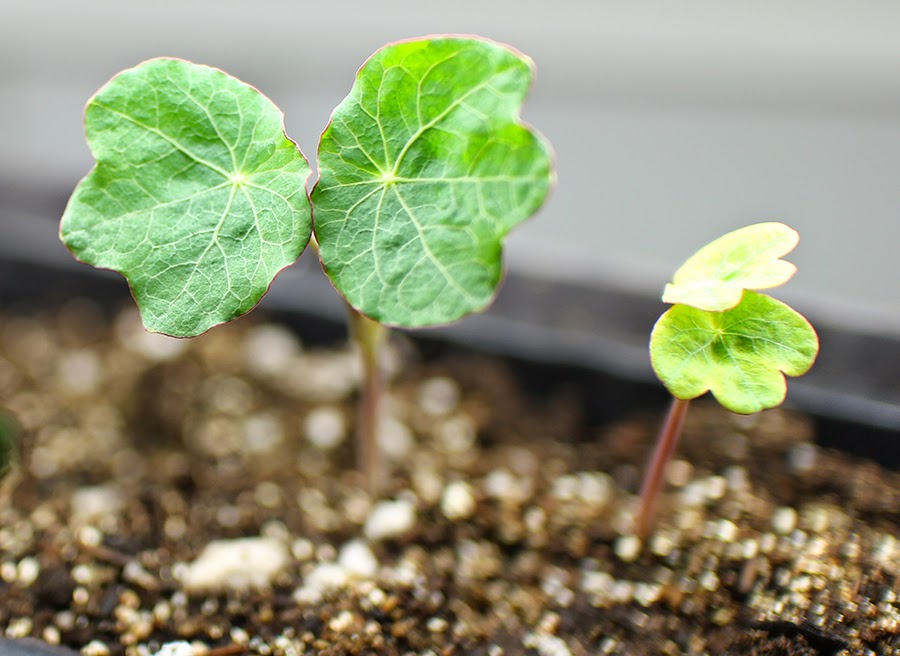 Nasturtiums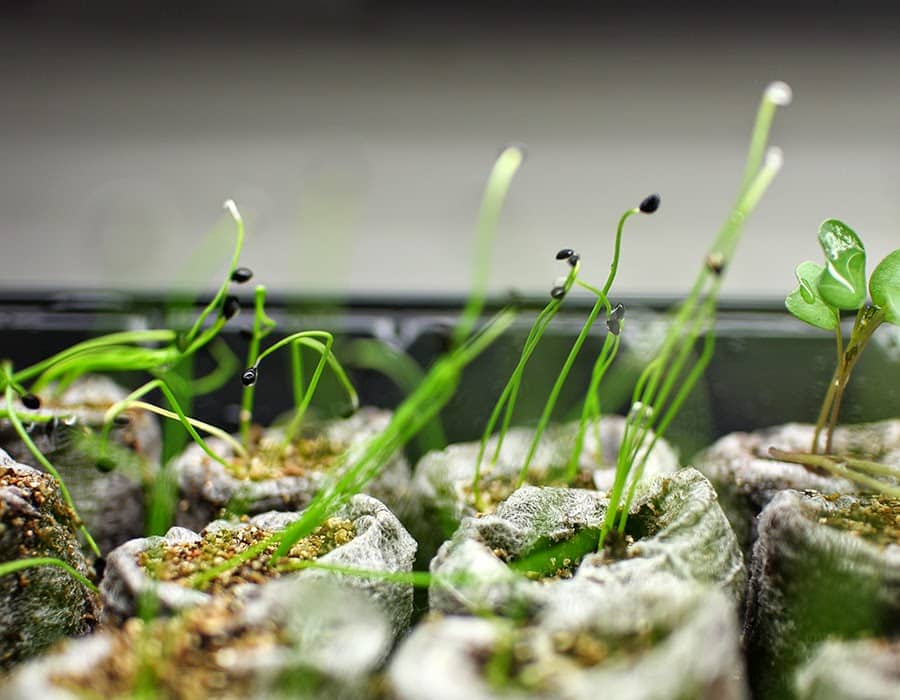 Evergreen bunching onions
Of course, now I'm really into this seed growing thing. It's fun to have something to baby a bit and it's really quite remarkable how much they grow over the course of a day. I think when they get larger, I'll pot them up into 3- or 4-inch pots and continue growing them until it's time to harden them off and then I'll start some more seeds. I'd like to start a few different varieties of nasturtiums (you know I can't get enough of them) and zinnias, and maybe even more kale.