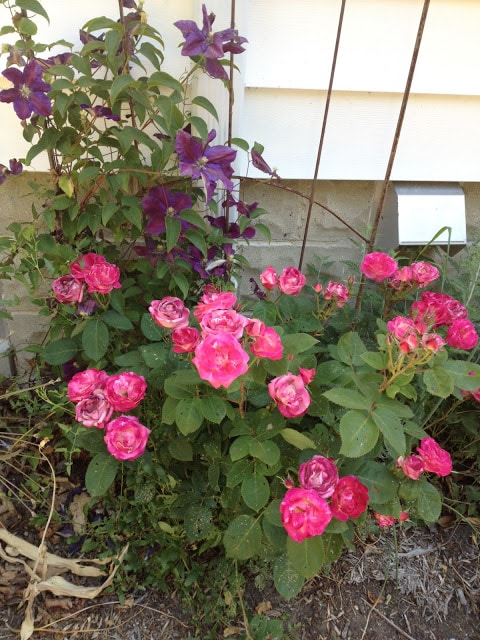 The group 2 clematis are starting to wind down their blooming party, making way for the group 3s, which are starting to think about putting some buds on.
You saw the picture of one of the Guernsey Creams showing off its colors against a Japanese painted fern, and I missed taking a picture of the best showing of Mrs. N. Thompson, the gaudy lady who bloomed like crazy on the front of the house this year.
She's looking a little faded in this photo, but the 'CanCan' climbing rose is coming into its own in only its second year in this spot. All in all, it's bit of a riot of color with those two, but the all-white house needs a bit of that.
A few steps to the left, Ken Donson is blooming like crazy in the middle of the circle garden. I did a lighter than usual pruning on him this year, and I think that helped quite a bit. He's still holding his own against the William Baffin climbing rose, but I guess I've giving up on having those two bloom at the same time. If you look closely you can see the rose buds are just starting to show color.
And around the corner, in a spot that is shadier than I anticipated, this clemtis is doing an excellent job climbing up the piece of driftwood I stuck in the garden. I think this is either Niobe or Bourbon, but I'm not sure which. Either way, I'm loving the way it looks against the driftwood.
More clematis to come, I'm sure. I can't wait for Princess Diana and Recta Pamela to start showing off their stuff.