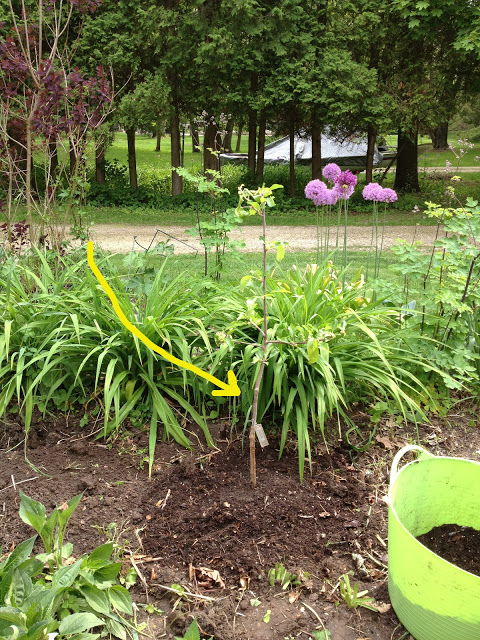 A couple weekends ago I planted an apple tree in my garden. Yep, a real, live apple tree, smack dab in the middle of my "main" garden right off the patio. It's a gala, to be exact.
Before you go thinking that the lack of water around here has obviously dehydrated my brain along with our soil, let me explain a little further. This winter I went to an all-day gardening seminar hosted by the local garden club. They had some great speakers, including Richard Hawke, the plant evaluation manager for the Chicago Botanic Garden (read more about his picks for top perennials here), and they had a raffle for a dwarf mini apple tree. Lucky me, I won!
The tree was grafted by a member of the garden club who is really into grafting fruit trees and he was nice enough to deliver it to my house and give me more information about it. It's about two years old and will start setting fruit next year or the year after that. He grafted it and has been training the branches since he started it. It's probably 3 feet tall right now and will top out at 5 feet, hence why I gave it a position of prominence (in a nice sunny spot) in the main garden.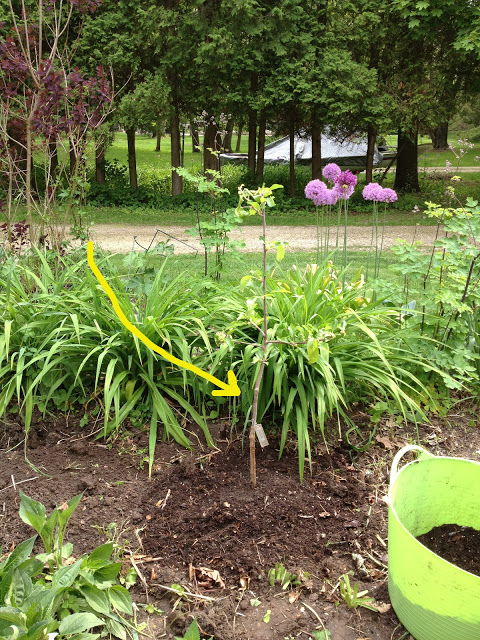 Right now it's dwarfed by the daylilies behind it, but I think in a few years this dwarf mini gala apple tree will be a unique addition to the garden.
I'll be honest, it's a fairly underwhelming looking plant right now, and it's definitely been stressed by the drought we're in (I'm trying to stay on top of the watering, but when everything needs watering, not everything gets watered as much as it should), but I think it's a tough little tree. It won't produce enough fruit to fill our fridge with apples, but it will produce some, and really, it's more for fun than anything.