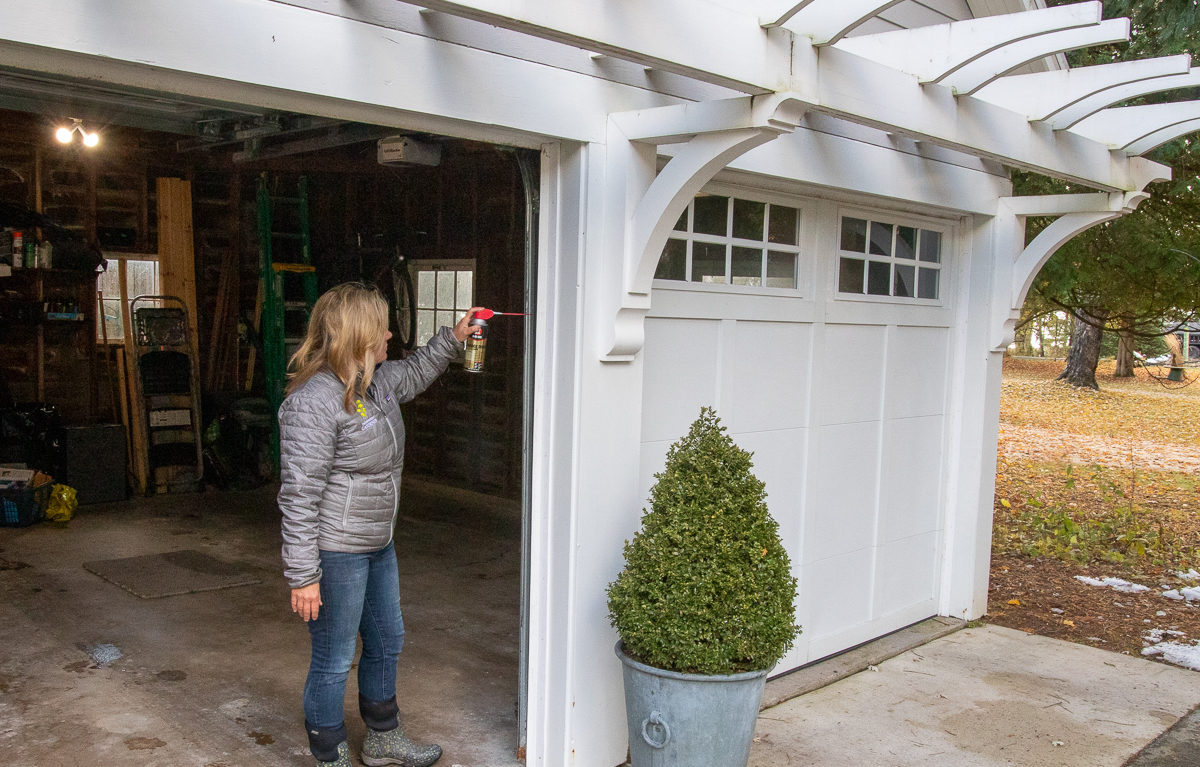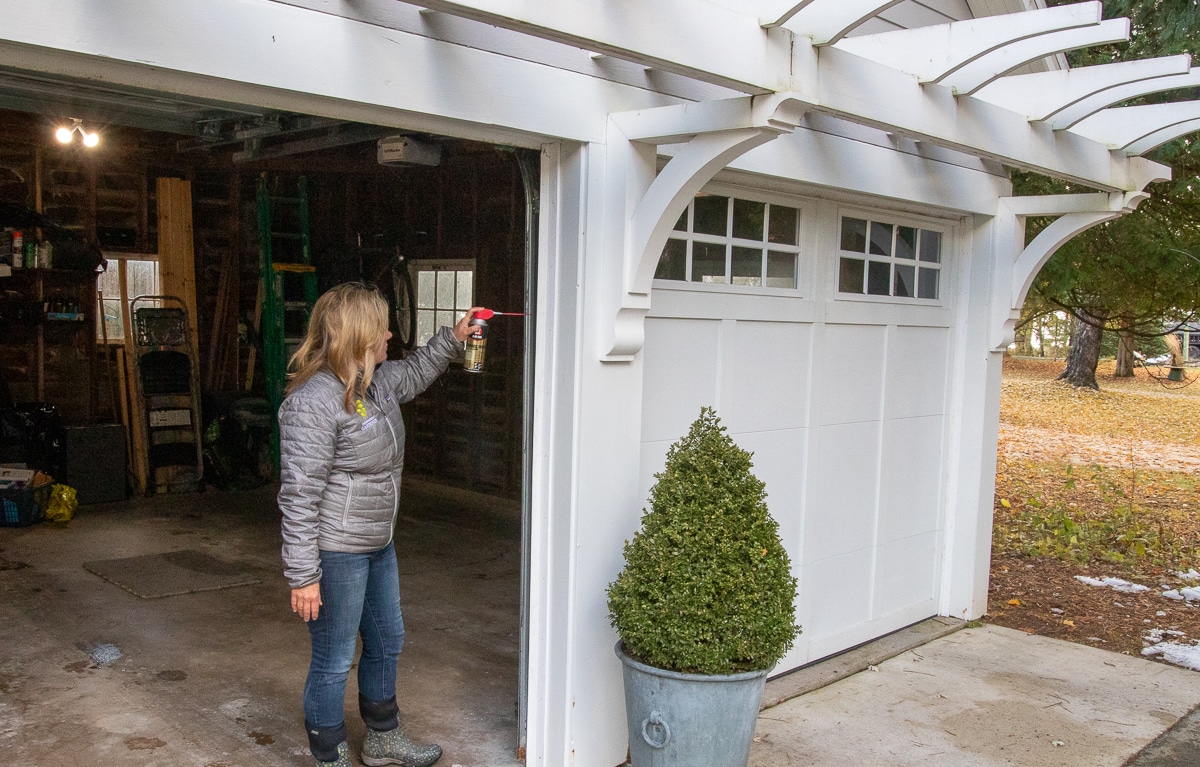 This post is sponsored by 3-IN-ONE® Brand, but all opinions are my own. I also take full responsibility for any messy garages that may be featured.
There's nothing like an abrupt change in seasons to get yourself in gear. Just a week ago I was sitting back, enjoying a beautiful fall day and feeling pretty smug about where I was in my garden chores. It seemed like I had all the time in the world. 
Just a few days later we got a record snowfall. I'm not talking about the dustings that are common around Halloween. This was a full-on, shoveling-required, 6- to 7-inch snowfall that flattened the garden and laid waste to that I've-got-this-under-control feeling. Coupled with a positively frigid long-range forecast, it became clear that my casual fall cleanup would need to enter triage mode.
And this is where the garage comes in. Our garage is nothing fancy (and it used to be much worse), but I'd be lost without it. Not only does it house our cars (there is nothing more tiresome than having to brush snow off your car first thing in the morning), it also houses everything that makes the garden go, and a little bit of the garden too.
It provides all that, and yet we mistreat it all year. Tools are hastily tossed in it. Wagons full of pots are wheeled in to be dealt with later just as guests are arriving. Bird seed tends to get strewn around. It's a full-on mess, and one that needs to be cleaned up to fit everything that needs to go in there for winter and maintain some level of sanity. 
I have a ridiculous amount of pots and I'm not afraid to admit that I have a phobia of running out of them. Some are decorative pots, but most are plastic nursery pots that I use for various projects, but particularly seed starting and potting up plants that need to grow a bit. I create towering stacks of these pots and invariably these stacks will fall on my head when I reach for them in spring. 
Adding a hanging rail system for tools a few years ago was life changing. Not only does it keep everything off the floor, it also keeps my collection to a set size. When I run out of hooks, something must go.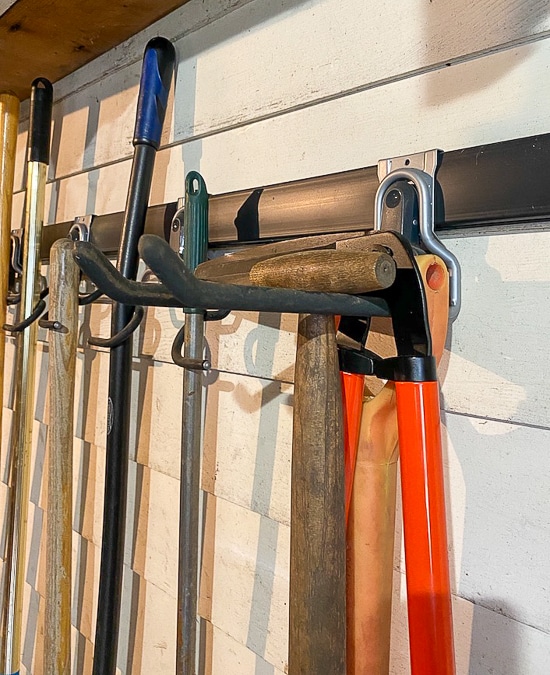 HELPING PLANTS SURVIVE
One of the goals of this garage clean-out is to create room for large pots in which I grow shrubs or roses. I've had good success overwintering these in the unheated garage. But last year, when the dreaded polar vortex descended upon the Midwest, it got too cold even in the garage for the zone 5 roses growing in containers. I replaced them, but I needed to make changes to give them a better chance of surviving this year. 
The part of the garage where the shrubs are stashed is sort of a lean-to that was obviously added to the original structure, so there is (very nice) door separating that area from where we park our cars (aka garage proper). But old buildings being what they are, we've never gotten that door to close, and since we stopped trying the old hinges barely move.
Loosening up those rusty hinges was the first step. I put a couple drops of 3-IN-ONE® Fast-Acting Penetrant on each hinge and then went back to cleaning the garage while that sat for a few minutes. When I came back, the door was swinging much smoother, and in fact it actually fully closed. I had assumed we might have to shave some wood off the door or the doorstep, but all it took was hinges with a full range of motion. 
The other key to keeping the temperature more consistent in the garage is keeping the garage doors shut. Does this seem as obvious to you as it does to me? And if so, could you take a crack at explaining this to Mr. Much More Patient? He doesn't have a lot of flaws, but consistently closing the garage door is not one of his major attributes.
As far as I know, 3-IN-ONE does not make a product for that particular problem, but they do make 3-IN-ONE® Garage Door Lube, which I took the liberty of applying to keep our garage doors operating smoothly. I sprayed some on the chain as the garage door was opened so I could make sure the chain had a consistent coating. Then I hit the rails to keep them smooth and rust-free.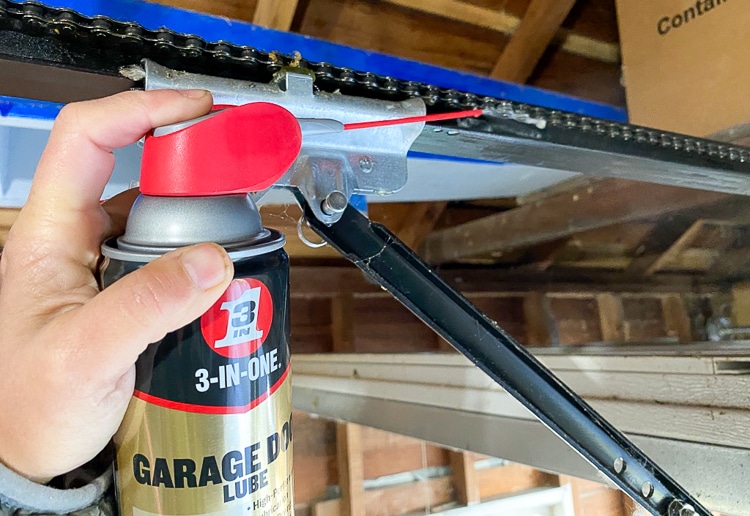 I opened and closed the doors a few times to make sure everything was well coated and resisted the urge to show Mr. MMP how the garage door button works. (I kid. Sort of.)
LAST STEPS
With the obvious issues related to keeping the garage hospitable for overwintering shrubs handled, I've got a few other ideas to help those plants through the winter. I've amassed a nice collection of burlap that I think might come in handy for helping insulate pots, without making a lovely habitat for critters as hay bales or something like that might. 
I also always keep the pots lifted off the concrete, and I'm thinking that a bit of bubble wrap under them might help a bit as well. 
The pots won't be moved into the garage for a few weeks, until the soil mostly freezes, and the success of these changes won't be known until next spring, but I'm already feeling better about it than last year.
You can find 3-IN-ONE® Brand products at Lowe's and other retailers. Click here to find 3-IN-ONE Garage Door Lube and 3-IN-ONE Fast-Acting Penetrant near you.
Follow 3-IN-ONE Brand on Facebook and Instagram for more gardening tools and maintenance tips!