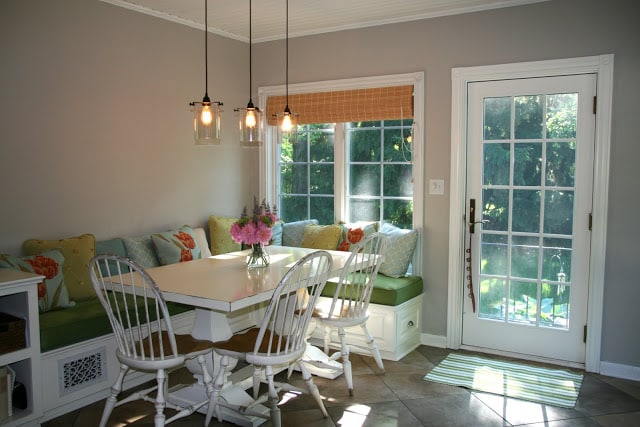 A prudent DIYer does some testing when they work with a new product before jumping right into the real deal. I bet that would be really boring to read about. So, as a favor to you, when I decided to use chalk paint to redo my kitchen chairs I jumped right in with both feet and in the process I learned a few things that a prudent DIYer might not have. Well, they would have, but they would have learned them on a scrap piece of wood and what fun would that be?
Have you heard about chalk paint? It is all the rage in blogland. And I am nothing if not a sucker for the latest and greatest thing. But here's the interesting thing about chalk paint in the blogosphere: most of the people writing about chalk paint are getting it for free. I'm not suggesting that they are singing the praises of this stuff just because they got it free, but I know that the expectations for a product that you get free are a lot lower than one you pay $34 a quart for. Yes, you read that right: $34 a quart. It's crazy expensive (and I am used to buying pretty expensive paint). The good news is that you really don't use much.
I'd like to say that what really attracted me to chalk paint was the beautiful finish, which is sort of a low luster, and certainly that was part of it, but what really appealed to me was the fact that chalk paint is purported to be relatively prep free. It appealed to the lazy person in me. And the one who posted that long list of projects I want to get done inside a few weeks ago.
The white, highly distressed Windsor chairs in the kitchen came with the house along with a really cool round table with a built-in lazy Susan that had to go when we put in the banquette. I never cared much for the chairs and I've always found them to be rather bland.
Then, on one of my late night/very early morning hours-long flips through Houzz (seriously I can stare at that app for hours on my iPad; it's not healthy) I found this picture and knew that I needed aqua kitchen chairs.
So here's another problem with chalk paint: there is a very limited color palette. But the good news is that you can extend the color range by mixing in one of the two white colors offered. Use Old White for a more antique look or Pure White for a more modern look. Or, if you're like me, just use both. OK, this all sounds well and good and even fun for crafty folk, but I'm no artist. One of my biggest frustrations is that I have a very hard time understanding color, no matter how much I want to. I can't tell you anything about undertones or hues or what colors go into any other color, so mixing colors willy nilly is a bit scary.
And for as much reading as I did about chalk paint, I never read the one main thing I found out about it: it dries a LOT darker. So that's how I ended up with bright baby blue chairs.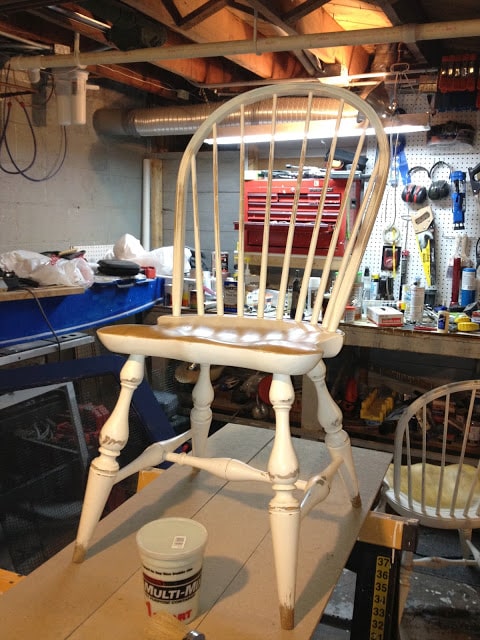 The chairs were highly distressed; a look I never really cared for. P.S. Someone please come clean our basement.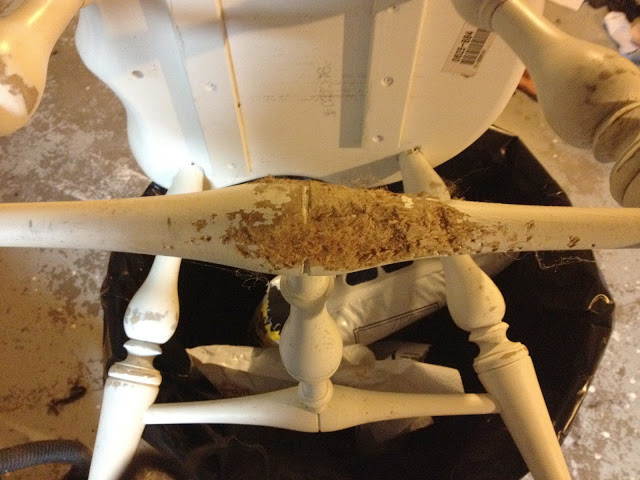 I had to do a small amount of repair to one of the chairs. Ever-so-innocent Hudson was an incredibly good puppy (as I recall 9 years later, and what dog isn't remembered as a great puppy when they are 9?) but his one transgression was a little recreational chewing on this chair. I just sanded it down with the Dremel and some rough sandpaper and then just gooped on some wood filler. I let that dry then sanded more. I wasn't really feeling patient enough to work hard at it so I was just aiming for it to look good from a distance. Since we keep only three chairs at the table and store the fourth in the basement for overflow seating, this one isn't even seen very much.
The "repaired" cross base.
But let's back up a bit. Everything you read about chalk paint says you can paint right over any clean surface. Well, any clean wood surface. No need to sand or prime. So that's what I did. And that's what I'm going to recommend you DON'T do. Every time I knocked one of those chairs a little bit after I painted it, small bits of paint chipped off. I seriously doubt the finish is going to last too long, but maybe the wax will protect it (we're getting to that).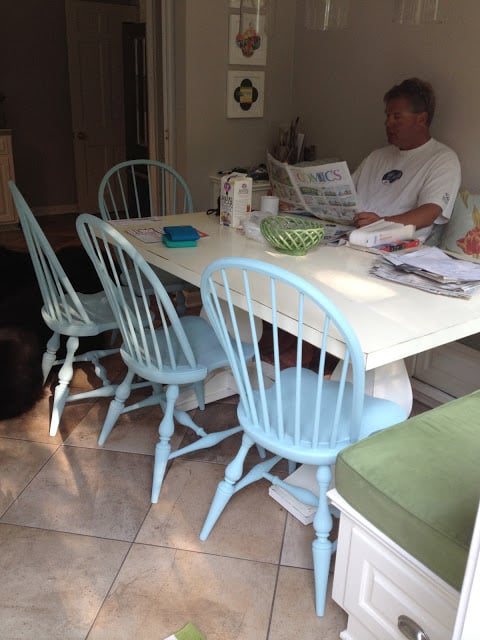 This picture doesn't show the difference very well, but my first try on the paint ended up really intense. Shown in all the Sunday morning messy-table glory. The box of sugar was not breakfast.
Anyway, since I didn't like the color the chairs ended up, I mixed up more paint with equal parts Old White and Pure White and a little bit less of Provence. And they looked perfect. Until they dried. Again. Since the paint was now getting on them a little thick I had two options: sand them down and start over or try something else to lighten them up just a tad. And you know which one I chose.
First I tried to do a sort of whitewash over the top. Using just a tiny bit of the Old White, a drop or two of Provence and a lot of water, I "washed" the chairs, then wiped off the excess. That was OK, but the white was settling in the crevices a bit more than I would have liked. I wasn't really going for an antique finish … just a sort of vintage, lived-in look, if that makes sense. And guess what, when they dried they were better but STILL too blue for my taste.
The preferred finish over chalk paint is soft wax and that's really what gives it that pretty luster. I had read that you can add paint to the wax to change the color of it, so I figured I had nothing to lose by adding some Old White to the wax. You need very little wax, so I just scooped out a small amount in a plastic dish and added a small amount of Old White paint to it and mixed it well.
I found the best way to apply it was with these small finish applicator disks I picked up Rockler woodworking when I was in the middle of the office countertop project. Rags always get so bunched up and hard to work with, but these little pads were perfect. I used one to apply the wax very thinly and really rub it in and one to follow up and buff with after it dried a little bit. In all, I did one coat of clear wax followed by two coats of the wax mixed with paint.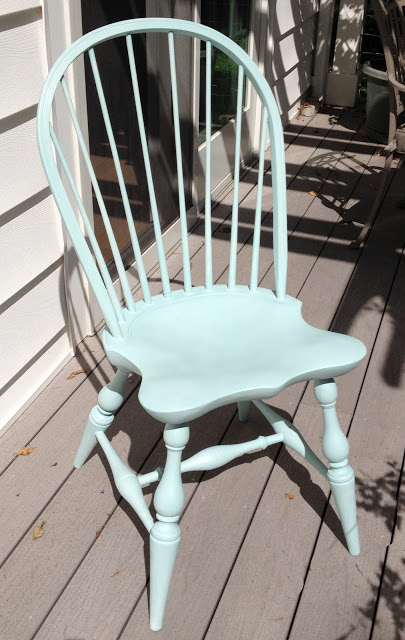 Finished chair after waxing.