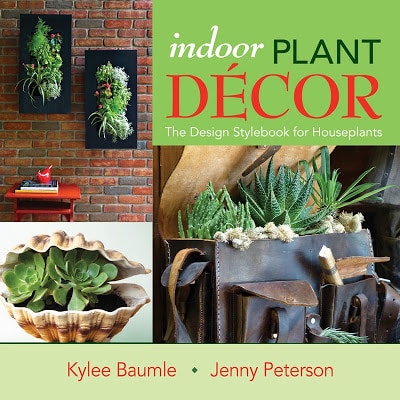 I have only two indoor plants that I really care about. One is a spider plant I bought at the farmer's market the day I moved into my freshman year college dorm, making it, well, old enough to be at college itself. The other is a large ficus tree I got from my grandmother's house after her death. In her later years it also served as a Christmas tree of sorts, bedecked with red ribbons and a set of lights.
I have other indoor plants, but they take a back seat to these other two, and I have no doubt that were it not for their annual vacation outside during summer, when I actually take care of them along with the outdoor containers, they would have been goners long ago.
Still, for a long time I've known that there was a whole other world of indoor plants out there. And that's where Indoor Plant Decor comes in.
The new book—a "design stylebook for houseplants," according to the subtitle—by Kylee Baumle and Jenny Peterson spoke to me from the first line of the introduction. "It used to be that indoor gardening meant a ficus tree in the corner of the living room, a pothos plant trailing from the top of the entertainment center and a row of African violets in the kitchen window."
Plants, Indoor Plant Decor proves, can be just as much a part of your home's decor as a throw pillow or decorative vase but with far more style and the benefits that come from plants, including some that actually purify the air in your house.
The book is unlike most gardening books, possibly because it straddles an interesting line between gardening and home decor. Although small in size, the book is big on information, and the size seems well suited to the layout. Each chapter starts with a scrapbook-style series of photos setting the scene for a design aesthetic and finishes with a DIY project to create plant decor in that style.
The latter is where the book shines. Too often, projects spelled out in books are excessively complicated, but Indoor Plant Decor hits the right note with its easy-to-understand, step-by-step instructions. Several projects are approachable enough that I found myself wanting to dig into them right away. Mini succulent cork planters are adorable and would be the ultimate in table decor-turned guest gift and the "planted book" is a creative take on plant design that you're not likely to find elsewhere.
While the front of the book is dedicated to inspiration and how-to, at the back of the book is an easy reference guide to houseplants. A list of houseplants ranked from "easy breezy" to "design divas" is alone worth the book's cover price. Following that is some information on common houseplant ailments and basic care information. None of it is overly extensive or mind-numbing, instead it is the right amount of easy-to-access information.
Sentimental houseplants are great and Indoor Plant Design doesn't discount the importance or beauty of fiscuses like mine, and in fact the tips contained in the book will only help those plants thrive in my house. But the book leaves you looking at houseplants in a completely different way; one that makes you want to explore just what you could do for your home with a few plants.
••••••••••••••••••••••••••••••••••••••••••••••••••••••••••••••••
All four tools have blade made of Swedish boron steel and fitted with an ash hardwood handles from FSC Certified forests. The set comes with wood storage case and is guaranteed for life.
DeWit Tools has been producing hand forged Dutch garden tools in the north of Holland since 1898. Every DeWit tool grew out of a need to solve a gardening problem and today, 3rd and 4th generations run the DeWit factory.
I was provided a copy of Indoor Plant Decor by St. Lynn's Press for review purposes. All opinions are my own. Indoor Plant Decor is available at Amazon.com and at booksellers throughout the country.