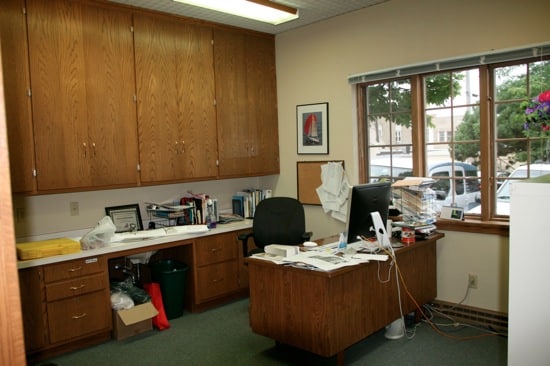 The air is just a touch crisper. The mornings are a bit cooler. Stores are full of fall-themed merchandise. Fall bulb catalogs were filling the mailbox weeks ago. As much as I'd like to pretend it's not the case, autumn, apparently, is around the corner. And the surest sign of that is that I'm starting to think about projects that don't involve plants.
Don't worry, there's plenty of garden blogging yet to come, but I thought we'd take a quick detour into DIY land to take a look at a project I have my eye on for the fall/winter.
If you follow The Impatient Gardener on Facebook you've already gotten a sneak peek of this project-to-be and it's pretty scary. It's also fairly embarrassing because you'll see just what a messy office I keep. In my defense, these photos were taken in the throes of deadline and I generally let everything else sit until deadline is over and then do a big clean-up. Plus, you know you all love getting a real-life peek into other people's chaos. I aim to please.
So here's the situation: My office at work is a totally depressing space. I love that I have a nice big window but I  hate pretty much everything else about the room. I've gotten preliminary approval to make some changes to the office as long as I get clearance from the tower before I do anything. Oh, and the budget is basically nil. In fact, I'll probably pay for most of the renovations myself which means we are talking about the thinnest of shoestring budgets.
Since I don't really know exactly what to do in this space and the challenges require some serious creative thinking, I'm looking for any and all suggestions you all might have. So let's get to the photos.


 
Let's just start with the elephant in the room (well, the weirdest elephant in the room because I think there's a whole herd of them in there): The sink on the back counter. This building used to be a doctor's office and my office was the exam room. How would you like to be stripping down to your unmentionables in a doctor's office with that big window? Anyway, the sink is leftover from that. But worse than the fact that there is a sink in the middle of my office is that we don't think it works. Actually, everyone in the office is afraid to try it so we don't know if it works but what would I do with it anyway?
Here's some more information on the office:
• It's 11′ x 12′
• There are actually five or six of those tall file cabinets in the room and they have to stay there. To make things more challenging, you'll notice they are not all the same color. Their current location is really the only place in the room they work. They have to stay but they can't stay the way the are.
• The carpeting is a very low-pile multi-colored deal with green, teal, gray and beige tones in it. The overall effect if you squint your eyes is sort of in the range of BM Lafayette Green. More than likely it has to stay unless someone can come up with a low-cost alternative. I considered putting Flor carpet tiles over the top of it, but after pricing them out I think it would be too expensive to do the whole room with them. This is certainly the biggest challenge to the rest of the color scheme.


 
• All of the cabinetry WILL be painted. If it's the last thing I do. It is what drives me the craziest in that space.
• Right now I'm thinking about having that sink removed and replacing the counter perhaps with a stained wood countertop like this one.
• As ugly as it is I really like the desk. It has tons of storage and I need a storage solution (you wouldn't think that would be the case with all those cabinets but we use many of them for storage for office-wide items). It can't stay the way it is, but ideally I'd find some solution to make it better looking.
• The wall color has to change as well, but I feel like I can't figure out what color that should be until I get a color for the cabinets decided.
• I didn't take a photo of it (I'll get on that when I can), but one wall (the door is in the corner) is empty and in need of some art. I also have a guest chair there.
• The room cannot be too feminine. It is, after all, a business office, not a home office, so it has to reflect the company as much or more than it reflects me.
So that's the starting point. There is no timeline for this, but since I obviously have to work in the space I'll have to block off a few weekends in a row to crack it all off in. Lay it on me. What do you think? Do you have a vision for this space? Are you still stuck back at the picture of the disaster that is my office?