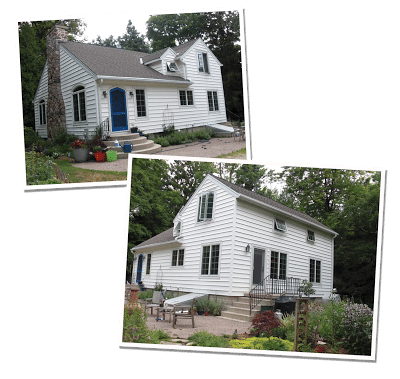 I t's my birthday today. I tell you that not because I'm fishing for birthday wishes but because I was given an awfully nice gift this morning: blueprints for our potential house renovation. I've been waiting for these for awhile … about seven years, give or take, since I knew from the moment I walked into our house that it would be ours and I also knew we'd need to make some modifications to be able to stay here for the long haul.
We love our house and hope to live in it until we can't anymore. That is what drives a lot of our design decisions and certainly that's what's driving this house renovation. We still need to crunch all the numbers to make sure we can afford to make this all a reality, but it's so nice to see it on paper.
I'll get into more detail about the project when it becomes final and these are just preliminary plans that will be tweaked a bit (I already have a few tweaks in the works and the plans have only been in my hands for a few hours). I'll just quickly tell you what we're trying to accomplish, and not accomplish with this reno. First of all, we're not adding square footage. I know that sounds strange, especially when your house is somewhere in the 1,300 square foot range, but I'm OK with the size for the most part, and adding on square footage would be such a huge undertaking from a financial and red tape (our proximity to Lake Michigan and the charming "creek" that runs through our back yard complicates permitting issues) perspective that it would make more sense to move. This project started with a desire to fix a faulty roof design. We have these odd little dormers that are set into the peak of the roof next to it. As it turns out, they are a breeding ground for ice dams and roof issues. Every time it snows we have to shovel our roof or else it will leak. We've had new waterproofing stuff put up there, had multiple roofers and insulation people come look and they all say the same thing … we can fix it temporarily, but the only way to really fix it is to change the roof design.
And you know how projects go: you said "As long as we're ……" a lot. And we have. So as long as we're fixing the roof (which also needs to be done because we need a new roof anyway), we're making a few modications. The biggest is adding in a second bathroom so that we have one upstairs. We're also adding in a shed dormer on the east side to get more usable space in the bedrooms (which currently have a knee wall so the edges of the roof aren't good for much). And as long as we're doing all that … well why not knock out a window in our little den/office/family room and put in glass doors going out to a deck. And as long as we're building a deck … why not put up a pergola? Well, you get the point.
Anyway, enough babbling. If we can make this work there will be plenty of time to talk about all that stuff and show you the interiors.
So, here's the house in it's currently configuration (sorry that I don't have any straight-on shots).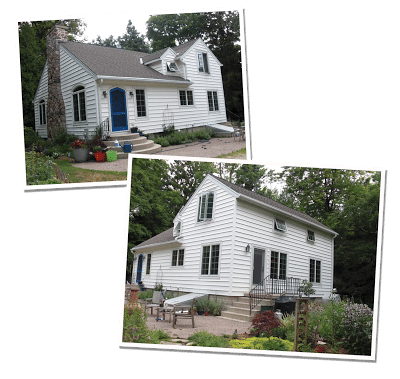 And here's the plan, prior to some changes (you can see we were already scribbling on it a bit as we tossed around ideas). You can click on the pictures to make them bigger.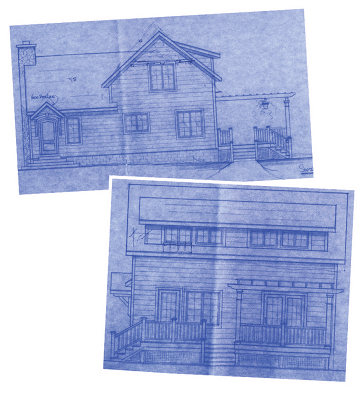 So what do you think? Not a bad birthday gift, huh? Of course the flowers my awesome husband got me are pretty great too, but the poor things have a lot to live up to with these plans in my hands.