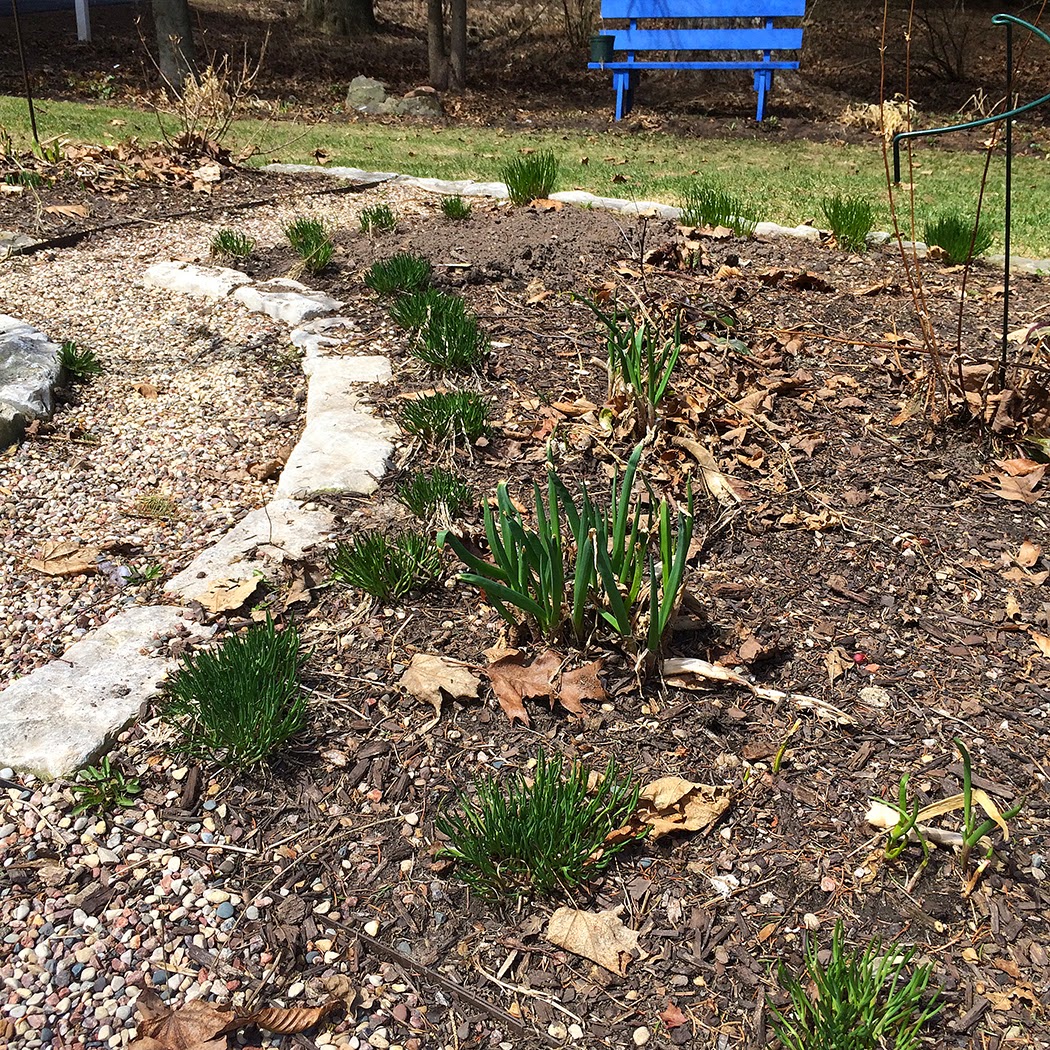 After one of the more challenging weeks of my working career, I was absolutely spent going into the weekend. I desperately needed to just stop thinking about everything for awhile.
Thank goodness Mother Nature cooperated and presented two nearly perfect spring days for me to get lost in the garden. And that's exactly what I did, getting caught up on some cleanup and a few small garden projects.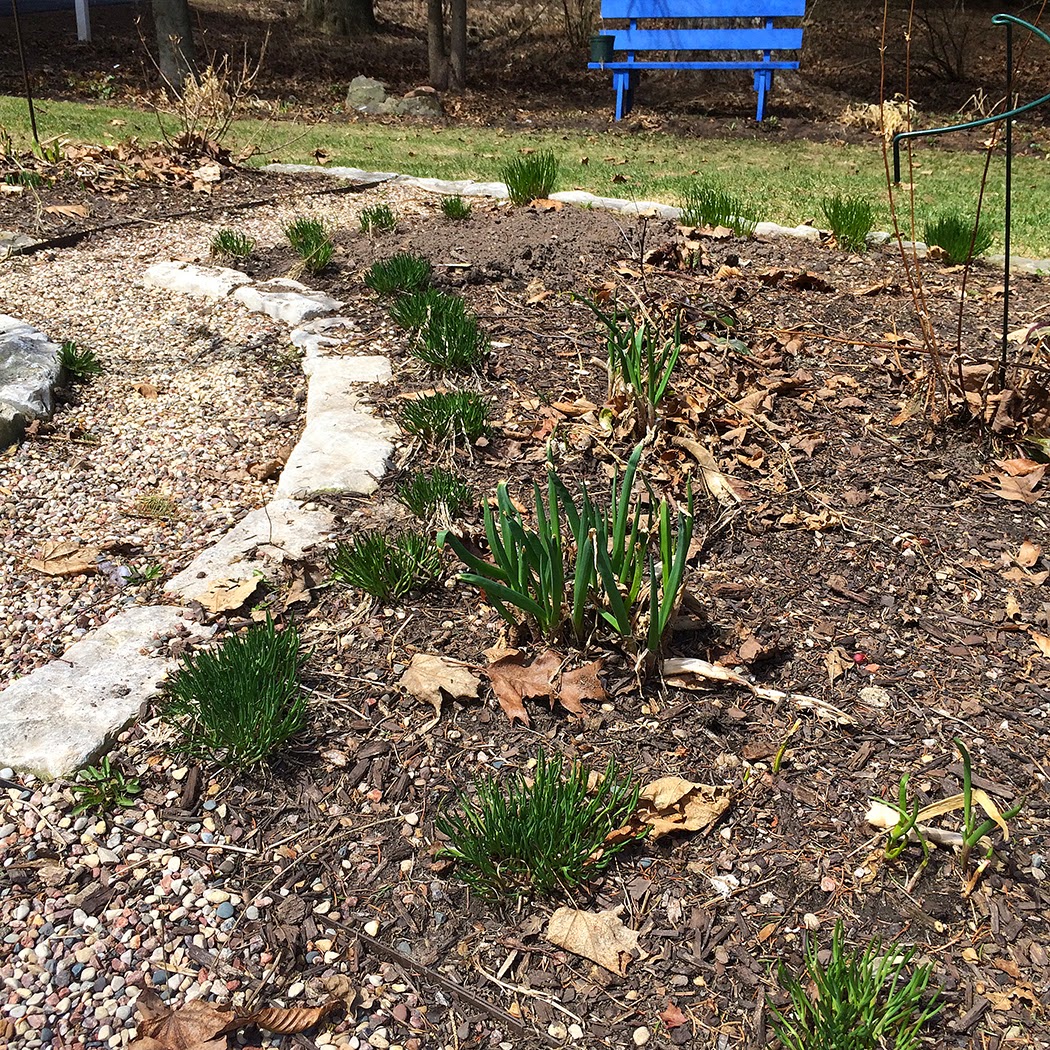 Right now they are just little clumps of chives around the perimeter of the circle garden, but soon they'll form a mini hedge.
The best thing I did in the garden was continue to work on the chive hedge in the circle garden. I started this as an experiment a couple years ago on just one section of the garden but was so thrilled with it, I've been slowly working toward extending it around the entire garden, including the interior borders. The lovely thing about chives is that they are so easy to grow and divide. The entire hedge has come from dividing the chives I had and dividing a few from my mother's garden. Because they grow quickly, I can sometimes divide them again at the end of the season.
I've made it almost all the way around the perimeter, and the one section is completed on the interior as well. I'm growing a few from seed as well and as soon as those plants are hardened off, I should only have a small amount left to do.
I love the hedge for a variety of reasons. For one, I think it lends structure to this garden that has always suffered a little bit from an identity crisis. I think that's a factor of having too many gardens; I spread my efforts across too many spaces so it can take a long time for one to be just right. But it also has the benefit of keeping out rabbits. I don't fool myself into thinking that the deer will give a rip about chives, but I think bunnies will. And lastly, they are so beautiful when they are in bloom and they are a huge draw to pollinators. Plus, why not have a hedge you can eat.
Unfortunately, in my much-needed Zen state of gardening, I failed to pause and take photos. If I had you might have seen an interesting development in the skinny patio garden. Things don't grow there like they should. The results of a soil test shed some light on that, but I've always felt like the inability of the climbing rose to thrive there was indicative of a larger problem. Turns out it probably was just the rose.
Since I'm completely redoing that bed—digging out everything and moving it or tossing it and replacing the soil—I dug up the climbing rose in order to move it. What I found was roots, in the perfect shape of gallon container, trapped in a circle. Although I purchased it in a two- or three-gallon container, clearly it had been grown in a gallon nursery pot for too long, then transplanted in a larger pot for sale, but remained rootbound. I'm irritated about it and frankly I'll be a little more careful about where I buy roses from now on. I trimmed up the roots to get rid of some of those that were strangling everything and moved it over by the veggie garden. Honestly, I don't give it a great chance of thriving there, but I'll continue to nurse it along.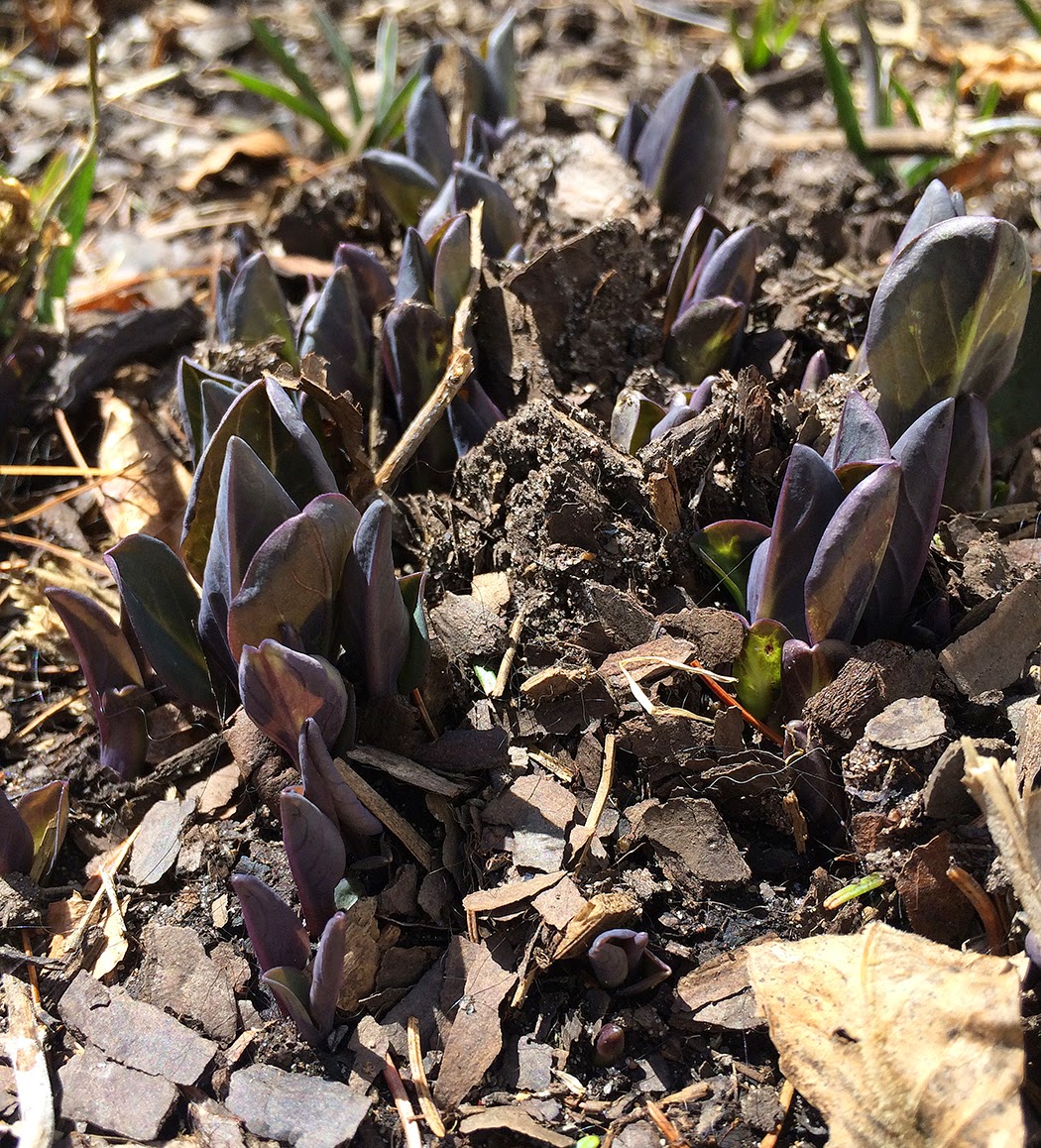 While cleaning out the beds I unearthed the tiny purple tips of the Virginia bluebells popping up.
So many leaves fell last last fall that the gardens were really messy. I ended up just using the leaf blower (I detest leaf blowers because I find them obnoxious but I recognize that they have their place and I'm pretty sure this is it) to clean out the beds. Unfortunately I also blew away just about every plastic plant tag, so I made a mental note about being better to use my metal plant labels.
Of course there were little projects along the way as well. I divided a few perennials, pruned some clematis and swung by my mom's garden to give her some help digging all the plants out of a garden where a new deck will be situated.
In a couple months a weekend of this kind of hard-labor gardening (as opposed to plant shopping and planting) will seem dreary and monotonous, but for now it was glorious respite from the more serious bits of life. My hamstrings are sore and my fingernails are gross but I wouldn't have it any other way.