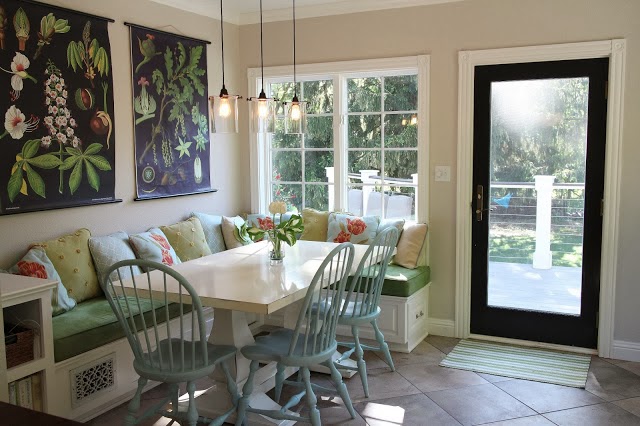 I'm not sure I've ever done a project in which I had no real expectations for the outcome. That's just not the way I roll. So going into refinished the kitchen table with no real idea of what it would look like at the end was not something I undertook lightly.
You may recall that we purchased our kitchen table from the Restoration Hardware outlet. It was a pretty good deal because it had pretty bad damage on the corner. Turns out that was fine with me because I knew it was too big for our space and that we'd be cutting that part off.here.
You can read all about how we customized the table for our space
Originally I painted the entire thing, and you can read more about that process here. I finished it with Polycrylic, which is a water-based coating. I chose that after testing several products on scrap piece of wood. It was the only finish coat I could find that didn't make the paint crackle or yellow. Or so I thought. Within days of applying it, it turned yellow. It bugged me then, but then it got even worse. It yellowed even worse with age. It had to go.
My original intention was to just paint it white again. And then a couple weeks ago I saw this table online (for the life of me I can't find the link now but I'll keep looking) and my interest was piqued. But the big question was, could I make my maple veneer table that was currently white look anything like that.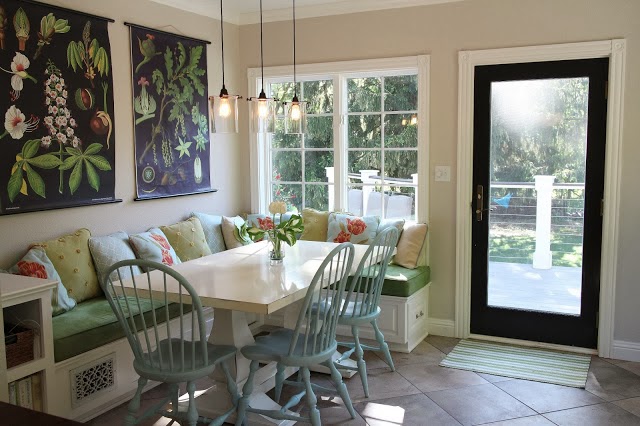 The kitchen with the white table.
The only difference in terms of a starting point between trying to do a weathered finish and repainting the table was that I'd have to strip it first. So I did a little tester of stripper to see what was hiding underneath (for instance, did I leave a bunch of swirl marks from sanding it originally?). And when the stripper did its thing, it looked fantastic. This had potential.
So here's where it ended up. What do you think?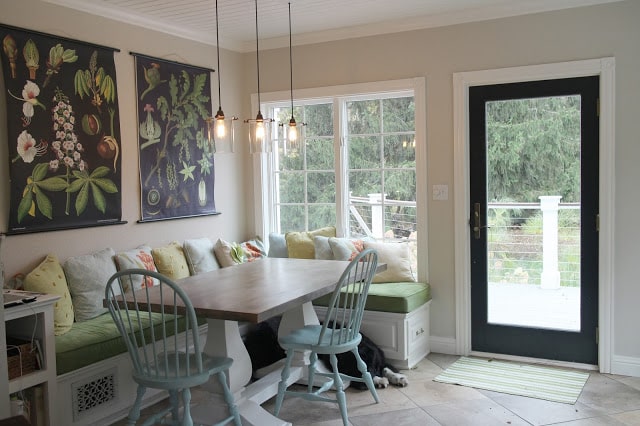 Refinished table.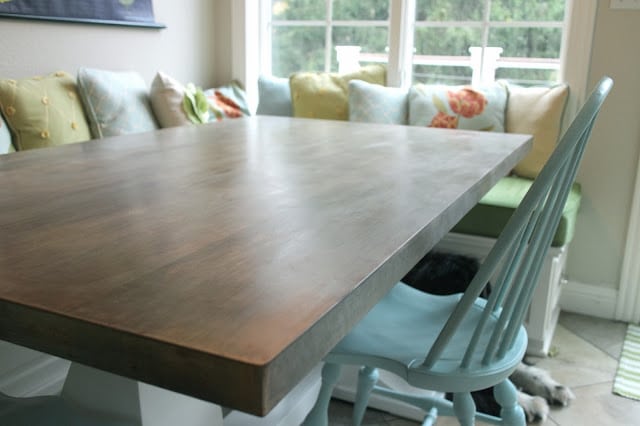 While I liked the white table before, I'm loving this new look as well. More and more, I'm discovering that juxtaposition is my thing. I love a little bit of shiny and new mixed with vintage or weathered. It just works for me. So I like the fresh white table base with the weathered wood top, even if it doesn't really make sense.
Click here for a tutorial on how I did it.
You might notice the black furry thing under the table in those last pictures. That's Rita. There's a good chance she was stuck. Whatever the reason, it was clear to me she had no intention of moving.