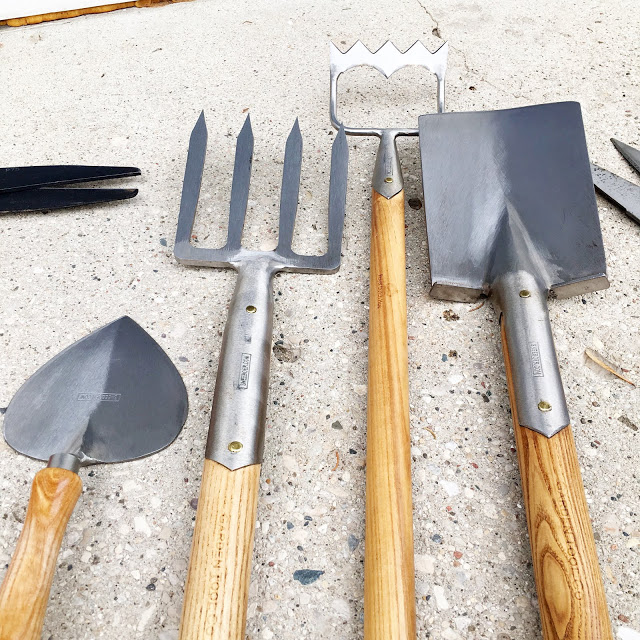 I've not been quiet about my relatively recently discovered love for Dutch-made Sneeboer tools. After years of buying less expensive gardening tools at the local hardware store or garden center, I broke down and bought a Sneeboer Ladies Garden Spade (my mom is about 5'5″ and she likes the
Border Spade
which has the same size head but a slightly longer handle) after talking with the owners of
Garden Tool Company
, Blake and Anne Schrek. At the time I couldn't believe I would spend so much on a garden tool, but when it came I was in love. Because I had a took that was correctly sized and impeccably designed, gardening was a true pleasure. And the spade was a thing of beauty. It felt right and it looked good and I loved using it.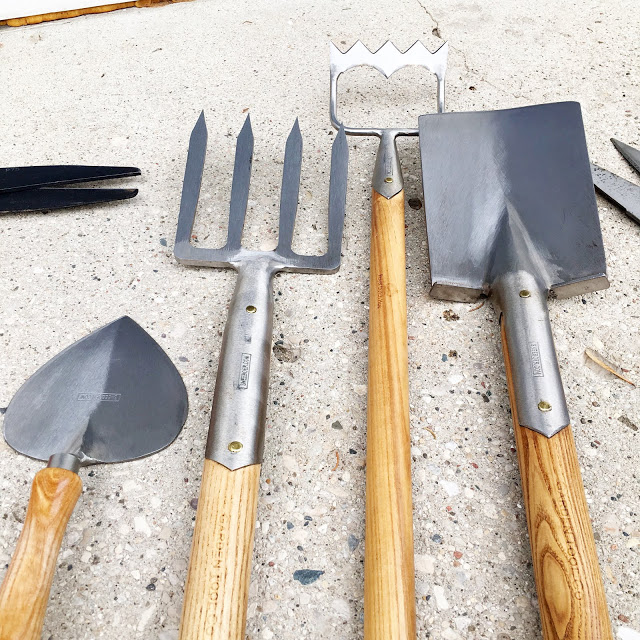 On a warm day in late February I pulled out all my Sneeboer tools for a good cleaning and sharpening.
My collection of Sneeboer tools grew from there as a I added a garden fork and the
Royal Dutch Hoe
. The latter is currently the most frequently used tool in my arsenal as I've discovered the art and benefit of hoeing (especially this time of year when chickweed tries to eat my garden). I love that thing because it obliterates weeds on both the push and the push and the long handle allows me to reach far into the garden. I can quickly clean up large areas of the garden.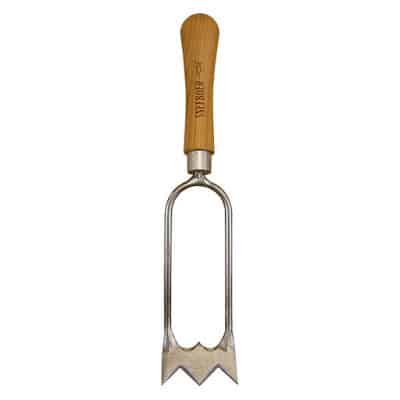 When I found out that Sneeboer and Garden Tool Company was now offering a handheld version of the Royal Dutch Hoe I was thrilled and even more so when Garden Tool Company asked me to test it out.
The
Royal Dutch Hand Hoe
is about half the width of the original Royal Dutch Hoe blade and 12 inches long, which makes it perfect for raised beds, containers and tight areas. I took it out for a spin first in the raised vegetable garden. It took literally about a minute to snip off the small weeds rearing their ugly heads in the bed. The hand hoe, like its big sister, glides just under the surface the soil, nips off even weeds that haven't emerged yet.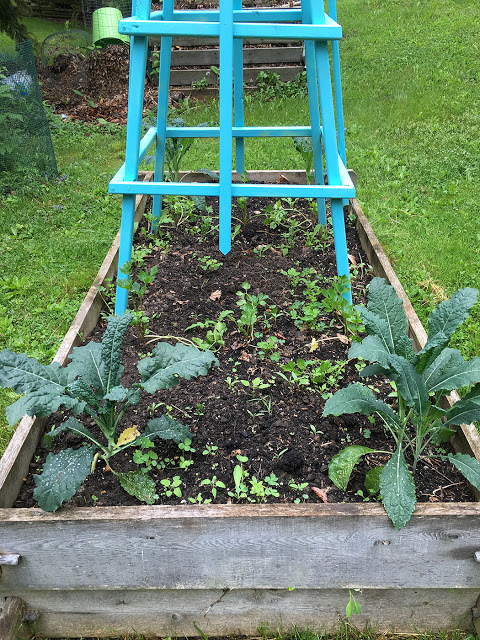 As you can see, some tiny weeds were taking hold in one of the raised vegetable gardens.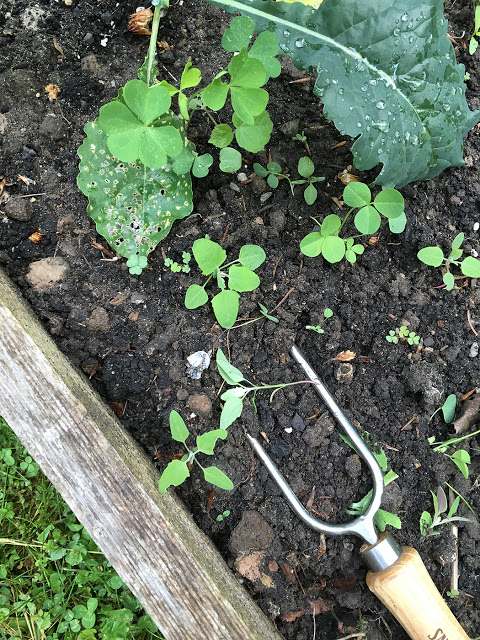 The Royal Dutch Hand Hoe works on both the push and the pull and easily glides just under the surface of the soil to cut those buggers down low.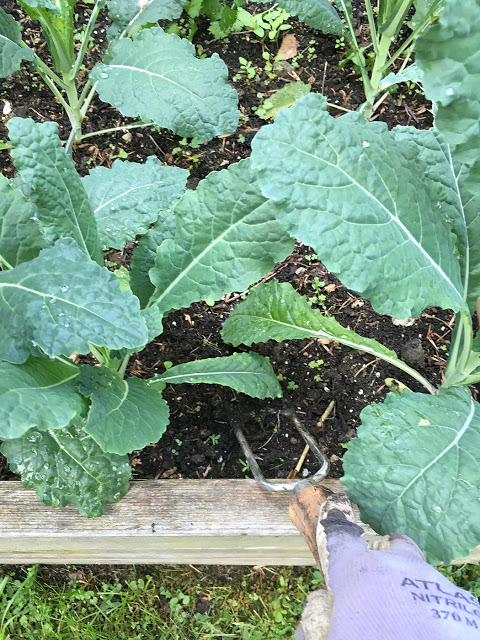 It was perfect for getting into tight areas of the bed in between the rapidly growing kale.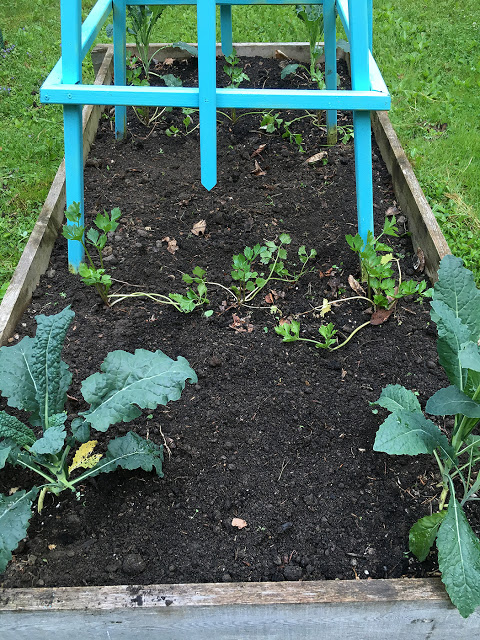 And here's what it looked like just a few minutes later.
I found myself reaching for this new hoe again later when it came to deal with the dreaded creeping bellflower in the latest part of the garden where it has taken hold (hoeing and pulling it won't make it go away, but I can at least keep it under control using those methods). I was able to use it right next to the truck of a small tree, where the larger hoe couldn't maneuver. And while I was down there I also used it under the leaves of larger hostas where more weeds where lurking.
Like all of my Sneeboer tools, it has a beautifully shaped handle. It's available in ash and cherry and I chose the ash because it matches the rest of my tools, and a gorgeous finish on the blade. One of the things I like about the Sneeboer tools is that they are incredibly finely crafted but you can tell when you look at them that they are hand made. I love knowing that a person made my tools, not a machine.
So here's the best news: Garden Tool Company sent me a second Royal Dutch Hand Hoe to give to one lucky reader. This one has the beautiful cherry handle and I guarantee it will become one of your favorite tools.
Just use the widget below to enter to win. I'll pick a winner next Friday so you have lots of time to use it in the garden this year. But who knows, when the weeds see you coming with a tool this good looking they might leave on their own.
Disclaimer: Garden Tool Company provided me with two Royal Dutch Hand Hoes. This allowed me to test it out so I can tell you what I really think and to give one away to a lucky reader. As always, all opinions are my own. No other compensation was provided.