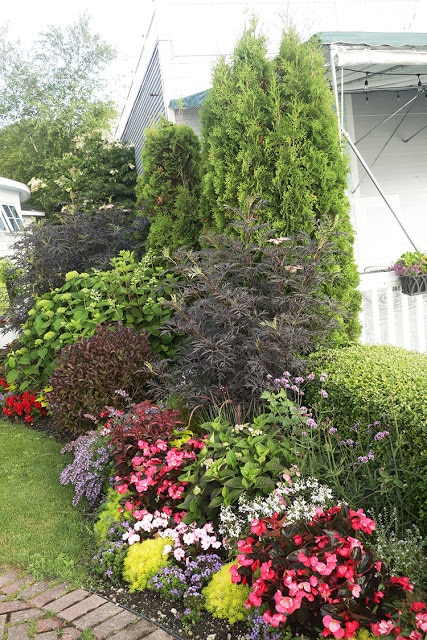 I used to find super cute clothes on vacation in some place with tropical weather, and I'd bring them home and try to wear them and it was a disaster every time. After I had a closet full of skirts with loud prints, impractical tank tops and at least one hat made from palm fronds, I can to the realization that you have to be careful what you buy on vacation. Of course a flowy skirt with a toucan on it makes perfect sense when you're somewhere with 90% humidity, trade winds and you haven't worn shoes for a week, but it doesn't translate well to a Wisconsin winter.
I think the same caution needs to be applied to gardens. As you know, I'm a huge advocate of getting into as many gardens as you can as there's no better way to be inspired or learn, but I think it's important to know that it's rare that a garden you see elsewhere could be picked up and moved to your yard and work. Obviously there are climate issues to be considered, but even if that's not an issue, rarely will an exact replica work.
That's why I think it's helpful to find little pieces of a garden, a moment here or there, to draw inspiration from, rather than the garden in it's entirety.
It's something I need to remind myself frequently when I'm on Mackinac Island. The place is so flush with color and gardens everywhere you turn that it's hard not to want to turn your whole garden into one straight out of Mackinac Island. Instead, I'm sharing a few of the bits of inspiration I've picked up there over the years.
1. THINK IN COLOR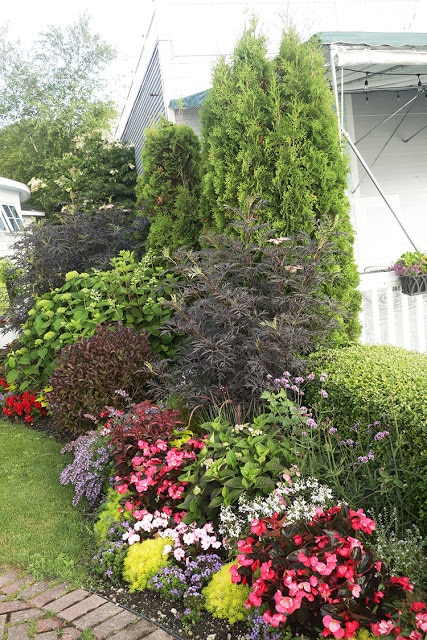 A colorful corner at the Hotel Iroquois.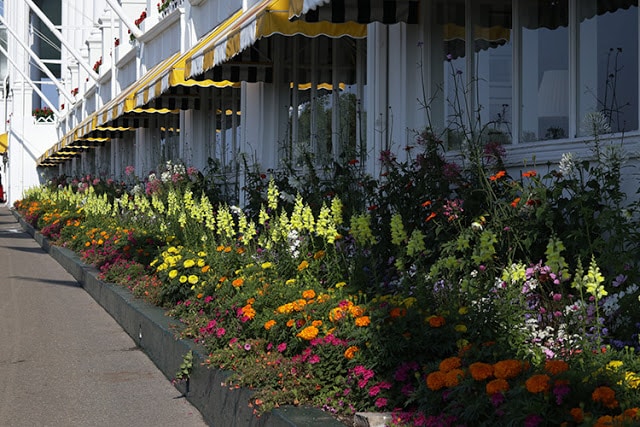 The long border in front of the Grand Hotel.
You'd be hard pressed to find a garden on Mackinac that could be described as subdued. Most are riots of color. This is usually delivered through annuals and for good reason: They provide color all season long and since Mackinac Island is a seasonal destination (almost all businesses are closed in winter), there's no need to worry about winter interest in most gardens.
The gardens at the Hotel Iroquois prove that you need not worry about how you mix colors because if you put enough of them in, it all works!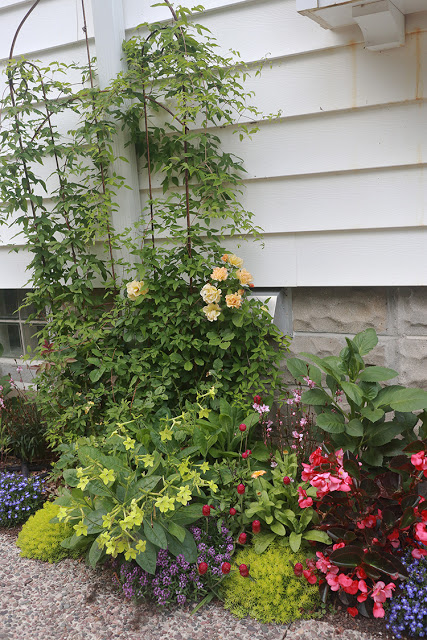 My skinny patio border.
The skinny patio bed at my house is certainly planted in this vein and that's probably not a coincidence, although I doubt it was a conscious decision. I think it works in that small bed and provides a much-needed jolt of color against our all-white house.
2. CHANGE UP THE HEIGHT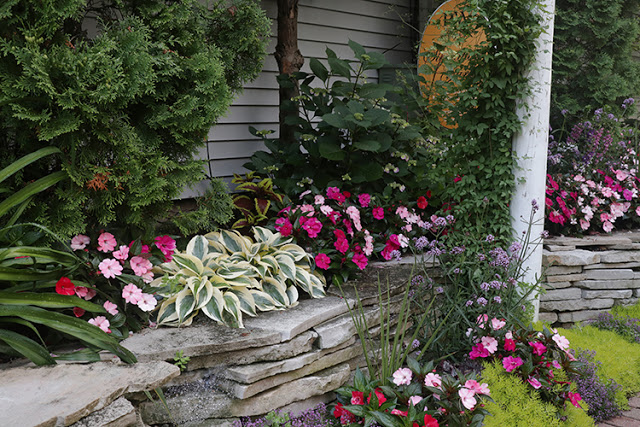 Dry stacked walls on the entrance to the Hotel Iroquois add texture, raise plants and create so many more planting opportunities.
One of the best features of the entrance garden at the Hotel Iroquois, in my opinion, is the terraced levels, which offer the ability to see so many more plants at a glance. This garden would not be nearly as interesting if it were all flat.
3. USE HEDGES TO DEFINE SPACES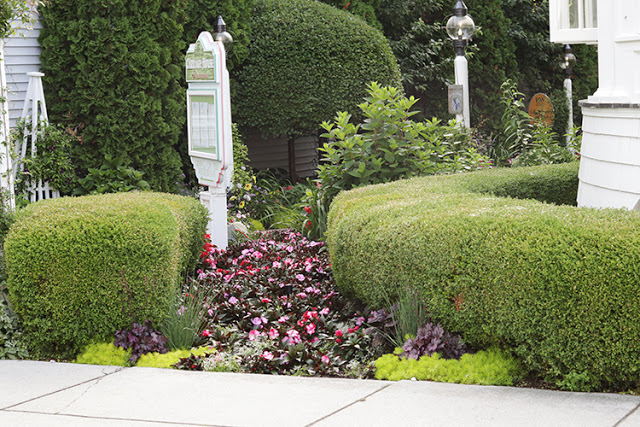 These hedges, which form a river of annuals, always intrigue me. I think the one on the right is there to hide the bottom of the building and the one on the left is to keep people from cutting the corner onto the walkway. The "river" of annuals down the middle makes you want to explore more.
On the lake side of the hotel, hedges help define the patio areas, but the color keeps flowing with annuals planted in front of them. This keeps the area from looking too formal as well tying it in with the rest of the garden. Every year I wonder where I could use this lesson in my garden.
4. DRAW GUESTS TO THE FRONT DOOR
Front walkways, almost without exception, are lined with plants on Mackinac Island. There is no doubt how you get to the door, but guests seem to be invited to take their time getting there as they enjoy the plantings. I'm not suggesting that all walkways will benefit from this treatment, but marking the entrance in some way, perhaps with just a pair of pots, is a great takeaway.
5. PAY ATTENTION TO WHAT'S UNDER YOUR FEET
Don't underestimate the importance of hardscaping. As gardeners we're inclined to worry more about the plant bits, but hardscaping sets the tone, guides people through a space and keeps you on even footing … literally.
When I was on Mackinac Island a few weeks ago I snuck out early in the morning to grab a quick video of the gardens at the Hotel Iroquois. You can check it out here or below.