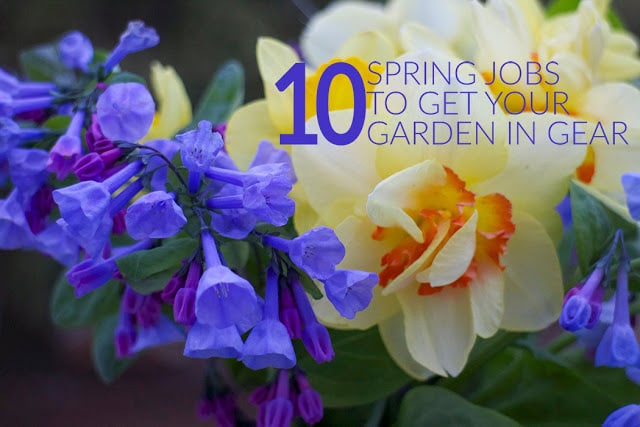 I love a good to-do list.
For the most part, April is the first real opportunity to get back in the garden in this area and although this week is cold and wet, soon it'll be time to clean up the yard. So in honor of tomorrow being April and my love of to-do lists, here's a list of some spring cleanup chores.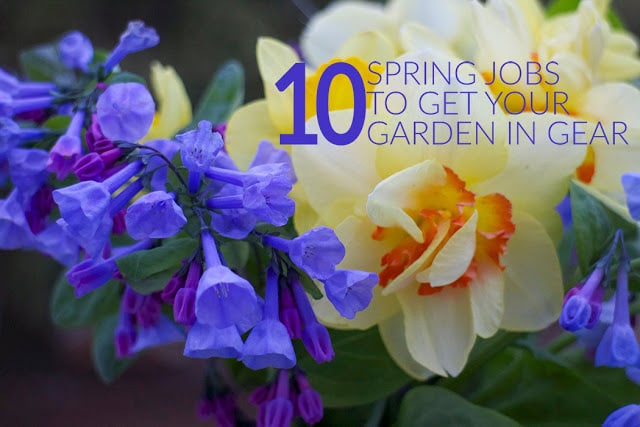 Affiliate links may be used.
1. CUT BACK PERENNIALS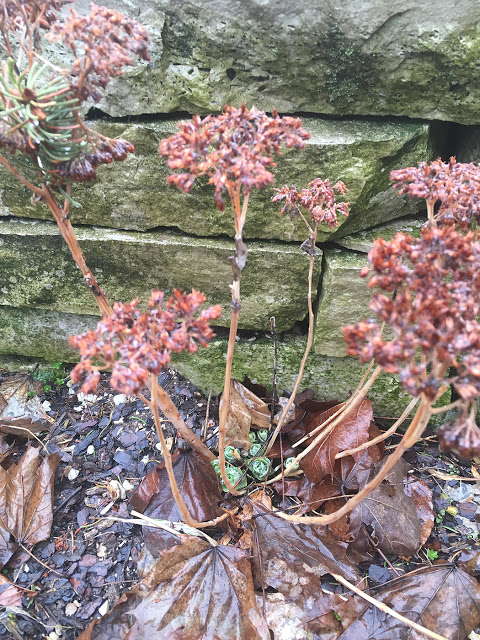 Be careful when cutting back perennials left standing for winter. You don't want to damage new growth like on this sedum.
Anything that wasn't cut back in fall should be taken care of now. For plants with stiff stems, such as echinacea, they will often just pull straight out. Other plants with lots of foliage, such as pulmonaria and lady's mantel, just sort of collapse over winter so I lift up the leaves and chop them back as close to the crown as I dare, being careful to look for new growth. Grasses are another plant to be careful when cutting back. If you cut off any new growth when cutting off the dead bits, you'll have grasses without tips, so a little caution is in order.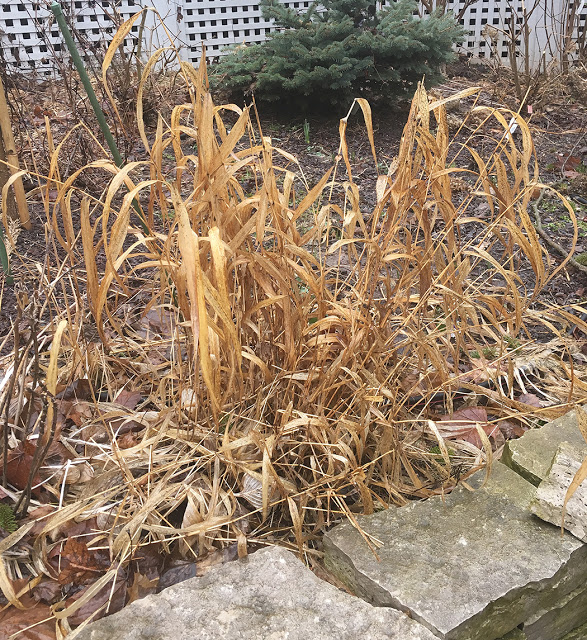 This hakonechloa is due to be cut back. I'll be careful to check for any new shoots that may be hiding under that mop and not cut them off.
2. PRUNE CLEMATIS
Since my current clematis count is somewhere in the mid 20s, this isn't a small task for me, but more and more, I've been planting group 3 clematis that simple need to be cut back to a couple buds above the ground. In that case the bigger issue is trying to remember where they are all planted. Group 2 clematis, often the large-flowering varieties, require a different treatment. I follow a rule of thirds with Group 2s, leaving one third of the stems untouched, lightly pruning another third of the stems and trimming the last third of stems almost to ground. I also take the opportunity to rearrange the stems, usually cutting off the twining bits and reattaching them with ties to whatever support they grow up. I only have one Group 1 clematis, and these are generally not pruned. Because it is a good grower and I'm afraid it may eat my new magnolia tree, I prune it lightly right after flowering, which is very early in the season. If you don't need to contain the growth, then you needn't prune them other than to remove dead bits.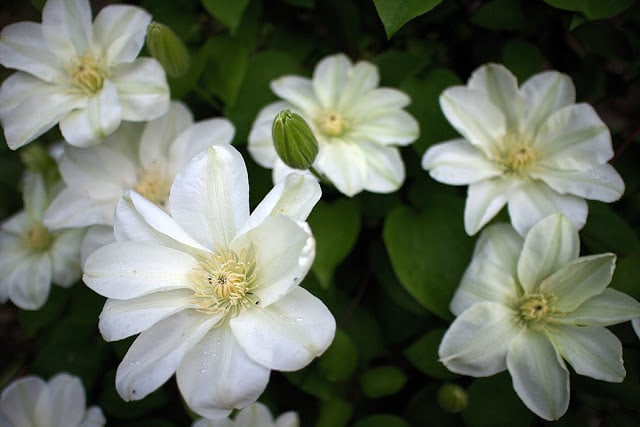 'Guernsey Cream' may be my favorite clematis. It's a Group 2 so I use a rule-of-thirds approach to pruning it in spring.
If you don't know what kind of clematis you have, don't prune it at all. All of them will be OK without any pruning, at least for a year, it's just that the blooms may be much higher than you'd like and the vine may be a bit tangled. Try to identify what kind it is when it blooms so you know what to do next year. Several years of not pruning will lead to an unsightly clematis.
The exception to this is with new clematis that were planted last year. Regardless of what group they are, I think it's best to cut these back like Group 3s, which allows the plant to put more energy into the roots rather than producing flowers. You'll sacrifice some of this year's show, but it will be worth it for the long-term health of the vine.
I also fertilize my clematis when I do my spring pruning. I use Espoma Rose-Tone, and just use a small amount around the roots, watering it in well.
3. PRUNE (SOME) HYDRANGEAS

I already pruned the big Hydrangea paniculata 'Limelight' in my yard and I should have done the others a month ago, but there's still time. This hydrangea puts on amazing amounts of growth, so you can prune it back to 1 to 3 feet and it'll be beautiful and big. If you'd like it larger, prune less.
Last year I didn't cut the Limelights by the deck back by much because they were relatively new shrubs (the before and after follows), but this year I'll cut them back a little more severely. They have grown enough that they flower above the deck handrail now.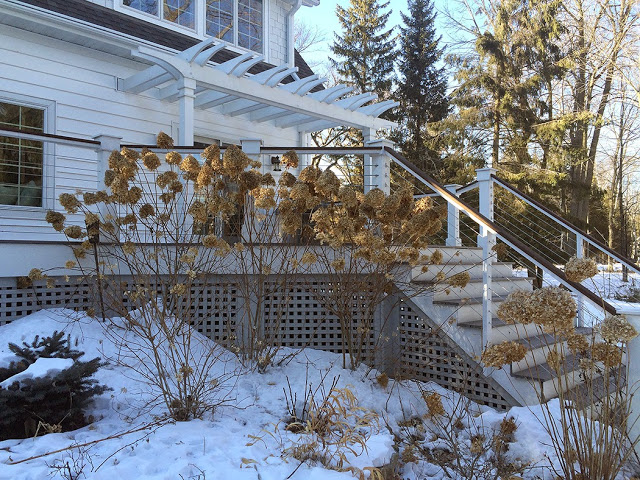 Before pruning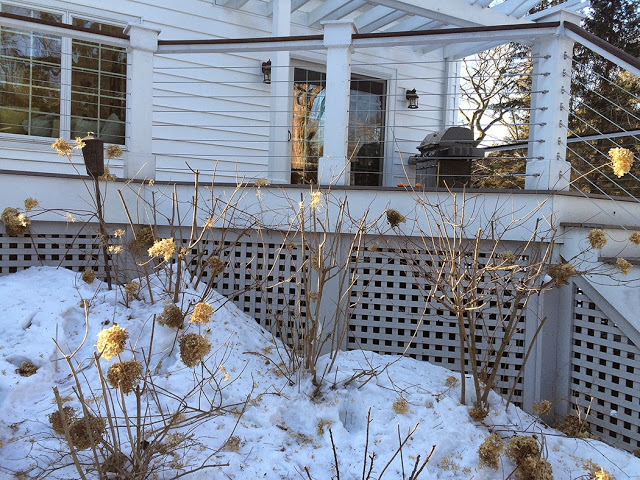 After pruning
For the so-called smooth hydrangeas in my yard—Hydrangea arborescens including 'Incrediball,' 'Annabelle' and 'Invicibelle Spirit'—I prune them back nearly to the ground. This excellent pruning guide from Proven Winners recommends leaving some stems as a framework, but I rarely do that.
Bigleaf hydrangea (Hydrangea macrophylla), lacecaps (Hydrangea serrata) and oakleafs (Hydrangea quercifolia) shouldn't be pruned at this time of year, with the exception of removing dead stems, which can and should be done any time of the year.
4. CLEAN OUT THE GARDEN
Leaves that fall in autumn can create big mats in the garden that can make it difficult for plants to emerge. I like to clean up the garden, clearing the way for plants to grow and allowing me to keep a close eye on what is growing. It's easy to spot small weeds when they can't hide under leftover fall detritus. The problem, of course, is that perennials are shooting up all over the place and it's easy to crush new shoots inadvertently when you're standing in the garden to rake it out.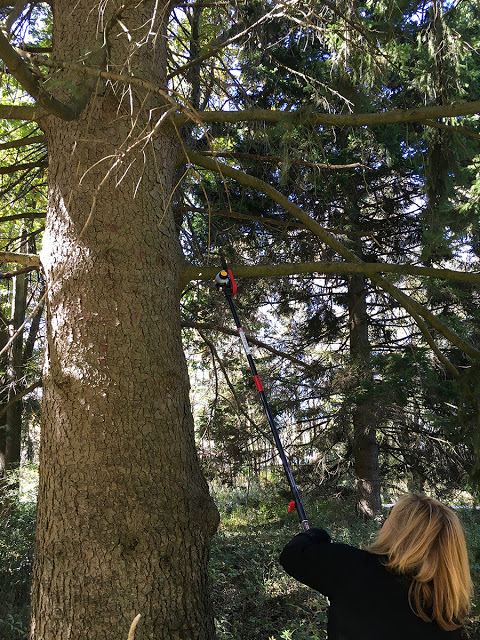 From string trimmer to chainsaw-on-a-stick to high-powered blower (attachment below). Makes spring cleanup much easier!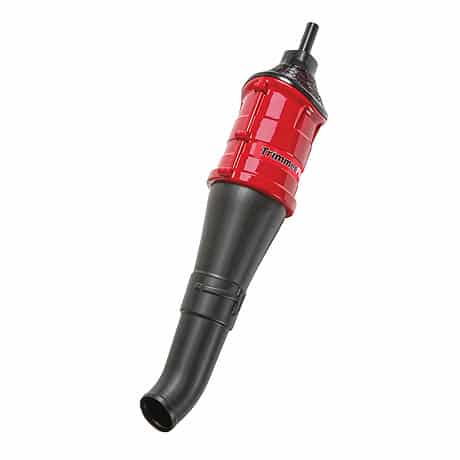 I like to use a leaf blower for this job because you can't damage young plants and you can clean out areas deep in the garden without having to step in it. You may recall that last fall I tested the Troy-Bilt TB60044 Straight Shaft String Trimmer with the JumpStart engine starter (which gets my vote for invention of the decade). I loved the fact that you can easily swap out a variety of attachments for it and it just so happens that there is also a blower attachment for their TrimmerPlus line, so that is perfect for this job. I'll be testing out a new Troy-Bilt leaf blower soon that is battery powered and full of cool technology so I can't wait to tell you what I think about it.
5. PULL WEEDS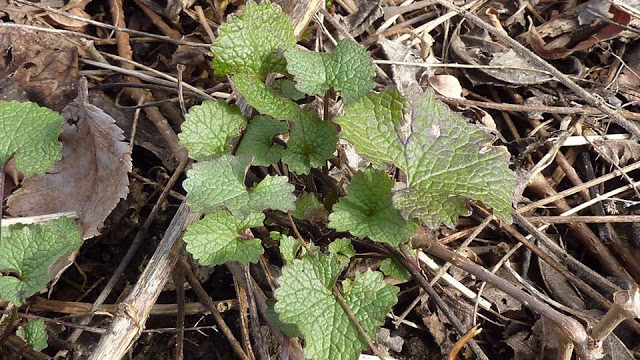 See that little bugger? That is baby garlic mustard weed and it's already popping up all over the place here. I'm trying to pull it anywhere I find it to get ahead of this garden thug.
It is amazing to me how many weeds are already thriving in the garden. It's a never-ending fight, but dig out what you can now to make for less work later.
6. GIVE THE LAWN ITS FIRST CUT
When the lawn starts growing, which is will very soon, a first cut will make everything look better. A mulching mower will also clean up all of the other bits and pieces left laying around on it, and it will set the stage for a healthy lawn for the rest of the summer. Just make sure to keep the blades nice and high.
7. PLANT EARLY SEASON CROPS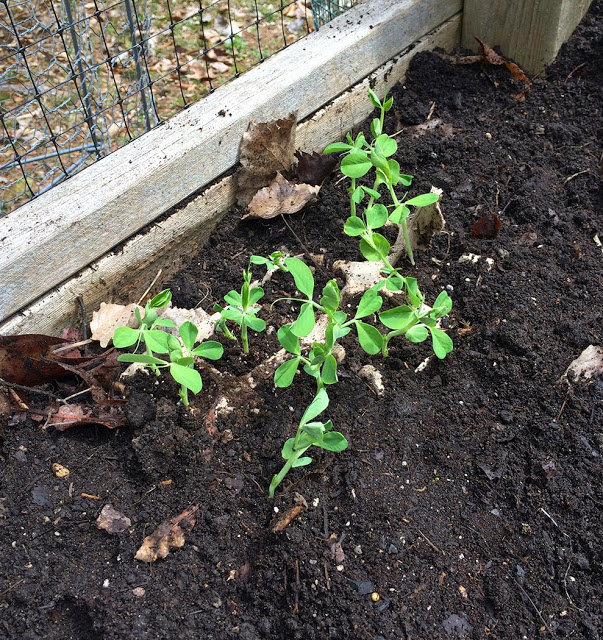 Sugar snap peas started inside and transplanted into the garden.
Peas, kale, spinach and lettuce are all cool season crops that will withstand plenty of cold weather so an early sowing can get you eating vegetables from your own garden early on.
8. WORK ON YOUR COMPOST
A shot of my compost thermometer last spring, when my pile topped out at 140 degrees! I was so proud and now there's a new standard set that I'll have to meet this spring.
My compost pile goes pretty much dormant in winter but as soon as it thaws out I get out there and start stirring. I'll add the material I clean out of the garden and if it needs a kick of nitrogen-rich material, which is not uncommon after all the carbon-rich leaves and garden waste I threw in there in fall, I add a 5-gallon bucket full of rehydrated alfalfa cubes, which is a great source of "greens" for the compost pile. That usually gets everything cooking again and so long as I stay on top of the stirring and watering if necessary, my pile will be hot by the end of May and I'll be making finished compost quickly.
9. EDGE YOUR GARDEN BEDS

I say this all the time, but I know of no other garden chore that makes your garden look pulled together more than edging beds. A crisp edge will make you look past all manner of garden sins, and if you get a good edge early in the season, all you'll need later is a few touch-ups here and there.
10. MULCH. OR NOT.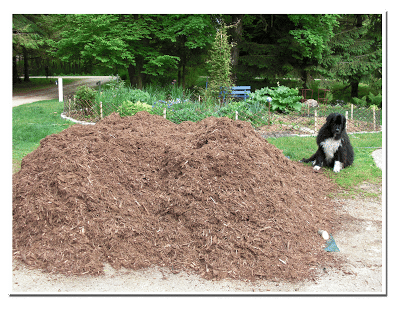 I know of no other aspect of gardening that is as controversial as mulching. Whether to mulch, what to mulch with and when to mulch will probably be debated by gardeners until the end of time. The most important of these questions, I think, is what to mulch with. It must be an organic material (that is, no ground up rubber, please), it should break down quickly and you should be careful where you source it from.
I like to mulch with compost, leaf mold or pine bark fines, none of which are particular easy to find in mass quantities. I don't care for large chunks of wood and certainly not dyed wood chips. But this year, I may not mulch at all. Invasive so-called jumping worms have come to our area (they are gross and horribly damaging and more than a little scary and I'll tell you all about them soon), and the DNR is still trying to get a handle on making recommendations on managing them. One of the main sources that could bring them into the garden is eggs in mulch, so I'm very wary about bringing mulch into my garden right now. (By the way, they've also been found in many other states.)
If I do mulch, I will probably use mulched leaves from my yard and my neighbor's yard that have been rotting down for a year or more.
I always learned that if you are going to mulch, you should let your soil warm up first, but there is also a benefit to applying mulch before many weeds have a chance to get going. One thing is for sure: If you are going to mulch, be selective in your sources and keep it away from the base of plants.
AND ONE DON'T

At this time of year, you can probably do more harm than good trudging around your garden. Stepping on emerging perennials is no good and even worse, compacting the soil is really bad. So even though I've just given you a list of a lot of thing that require stepping in the garden, try to limit the traffic there. If you can use a board to distribute your weight when you step in prune something, that will help. It's also not great to dig in wet soil as it can damage the soil structure. So don't get ahead of yourself. Your garden will thank you.
What's your favorite spring garden chore, or the one you hate the most?
This post was sponsored by Troy-Bilt, which compensates me to be part of its Saturday6 blogging team. Of course all opinions are my own!