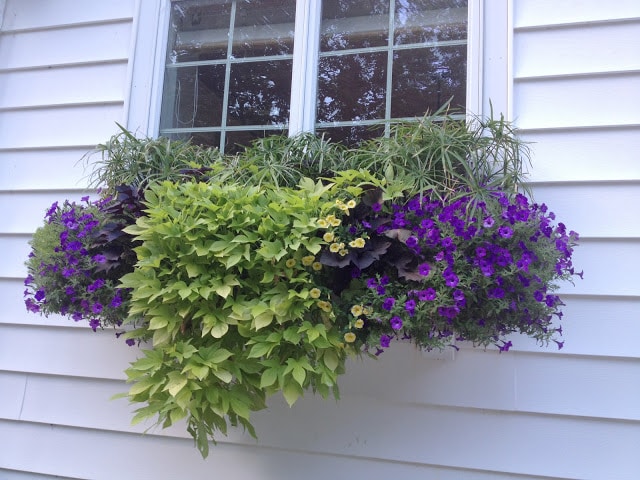 For the three summers that we've had the window box I've been challenged to find the right balance in it. The first year was fairly experimental. Last year I ended up with a texture issue (everything was the same scale). This year I actually worried more about the texture than the color and did OK. What I'm most impressed with is how good it still looks in mid-September. Usually by now the plants have bloomed themselves out completely.
I usually like to change up the containers for fall, but the window box still looks pretty good so I'd be hard-pressed to pull stuff out now.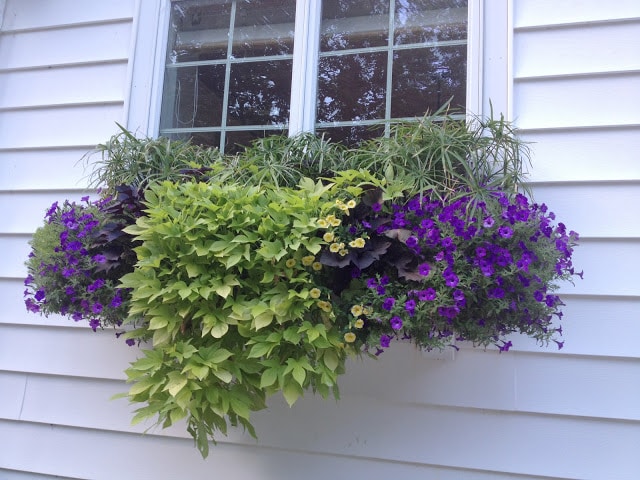 Last week.
First planted.
Admittedly, the sweet potato vine ('Sweet Caroline') has taken over the center. That was not the intention. In fact there is another Supertunia Indigo Charm planted in the middle of those two sweet potato vines that have grown into one, but no matter how much pruning I did, I couldn't make enough space for it to do much. I chose this Sweet Caroline specifically because it's less of a thug than other sweet potato vines, but as you can see, she's still a bit brutish. That's OK.
I'm particularly happy with the Papyrus 'Baby Tut' that fill the back of the box. I think they are what really helps the texture issue. Because papyrus can be a bit of a water and space hog, I actually planted each of them in a one-gallon plastic nursery pot with the bottom cut out of it and the side split so they'd be free to grown and drink but just a tad contained.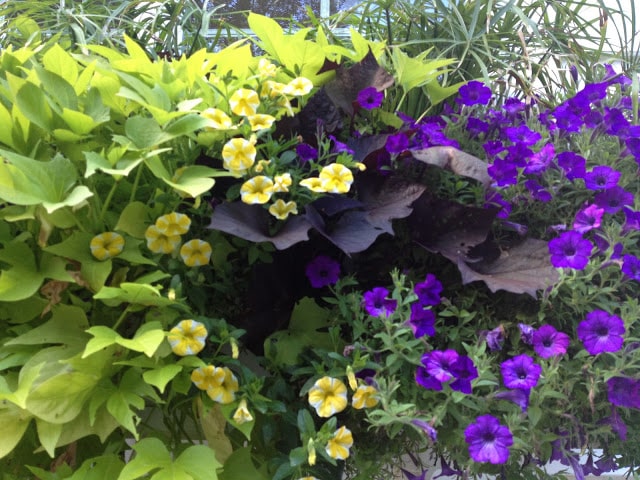 As I've mentioned before, I don't know why I was such a pill about petunias. Somewhere I got in my head that I didn't like them in containers. But I've been so impressed with the two Supertunias I grew this year: Indigo Charm in the window box and Watermelon Charm in the large container by the front door. They never petered out and never stopped blooming.
I also put a couple Superbells 'Lemon Slice' in there, but they didn't perform with as much vigor as the Supertunias did (I blame this on the bossy sweet potato vine). And the purple sweet potato vine (Sweet Caroline Bewitched) is a lovely little plant that kept that amazing color. I expected it would cascade down, but it remained bushy. I'll use it again in a place where I'm looking for a bushy habit rather than a trailer.
I have to give credit where credit is due. I got the idea to use the Papyrus 'Baby Tut' in the back (which I think is key to the entire box, especially because it stayed low enough that we have a good view out the kitchen window) from Pot Incorporated (who was responsible for many of the containers featured in Fine Gardening's special Containers issue). I used to feel like using other containers for inspiration was somehow cheating and I would try to recreate a similar look with completely different plants. I have a new view on that now: copy the parts you like and play around with the rest. Works for me.
How did your containers turn out this year?