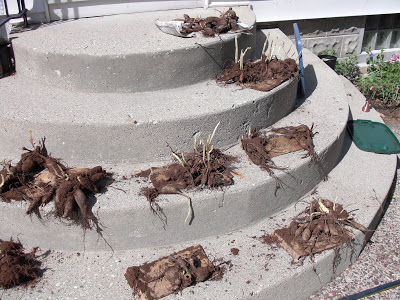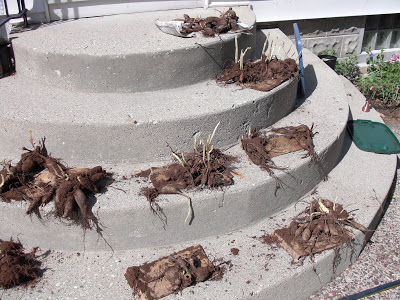 All the dahlias, sorted and waiting (no, begging!) to be planted.
Well I hope everyone had a great holiday weekend. Memorial Day is sort of do-or-die time around here for gardening stuff so the extra day off was much needed. And what a day it was. But like most you, I never get to the bottom of the list. So, even though I had an extra day, I could use about a week! But I'm wondering if even that would do it. I mean, has anyone, EVER, crossed off everything on their gardening to-do list? If so, I want to hear about it.
I also braved the nursery (and I do mean braved: a nursery on Memorial Day weekend is not for the faint of heart) because I wanted to pick up some annuals while there were still some left. I think I have everything I need for my containers, well most of them anyway. And a few things I don't need. I got to the checkout counter and looked in my basket and thought, "Hmmm, I wonder what I was planning on doing with that plant?" An hour before it was all clear but you walk around that greenhouse long enough and your head gets a tad foggy.
So I got oodles of delphiniums from Graceful Gardens planted. Their delphiniums have always done great for me the first year. Which is good, because I have about a 2-50 record of getting them to come back the next year. Weeded and mulched the circle garden, did a bunch of other stuff. And just as I was thinking about taking up my neighbor's generous offer to help relieve him of oodles of very course mulch left for him by the people who rape the trees near the power lines for the electric company, I had a revelation: The dahlias were still in the garage!
Whoops. I realized it's definitely time to get those guys in. So I unloaded the bins carefully (I'm hoping my labeling system worked), and got them all in the ground. By now it was approaching 4:30 p.m. It's supposed to rain all week so it's A.) a good time to get them in and B.) my last chance until next weekend (which will be equally filled with gardening chores). The first ones in were very lovingly planted in nicely dug and amended holes. By the end, I'll be honest, they were lucky if I managed to get them planted at more or less the correct depth.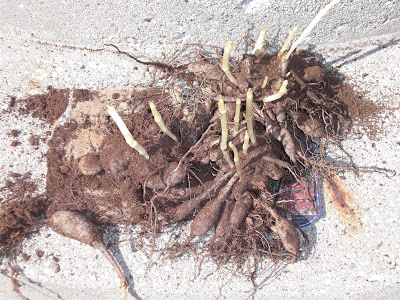 They were so eager to get going that almost all of them had sprouted quite a bit.