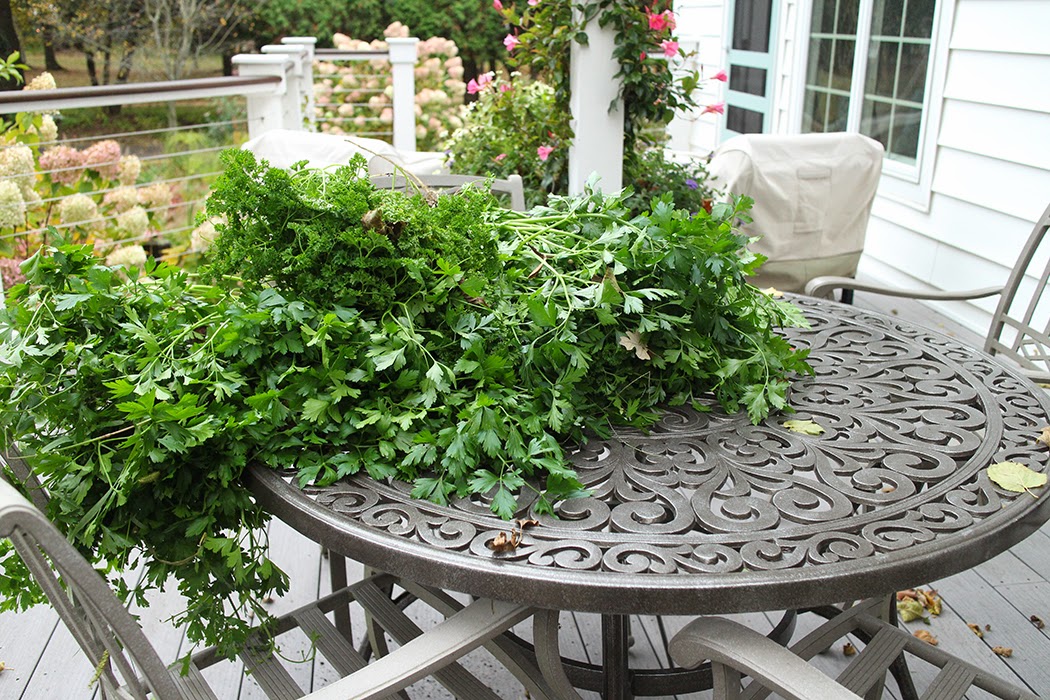 I grew parsley from seed for the first time this year, and as I was harvesting armloads of it over the weekend, it was a bit of a head-slap moment. It was so easy I can't understand why I haven't been growing it from seed all along.
The big end-of-season parsley haul.
I really like parsley. I think it freshens up every kind of food (well, other than sweet things which deserve a helping of mint, in my mind) like no other herb can. And I grew way more than I could possibly use over the course of the summer. But there was no way I was going to let all that summer goodness go to waste.
I pulled all my parsley plants, roots and all, as frost is most certainly coming our way very soon. I plucked the leaves—well, as many as I had the patience for— and gave them a really good washing in my salad spinner (how did I live before I had a salad spinner?).
Then I just packed them as tightly as I could in the bottom of a large Ziploc bag, making sure to roll out all the air. I made three logs in this manner and popped them all into the freezer. When I need parsley, I can just pull out a log and cut off what I need.
Frozen parsley logs.
I did this with basil several years ago and it worked great, although you are limited to using frozen herbs on cooked items (it doesn't really work fresh in salads or anything). That's fine especially with parsley because that's what I use it on most anyway.
Margaret Roach has a slideshow on how to do this if you really need step-by-step instructions on this, but seriously, it's as easy as it sounds.
Parsley pesto frozen in ice cube trays.
I also made a small amount of parsley pesto (well, sort of pesto: just parsley, garlic and olive oil) which I froze in ice cube trays and popped out the cubes to store in a plastic bag. I can see this being really good in soups.
I'm not a big preserver of food. Canning still scares me because I'm afraid I'm going to kill someone by not sterilizing or sealing a jar properly. But I can freeze stuff and I love to eek out the last bit of goodness out of the garden.
Did you save any of your home-grown produce this year?