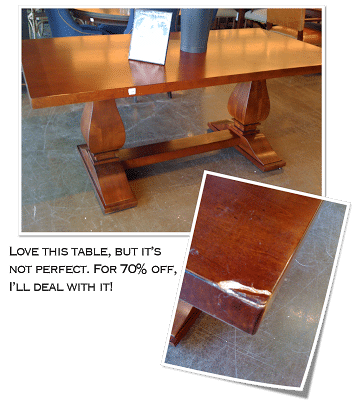 I 've been doing some shopping this weekend. This is not necessarily a good thing, but sometimes a deal comes along and you know you only get one shot at it, so you better take it.
I've been planning to put banquette seating in my kitchen. Although I love the round table that came with the house (it has a lazy susan built in), it's just not the right shape for the space and you pretty much walk into it as soon as you walk in the back door, which is the entrance we use most often. It also is impossible to get more than four people at the table, and when you don't have a dining room, that really limits your entertaining possibilities.
I've found someone to build the banquette for us. But before I even thought about having him start, I wanted to find the right table. I considered the Ballard Designs Chianni table, but I had some concerns about quality after reading some reviews online. Then I found the Camden trestle table at Restoration Hardware. It's perfect in all but two regards: it's stained a beautiful and slightly distressed "tobacco" color and I was really hoping to have a white table and there's a possibility it might be just a "tad" too long (like a couple inches). It's hard to tell for sure despite the cardboard cutouts that I've had laying all over the kitchen to represent the table. Well there was one other problem with that table: the price.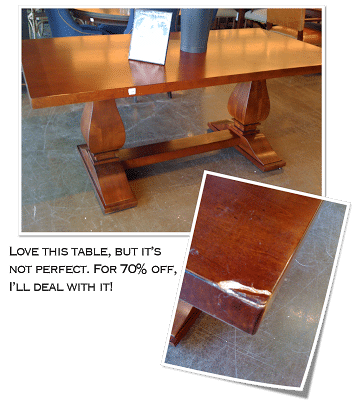 Then lo and behold, I found out there is an RH outlet a little over an hour away. And guess what? They had a Camden table in stock. So I ran down there Saturday morning to check it out and there it was, looking just as great in person as I had hoped. Except for the corner. Which was mutilated (you knew there was a reason this was in the outlet store). So after much hemming and hawing (and frantic text messages to a friend and my husband), I bought it. The corner is not salvageable, so a repair is required. The plan at this point is to cut about two inches off each end of the table. It's maple veneer over something like MDF, I think (the base is solid maple), so after some searching on the internet it looks like the thing to do is score the veneer, put down some masking tape, attach a straight edge, then take a new, fine-edged blade on the circular saw and hold your breath. From there we'll re-veneer the edge. I took the table home for about 70% off the retail price, so for that price, for a table I really love, I think it's worth going to what some might consider an extreme. I will probably end up painting it white (I know a whole bunch of you just gasped) but I'll think about that first.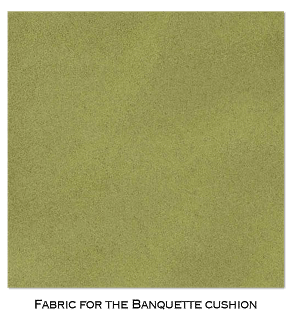 The other deal I found this weekend was on fabric for the banquette cushion. I wanted something really durable, so I found a microfiber suede in a great green color. It was already on sale for $14 and change through a discount fabric Web site, and then I found a coupon code (I LOVE coupon codes. It's like my personal mission to never buy anything online without a coupon code) for 30% off, so I got that fabric for $10/yard. That's not to shabby for a really durable upholstery fabric. I'll be doing a mix of throw pillows for the back so I'll look for a good deal on those later.
But all of that needs to wait because I have some other projects that need to be finished first. Stay tuned to see the before and afters on those, hopefully this week.
So, what do you think? Am I nuts for bringing this table home?