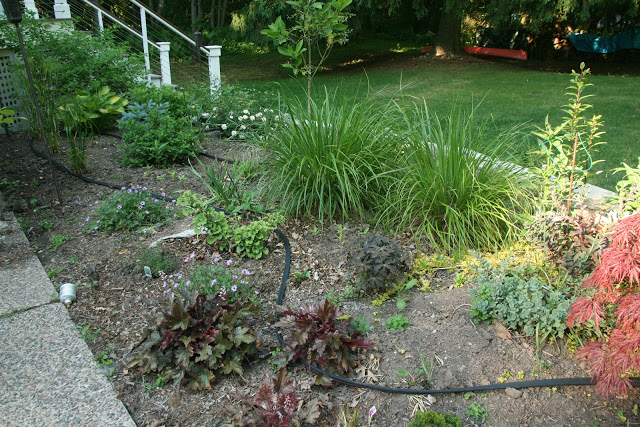 I know that many of you in the south and central parts of the country are very familiar with droughts, but it's a new thing to me. Obviously we've gone long stretches without rain, but that's usually in August. Never before have I seen this area so in need of water.
I've been adapting to situation fairly well for a person who is not overly fond of watering. I've purchased five or six new soaker hoses as I'm finding them to be one of the only ways to efficiently water a relatively large space. The air is so dry that some of my fancier sprinklers seem to be even more inefficient than usual. The ground barely seems damp after an hour of spray.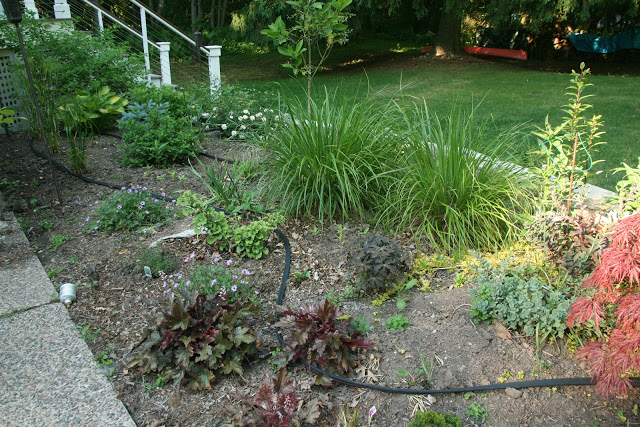 Soaker hoses of all varieties are all over the garden. The lucky plants are the ones that get a direct pass.
I've tried to adopt a watering schedule, which is so unlike me. My goal is to give every area of the garden a good soaking at least once a week. That means setting the timer for the maximum time of two hours and maybe even throwing on another hour beyond that. I'm spot watering new plantings as my sandy soil is already a difficult place for a plant to establish itself, much less when that soil is bone dry. And I'm watering the vegetable garden about three times a week, again with a soaker hose.
We planted six new trees and three huge viburnums this spring, and the timing really couldn't be worse. I try to put the bubbler soaker on each of them at least 45 minutes each week, but I'll be honest, they are last on the list, which is really backwards thinking on my part.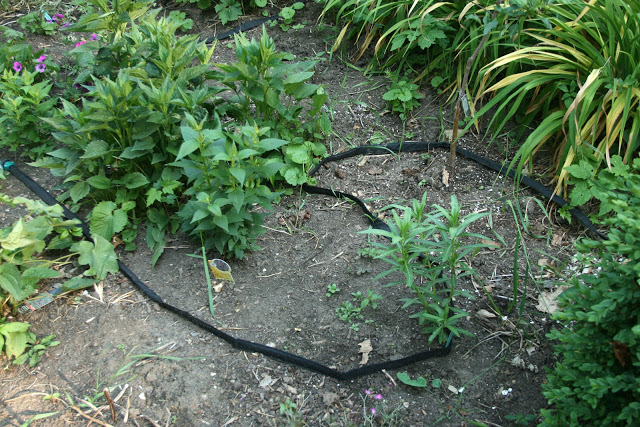 More soaker hoses around new plantings.
We have two hose spigots but only one well pump (thank goodness we're on a well, I feel bad for the people who pay for city water right now) so neither hose works very well if they are both running at the same time.
Plants are definitely showing signs of stress. The witch hazel is getting curly brown leaves. The day lilies are getting yellow leaves. The new apple tree is definitely struggling. Anything that is still in a pot must be watered at least daily.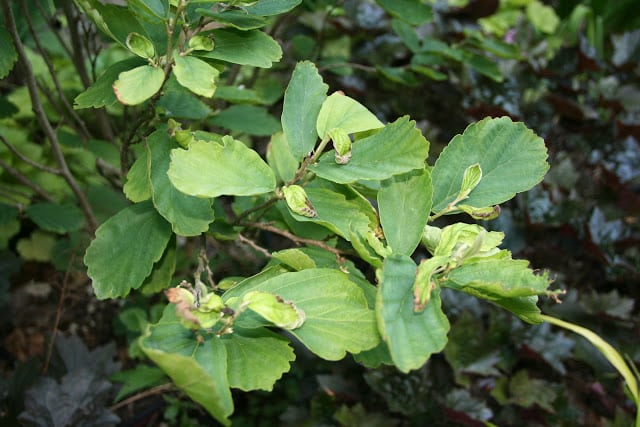 The witch hazel is just one plant showing signs of stress that I wouldn't normally be seeing this time of year.
An unexpected additional challenge caused by the drought is the amount of insect damage the garden is enduring. I've only seen aphids once before, and that was last year when a new rose came home from the nursery with them. This year I've been finding them everywhere. The William Baffin rose had a lot of green aphids on it several weeks ago and heliopsis 'Loraine Sunshine' as been absolutely covered in red (or brown?) aphids of all sizes. I used a washcloth soaked in soapy water to gently remove them from the rose (they usually seem to end up on the buds). I used the same technique on the heliopsis after repeated sprays with the hose didn't seem to be solving the problem. I found only one ladybug enjoying the feast. There were enough aphids for a cruise ship full of hungry ladybugs. Two things are going on, I think: rain normally washes off a lot of insects and since we've had none, they are hanging out much more than normal, and the bugs are just as desperate for water so they are sucking moisture out of everything they can. And even grosser than that, was what I found on the underside of the soaker hose after an hour of running it: thousands of mini slugs. The thing was just covered in them. I don't know if I have a huge slug population, or if they are so desperate for moisture they just all went to the soaker hose, but I'm going to have to do something about it.
There is one thing I could do that would greatly help with the lack of water here: mulch. I know I should, now more than ever. But I hate mulching. I hate everything about it, except how the garden looks when it's all done. Buying it by the bag is expensive and wasteful, buying it in bulk means I'll have a mulch mountain in my driveway for two or three weeks while I spread it all. Plus, several years ago I set myself up on an every-other-year schedule for mulching and composting. The plan was to mulch one year then spread a 1- or 2-inch-thick layer of compost across the garden the next year. And I did that for a total of about four years. But the fact of the matter is that I hate spreading stuff in the garden. The garden, though, is suffering and it needs to be done, and either would help with the moisture. Anyone want to come help? I'll provide the cocktails. Oh, and bring a hose … we're gonna need it.