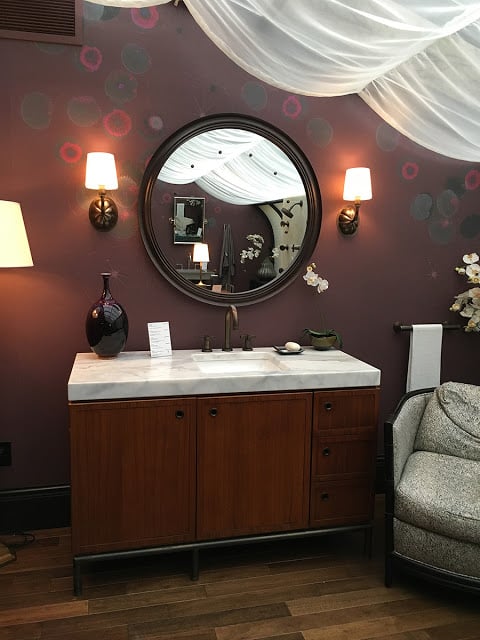 In my mind at least, the downstairs bathroom renovation is ON. My mind and reality are not necessarily in the same place though. One thing I learned when we did our major house remodel four years ago now (I cannot believe it's been that long! I still haven't hung any art on the guest room walls!) is that it is much better to go into these things with your eyes wide open. When we did our big remodel there was a part of me that just didn't want to know just how much everything was going to cost or how long it was going to take (for real, not what we were first told) or just how hairy it would get. Having done it that way once, I know, for me at least, it's better to go in with a very realistic viewpoint.
So I'm making a spreadsheet. It is the epitome of homeowner geekdom, but I want to know exactly how much everything is going to cost and exactly what every piece will look like before we even think about starting this. That's the only way we can make an educated decision whether this winter is the right time to do thing.
I'm sure I'll revisit my geeky spreadsheet on the blog sometime, but in the interest of research I ran up to the Kohler Design Center over the weekend. Since the Kohler Co. is pretty much in our back yard, going to their design center on a whim is something a person who has been planting bulbs and piling up leaves all day can realistically do at 3 in the afternoon. Of course, had I known that it was the food and wine festival there, I might have at least changed out of my flip flops before I ran up there.
Any trip to the Kohler Design Center is a good opportunity for ogling a bit of eye candy and it is my blogger duty to share the love. I'm a little surprised that more of the displays haven't changed since I was last up there, but they are still current and interesting.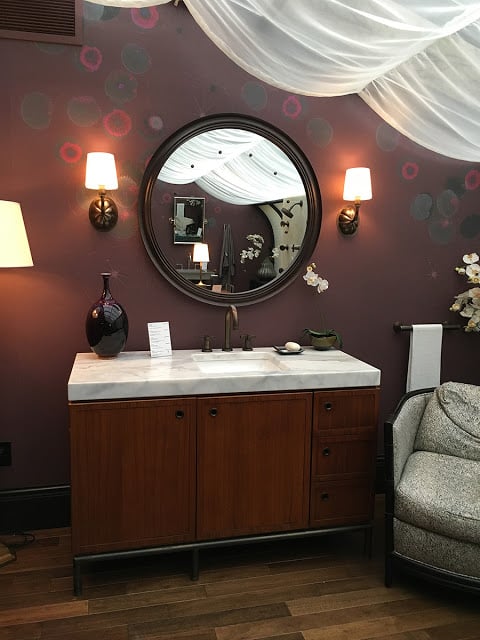 This is a beautiful vanity with a great thick marble top.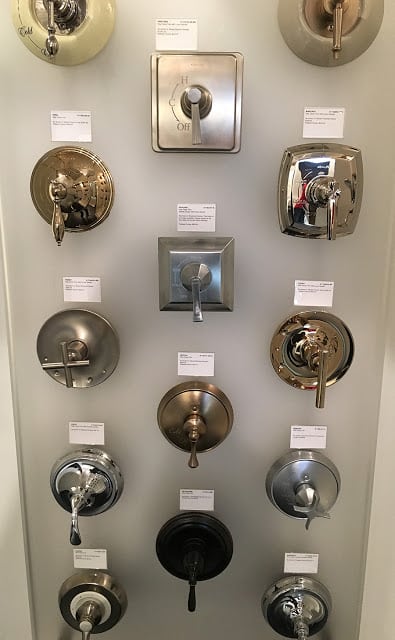 Nobody ever thinks about valves and stuff like that but it all has to work. It's nice to see them all in one place.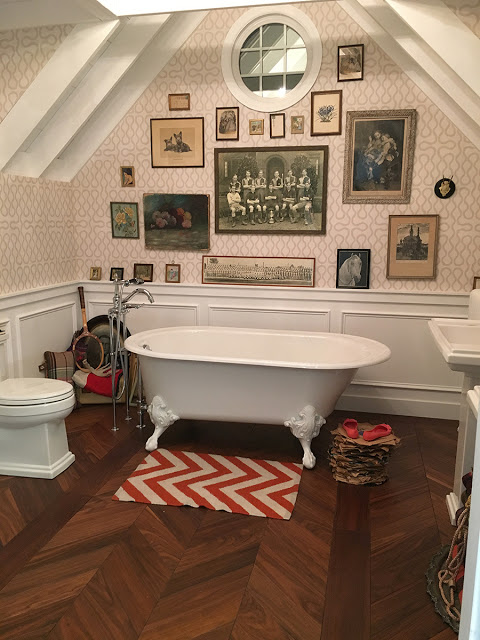 I loved this preppy bathroom and I'm certain the floor las a lot to do with that.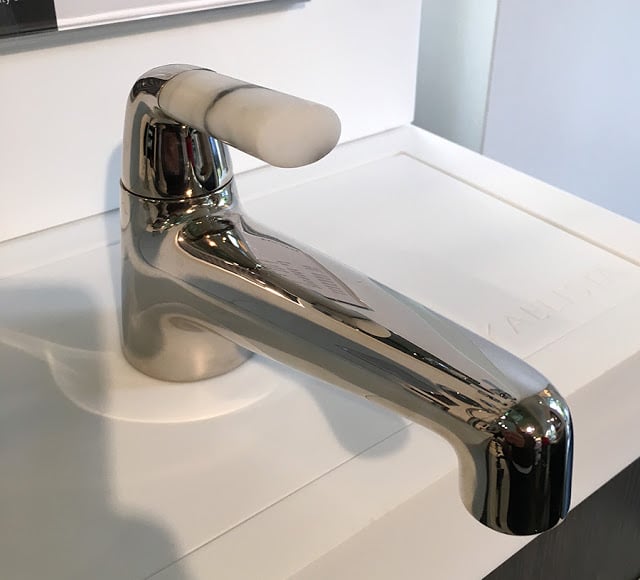 I have seen the world's most beautiful faucet and this is it. This is a Barbara Barry design for Kohler's Kallista line and that's a marble lever. However, I implore you … do NOT fall in love with this thing. It sells for somewhere in the $2,000 range. Ouch.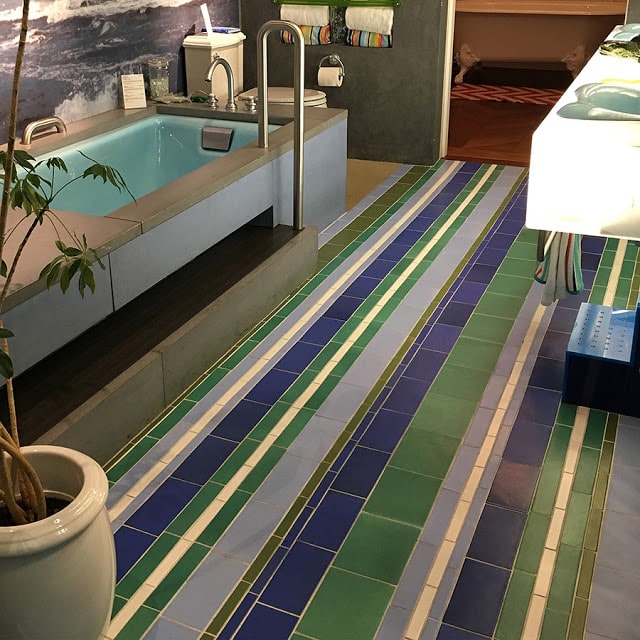 I'm pretty sure I've posted a picture of this bathroom before, but it still catches my eye. This is the most fun floor ever.
Hex tiles plus ombre. It's on trend and it's a whole lot of look.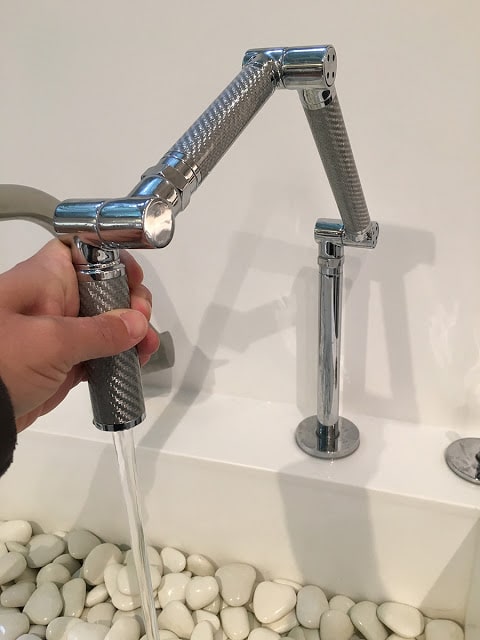 I love the Karbon faucet but this is the first time I've tried one one out. One of the nice things about the design center is that many of the faucets and showers are hooked up to water so you can see how the water flows out of them. This faucet was a little more difficult to move around than I expected but it's still super cool.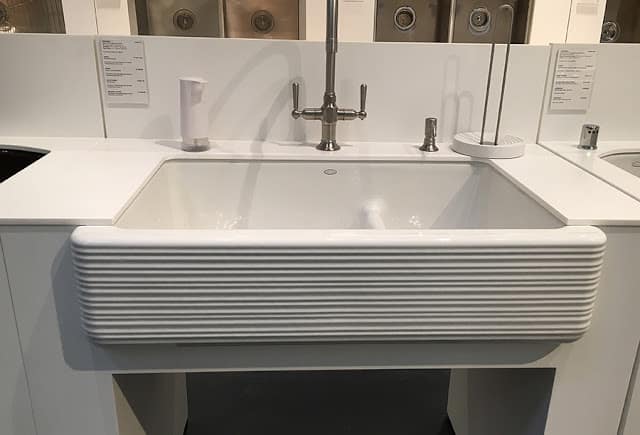 I may be the only person in the world who doesn't love apron sinks, but if I was going to have one, I'd probably go for something with a modern bent to it like this one.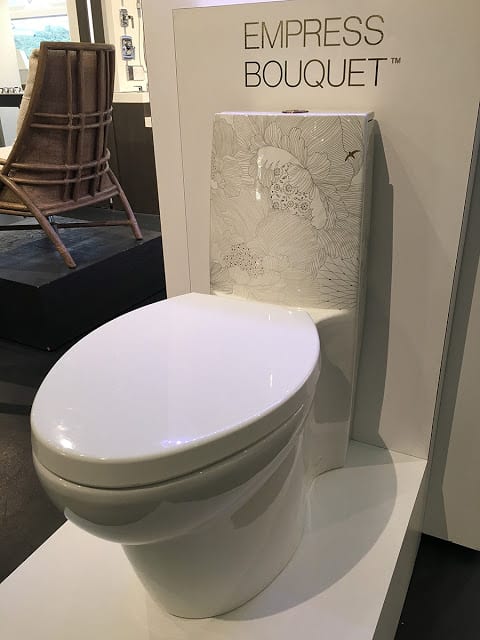 Maybe we all need fancy hand-painted toilets.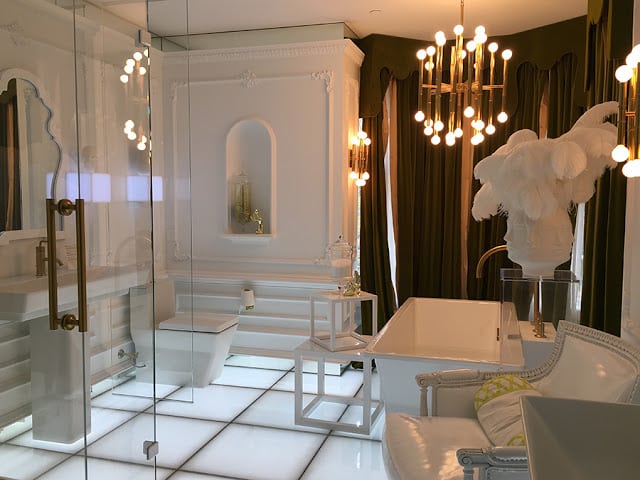 Look beyond the bizarre lighted floor and I dare you not to love that chandelier.
Have a seat. No, seriously, that's what they are for. They want people to sit on them and see if they are comfortable. I have never seen someone actually do it.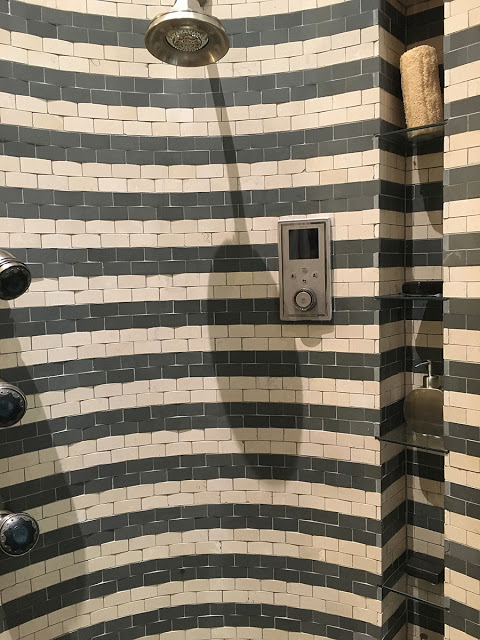 I love the striped design of this shower but those dimensional tiles just make me think of the crud that would accumulate on the ridges of them. Also this was a circular shower which is super fun.
Hope you enjoyed that little dose of inspiration. As the bathroom plan here comes together I'll share some details and whether we do it this winter, or sometime in the future, we'll at least know where we stand.
Do you make a detailed plan before you take on a big renovation project or do you just take it as it comes?