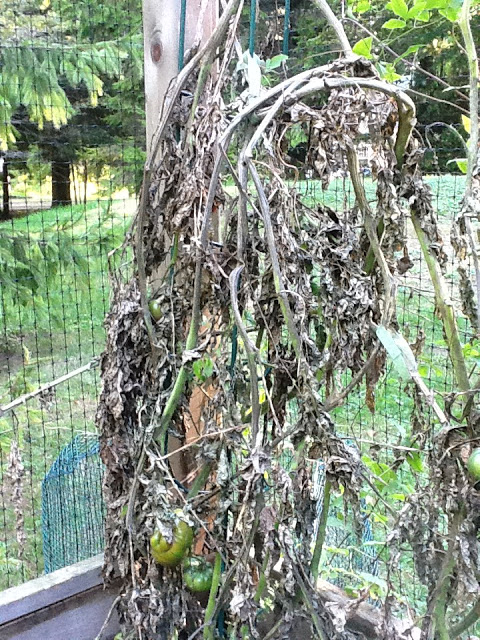 Before I get into today's post, I just wanted to say thank you to you all. The ideas you've been sharing on the office plan have been amazing and really inspiring. I can't wait to incorporate many of them into the office.
Since it is the first official day of autumn (groan), I thought it would be appropriate to talk a little about how my favorite summer crop—tomatoes—did this year. And there's not a lot to talk about.
I knew it was going to be a challenge for the tomatoes this year because we had a very cold and long spring so everything was off to a slow start. Here in zone 5 we have to look for varieties that are quick to mature but even some of those are still full of green tomatoes, and with temperatures predicted to max out in the mid-50s for the next week or so, it's unlikely many more will be ripening.
As you may recall, I grew tomatoes in two locations this year: in the at-home veggie garden and in a plot I shared with my mom at the community garden seven miles west (and therefore away from the chill of Lake Michigan).
The highly scientific (or, um, not at all scientific) study (mentioned here and here) we did between my mom and I when we planted the same kinds of tomatoes from the same source on the same day but treated them slightly differently turned out to be sort of a wash. In the end we both got about the same amount of tomatoes and the only noticeably difference is that my mom's were sort of deformed but maybe a bit larger.
At home, my plants once again succumbed to some sort of blight, although I still got tomatoes (about a bushel of which ripened in the past week).
The state of the tomato plants now might nicely be described as "sad."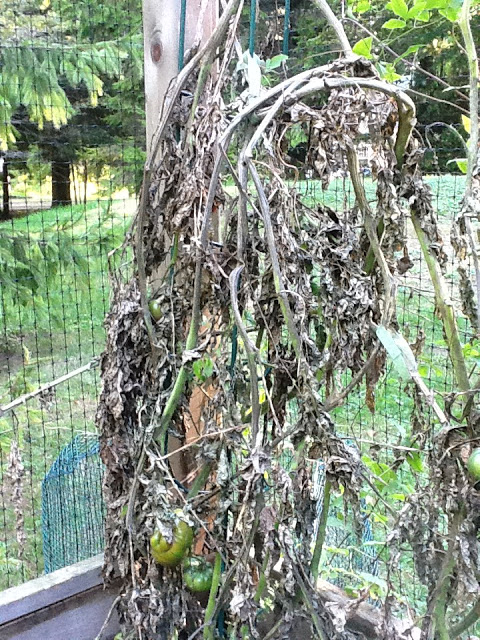 Paul Robeson looks truly dreadful.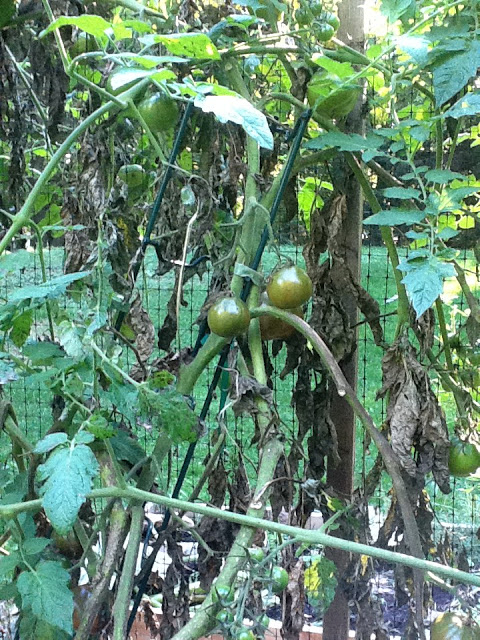 This is Japanese Black Trifle, which has produced dozens of tomatoes in the last couple weeks. They are smaller, black tomatoes with a really nice flavor. This is one of two grafted tomatoes I grew this year, and while it produced pretty well, you can see it didn't fair a lot better in terms of disease.
I grew two (expensive) grafted tomatoes this year, one in each garden. The Japanese Black Trifle was quite nice, although I'm not convinced the grafting part of it had anything to do with it. I grew a double tomato—San Marzano and Brandywine grafted onto the same rootstock at the community garden but only got a few San Marzanos and no Brandywines at all. It was fun to try the grafted tomatoes but I'm not convinced they are work the extra cost (which was almost double the cost of the other tomato plants).
The cherry tomatoes (black cherry and snow white) had no problem growing this year, ad you can see from the way they grew up and over the garden fence and they suffered very little in the way of disease but very few of them got ripe. I'm wondering if that's because there was SO much foliage, there just wasn't a lot of sun hitting the fruit.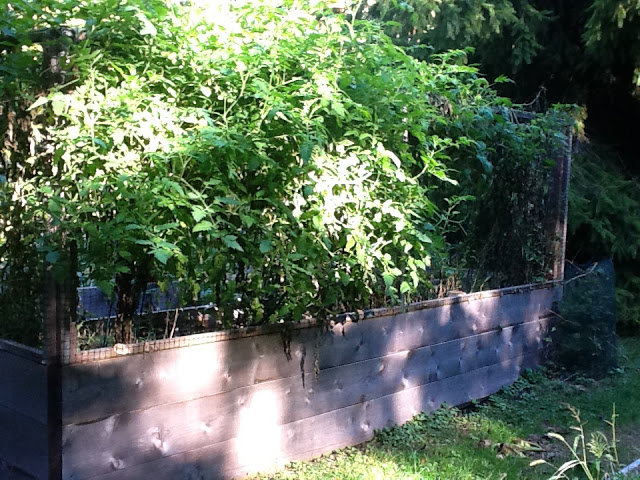 I have a lot of tomatoes to eat yet in the house and I'm savoring every last one, but I think that will probably be the end of it for this season. Soon I'll be thoroughly cleaning out the beds and throwing away all that diseased foliage (instead of composting it) and before you know it I'll be craving the sweet taste of summer in a tomato while staring at the wretched red cardboard-ish globes that pass for tomatoes in January.
Summer, I miss you already.