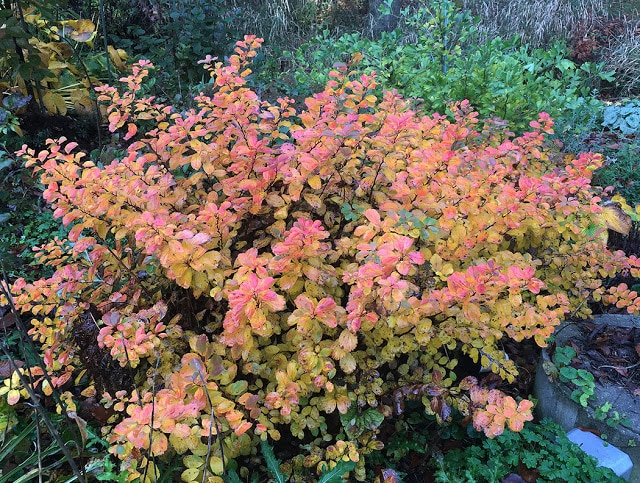 To my knowledge there is no garden task that strikes fear into the heart of gardeners so much as pruning. By my estimation, the two most likely explanations for this are:
We've all been scolded and made to feel bad/silly/stupid for pruning incorrectly.
We live in perpetual fear of killing plants by pruning incorrectly.
There are rules for pruning. Oh boy are there rules. Start with the hardest: When to prune? There's no doubt that there is a better time to prune to maximize future flowering and keep the shrub or plant looking its best. But how is a gardener supposed to keep track of what to prune when, when everything seems to have its own very specific set of rules?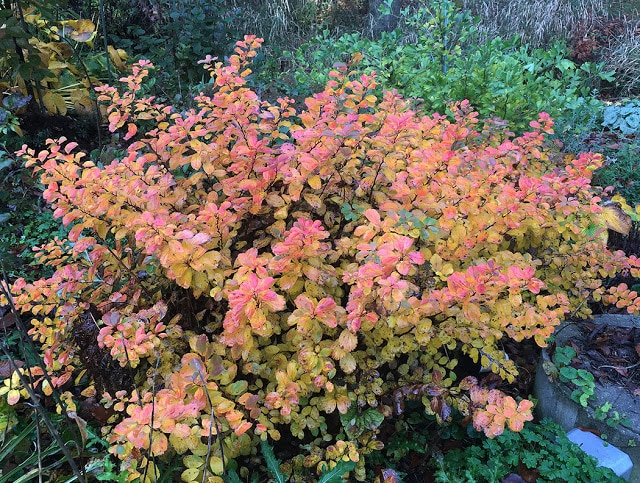 This is a newer cultivar of Spirea that only gets lightly shaped after blooming, but older varieties can turn into woody, ugly behemoths if not pruned at all.
Then there is the question of how much we're supposed to be pruning, and how should we physically prune?
Most of the answers aren't that hard to remember:
WHEN: Spring-blooming shrubs generally set their flowers on "old wood," aka the previous year's growth, so if you prune anytime between late summer and early the following spring, you'll be cutting of the flower buds. Summer- and fall-blooming shrubs can be cut back in very late winter or very early spring (in my zone 5 garden this typically involves walking through a bit of snow). It's generally safe to prune right after flowering, but on something like Virburnums, you would be cutting off the branches where beautiful berries will form.
HOW MUCH: The general rule of thumb is to not prune more than 25 percent of a shrub or tree's growth in a year. Some push that to 33 percent, but I err on the side of a quarter.
HOW: To keep it simple, you at least want to prune back to something, usually a branch but maybe a leaf node at least. Often you may want to consider something called rejuvenation pruning, where you remove some of the oldest branches/stems all the way to the ground.
Of course there are finer points that go well beyond these. As gardeners get more into gardening, as is usually the case, these details become second nature. But in the meantime I feel like the gardeners who know those details are doing a good job of scaring the pants off new gardeners who may quickly decide that gardening is too complicated and they don't have time or space in their brain for such details. And that's sad, because while it is certainly better to have intimate knowledge of how and when to prune every plant we grow, the world will not end if you don't.
In other words, let's stop spreading the fear of pruning.
In fact, while some people may tell you that you MUST prune at a certain time, I'd like to challenge that idea. And by the way, I'm not alone. Christopher Lloyd, the late, great British gardener who did much to influence how we think of gardens today at his Great Dixter, has said that the best time to prune is when you have the tools in your hand and you think of it.
"The wrong time may be the only opportunity and a preferable alternative to not doing something at all," he wrote in The Adventurous Gardener. "Or it may not be the wrong time, contrary to accepted practice as quoted in gardening literature, if you act cannily. It's all very well to accept received advice and opinions gratefully and at face value when you're starting, but we graduate. You'll make mistakes but you'll perhaps learn not to mind making them. That's a great release from all sorts of inhibitions."
In other words, it's far better to prune at the wrong time than it is to not prune at all, which is a far more common and possibly egregious crime against horticulture. (Exception: There are many shrubs, that, when planted in an appropriate location can and should be allowed to live their lives with little to no pruning, short of removing dead wood.)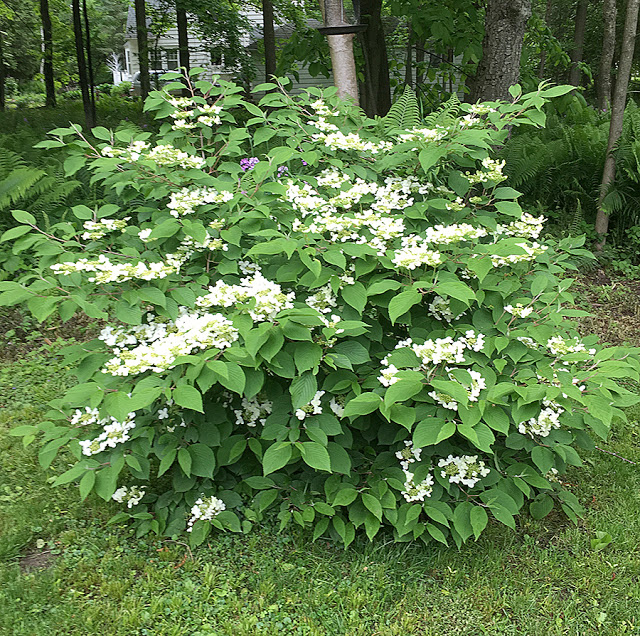 I planted this Viburnum plicatum 'Mariesii' in an area where it will be allowed to grow to its full size, maybe 10 feet tall and wide or more, so I will never need to prune it for size.
Sometimes, when considering doing something in life that I'm not entirely comfortable with, I think, "What's the worst that could happen?"
And I believe that might be a good approach to pruning as well. If you have the time and the tools handy, what's the worst that could happen if you prune a shrub at a less than optimal time? And in most cases the answer is that you'd negatively affect its next flowering period. So is that so terrible? Well, it probably is if it's the shrub around which you planned your entire garden, or if you have a garden wedding planned specifically for when a particular shrub blooms.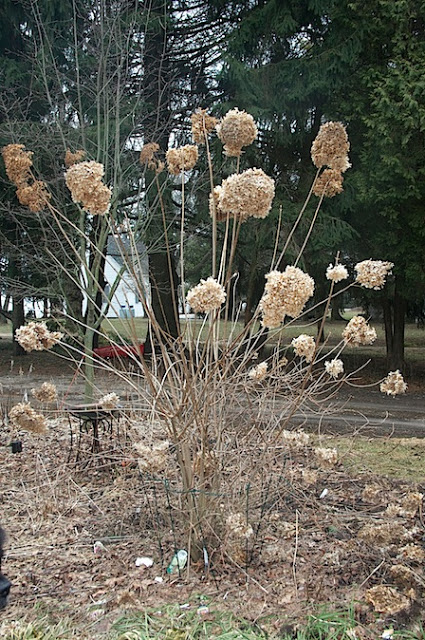 Hydrangeas, perhaps more than any other shrub, strike fear into the hearts of gardeners when it comes time for pruning. This is Hydrangea panniculata Limelight, which blooms on new wood at the ends of branches. I cut it back somewhat hard (some years more than others) in late winter, and in recent years have taken out the oldest stem all the way to the base to encourage new growth. What's the worst that would happen if I didn't prune it that way? If I failed to prune it all it would still flower, but it would get to its full size, 8 or more feet tall and eventually dead wood, if not removed, would sully its appearance. If I pruned at the wrong time, I would probably get later, fewer and smaller flowers (if pruned well into spring) or maybe nothing different would happen if I pruned in fall instead of winter.
To me, the worst-case scenario of something that could happen to a shrub is that you'd kill it, and providing that you follow the other two rules (particularly the one about how much to prune), it's unlikely you'll do that.
Now think about the worst-case scenario if, year after year, you forget to prune a shrub when you are supposed to and never touch it because you don't want to prune at the wrong time. You may end up with an overgrown shrub that outgrows its location and is so badly shaped that it can't be salvaged. And then you end up taking it out, probably after several years of looking at a pretty ugly shrub. In effect, you make the decision to end it's life.
The point is this: No one wants to reduce flowering accidentally, but I think it's time we stop acting like pruning at the wrong time is one of the seven deadly sins. Not to mention, Lloyd's point about making mistakes is a good one: Sometimes it's the best way to learn in the garden.
Rather, I'd counsel gardeners to check a good gardening reference book or even Google (add .edu to the end of your search and you're more likely to quickly get to more reliable information) for pruning information for their specific plant if they know what it is. But if you don't and you have the tools in your hand and you know it's likely the only time you'll have for the job, go for it.
What's the worst that can happen?