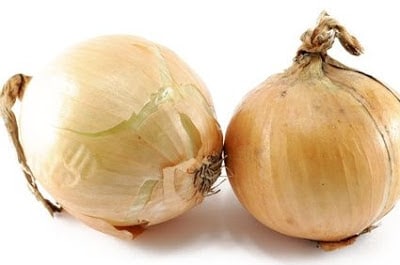 I couldn't stand it anymore. I've resisted the gardening urge as long as possible, and frankly, I did better than I do most years. But fellow bloggers are
posting pictures of bulbs
starting to peek out, and I suspect if I dug a little (and was actually at home during daylight hours), I might find the same thing, so that's enough of a sign for me that it's time to start planning for spring.
The first thing that goes in the garden every year is onions. I really enjoy growing onions, and not because it's a huge cost savings to grow my own (onions, unlike tomatoes, aren't that expensive in stores and at farmers' markets). I just really like onions and have found the ones I've grown to be absolutely delicious. Although all of the varieties I've grown can be stored, we eat onions at a rather astonishing rate so I've never really gotten around to storing any for more than a few weeks.
My favorite place to order onion slips from is Dixondale Farms. I like nurseries that specialize in just a few plants. There is a level of expertise that comes with a specialist nursery that is rare to find in other places. Dixondale, who I've ordered from for the last four years*, sends nice big bunches of slips (baby onions).
So, this weekend I made my first official garden purchase of 2013. I always order the Long Day Sampler, which usually includes yellow, white and red varieties and I did again this year. Dixondale changes up the included varieties from year to year, but this year it includes Walla Walla, a sweet yellow favorite; Redwing, a beautiful red that is slightly strong, but not gross strong; and Ringmaster, which is a nice white onion that makes up in reliability what it lacks in flash.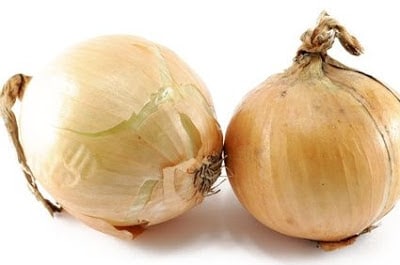 Walla Walla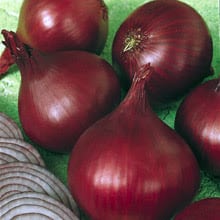 Ringmaster onion.
I also ordered some Borettana Cippolini slips. Although I'd heard about Cippolini onions before (if you watch cooking shows, they often use them), I had never tried one until last fall, when my husband got a roasted organic locally grown Cippolini on top of a steak at a restaurant. The steak was good, but the onion was to die for. It had been roasted with just a touch of olive oil and balsamic vinegar, sprinkled with just a few flakes of salt and had a taste that made me know, within seconds of putting it in my mouth, that I was going to have to get my hands on more of these onions. They are wide and flat and you usually find them relatively small, although you can grow them to be larger. One of our favorite ways to eat onions is just grilled whole and I can't wait to get some Cippolinis on the barbecue.
Cippolinis look like the photo above when you pull them out of the garden and clean them up. But this is how I really want them to look, all glistening and shiny in their carmelized glory:
Because I've decided I really love growing onions, I'm going to dedicate more space to them than I have in the past. The past couple years I've grown them in half of raised Farmstead bed I won through a giveaway at North Coast Gardening, but I think I'm going to buy another raised bed from Eartheasy exclusively for onions. The best part about growing onions is that nothing touches them, so I don't have to build a fortress around the raised beds to protect them from critters both domestic and wild.
So fess up, have you ordered anything for the spring garden yet?
*Interestingly enough, when I was going through old posts to figure out exactly how long I have been ordering from Dixondale Farms, I found a post from February 16, 2010, in which I declared that I couldn't stand it anymore and I had to order some onions. I'm nothing of not predictable, I guess.