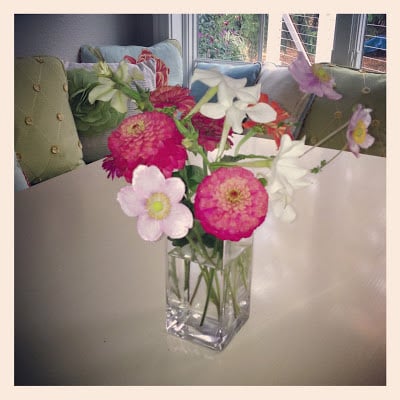 As I've mentioned in the past, I'm extremely tight with my flowers. I rarely cut them and bring them inside to enjoy. But on the rare occasion I do, I absolutely love seeing them displayed in the house.
Last year I went out before the first hard freeze and cut all the leftover flowers I could find. Without so much as a thought to arranging them, I threw them in a vase and stuck them on the table. Even though some were past their prime, it brought me immeasurable joy to see that little haphazard bouquet brightening up the kitchen.
I'm not the only gardener I know who does this. I was amazed how many people told me they do the same thing.
So here we are, this group of people who love our gardens so much that we spend countless hours (not to mention money) working in them and yet we get tight about allowing ourselves to enjoy the fruits of our labor in some of the places we spend the most time in.
Well I say enough is enough. Gardeners deserve to be surrounded by the beauty they create in spaces other than their gardens. And I refuse to believe that the beauty of a garden will be greatly diminished by moving just a tiny bit of that beauty somewhere else.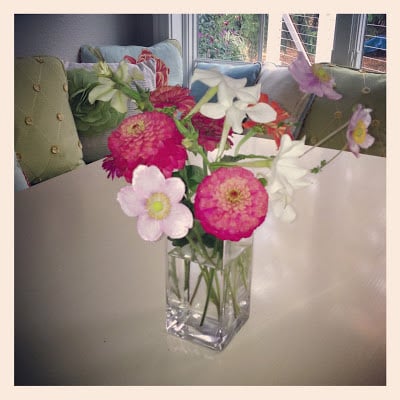 An Instagram picture of the last flowers cut from the garden last year. There is no rhyme or reason to this bouquet but it brought me immeasurable joy.
I give you the Garden Appreciation Society.
The idea is to appreciate our own gardens in different ways. To have a daily reminder of the bounty that our gardens provide. To catch a glint of beautiful color out of the corner of our eye while standing in the kitchen, or the bedroom or the living room. We all have plenty of flowers growing outside. OK, I know that there is no such thing as too many flowers, but all of us can spare a bloom or two.
So I'm challenging you all, whether you are an experienced gardener with a yard full of beautiful flowers, a new gardener just figuring it all out or even a balcony gardener making the most of a small space, to appreciate your garden more this year.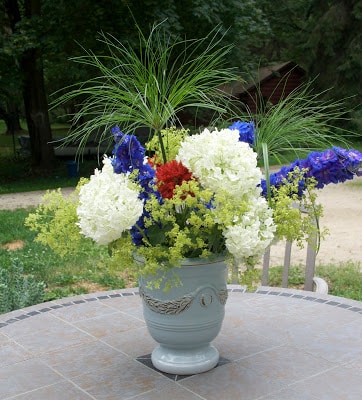 A bouquet I whipped up three years ago after some delphiniums broke off.
And here's how you're going to do that. Every week (or so) you are going to go out in the garden and cut a few flowers or interesting foliage and bring it in your house to display. It might be an extravagant bouquet, but it could just as easily be a single bloom, or even a lone hosta leaf. And then you're going to take a photo of it and link it up here.
It's not a flower design competition and it certainly isn't a photography competition (phones take perfectly good pictures). It's just about bringing in a little piece of your garden to enjoy inside.
I'll come up with a linky tool early next week. I hope to find one that can link to a blog or a Facebook page so if you don't have a blog (or don't want to put it on your blog), you can just put it on Facebook or Flickr or whatever and we can all see it. If it takes off I'll come up with prizes or something down the road, but for now we'll keep it simple.
So when you're out in the garden this weekend, enjoy the flowers, and then pick a few to enjoy inside.
Appreciate your garden.