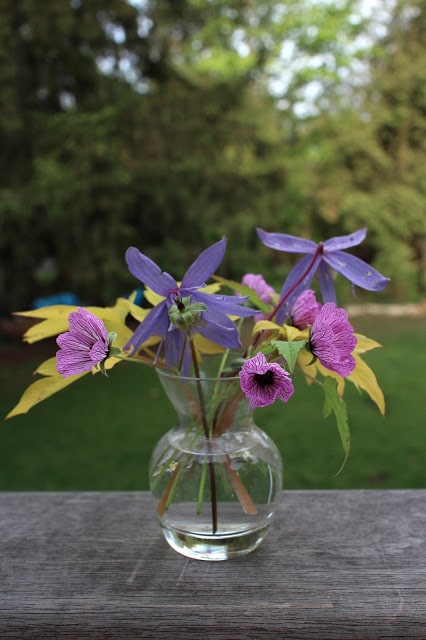 This week was even more difficult to come up with a bouquet for than
last week
and while there is a lot of great foliage I could have tried to make something out of, I thought that might be cheating a little since last weekend was really all about foliage.
By the way, last weekend's bouquet is still going strong, despite the fact that the cat insists on throwing at least one hosta leaf out of the vase every day.
What you see in this week's bouquet for The Garden Appreciation Society represents all that is blooming in the garden, just one small geranium and one clematis. I planted the clematis last year and I just adore this one but would you believe that I cannot find a tag anywhere. In the back of my head I think it might be 'Bluebird' or something like that. And I threw in a little bit of foliage from my favorite bleeding heart, Dicentra 'Gold Heart.'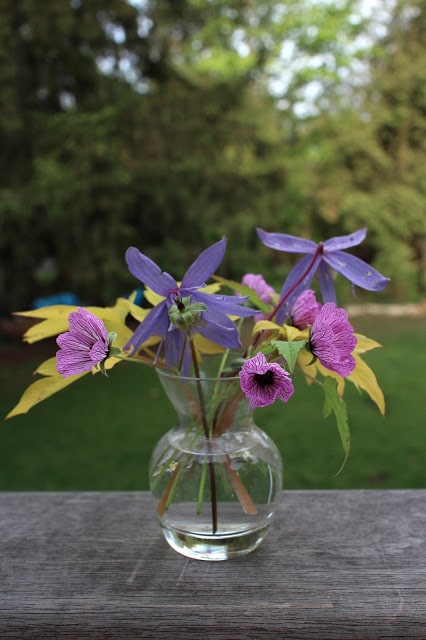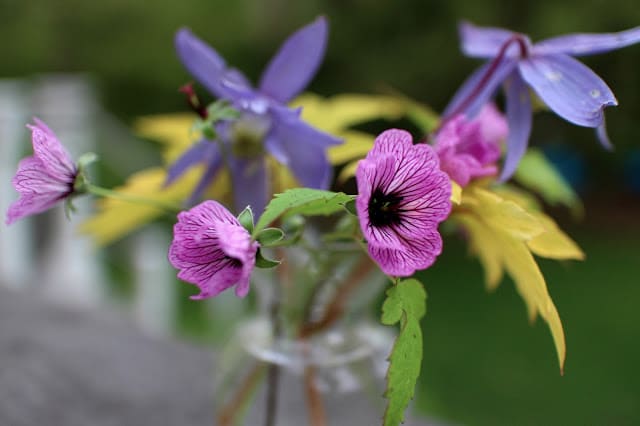 I'm pretty excited to already be at Week 4 of The Garden Appreciation Society. Some weeks have had better participation than others, but I know everyone's gardens are just starting to get in the swing of things and I hope we'll start seeing more participation now that more things are in bloom (at least everywhere than my at my house). Anyway, if you have participated in past weeks, thank you and please keep doing it! And if you haven't, give it a try. I'm actually finding these weeks that are more challenging to be even more fun, so give it a try.
Remember, The Garden Appreciation Society is all about appreciating your garden in a new way, but making a small bouquet and bringing it inside to celebrate the garden in different way. It's not about floral arrangements or photography, just about appreciating your hard work as a gardener inside your home.
And check out the great links from past weeks as well:
Loading InLinkz …
Now it's time to link up a photo of how you are appreciating your garden this week. Remember, it doesn't have to be on a blog. It can be a link to a Facebook photo, photo site or even your photo on Pinterest.