Sorry this is late this week! The holiday weekend got me all cafloogered. Speaking of the long weekend, we had relatively horrible weather but I was still able to plant several containers. Honestly with as cold as it's been, it was probably too early but at last count I had more than 120 containers of plants sitting around and I really needed to start doing something about that.

Anyway, welcome to Week 3 of
The Garden Appreciation Society
(click on the link to find out what it's all about if you're new. In general, the idea is to learn to appreciate your garden in new ways but bringing some of the beauty you grow outside, inside).
It's a strange time in the garden right now. The daffodils have pretty much bloomed themselves out and most of the (very small number of) tulips are also spent but nothing else is really in bloom yet. So I was forced to get a little creative with my Garden Appreciation bouquet this week and I'm glad I did because it's one of my favorites yet.
I used the only two tulips that still look like anything and then filled in with hosta leaves. I got this hosta from a plant sale so I'm not positive which one it is, but I believe it is Tilt-a-Whirl. Even though I bought it mostly to fill a hole in the garden, it has become one of my favorites. I love the tri-color leaves of dark green, chartreuse and white and I think it really became the start of the show in the bouquet.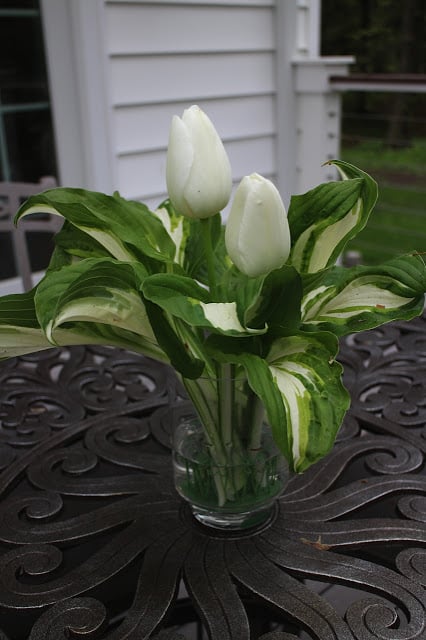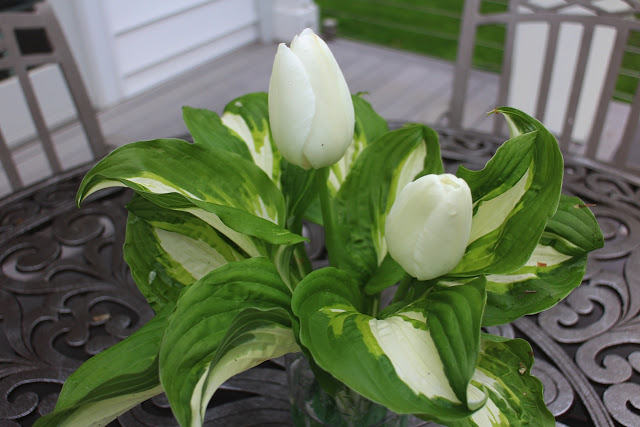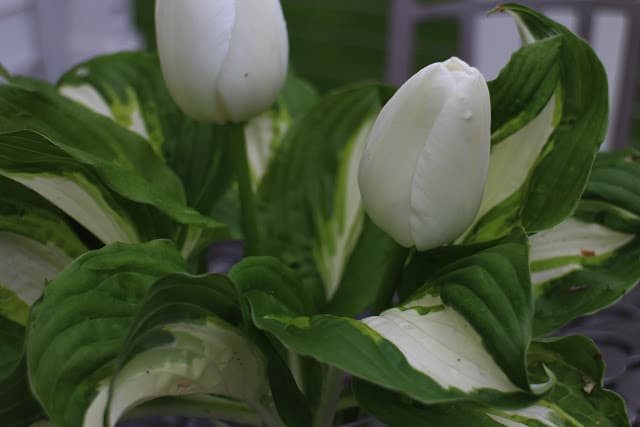 I can't wait to see what you all come up with this week. Remember, you don't need to have a blog to participate. You can link to any image, including one on facebook or a photo site. Just make sure you have your permissions set to public so we can see it. Also, some folks reported having problems with the link widget last week. I've noticed that it can seem to spin for ages, but it does actually work. Let me know if you continue to have issues and I'll see if I can't get the widget people to work on it.
document.write('