Hey kids, guess what time it is? Time for this week's Garden Appreciation Society! (cue cheering)

I really love this week's bouquet and not just because it features one of my favorite flowers: nasturtiums. I won't blab on about them because you're probably thinking, "Cripes, does this girl talk about anything other than hydrangeas and nasturtiums?"
I love it because it was so incredibly easy. It literally took me 8 minutes to pick, arrange and photograph this bouquet. I just snipped off the stems with my fingernails, stuck them in a drinking glass (I love the aqua glass with the orange blossoms) and called it a day. It's hard to get that much cheer in your house that easily.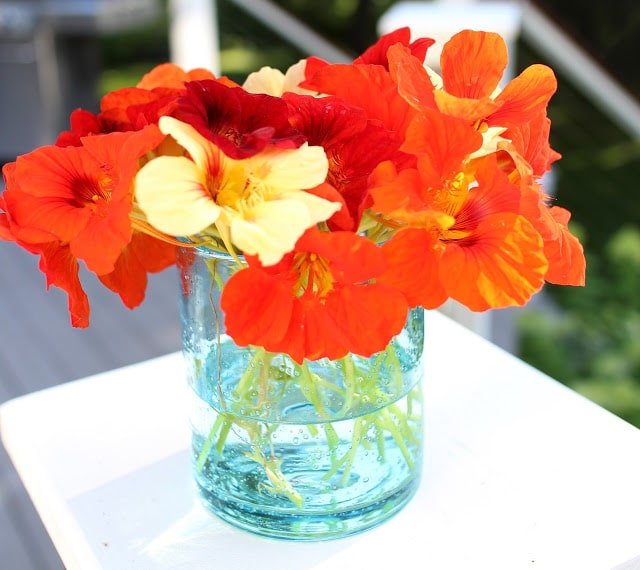 Last week's Garden Appreciation Society "meeting" was not that well attended. Is it summer vacation? Are the snacks not good enough? If I promise cocktails, would that help?
We did have three great contributions, however, and I particularly liked Susie's from
Viva La Hosta
(excellent blog name, by the way). I am not a fan of dusty miller, but I think it makes this bouquet.
By the way, you'll notice that the past few weeks I've been featuring some of the entries from the previous week's Garden Appreciation Society. I always link back to your site and give credit for the photo, but if you'd prefer I don't use your photo in this way, just leave me a comment or drop me an email and let me know that.
OK, so now's the time to link up folks. I can't promise cocktails but I can promise that you will love that you did it. So do it, OK?