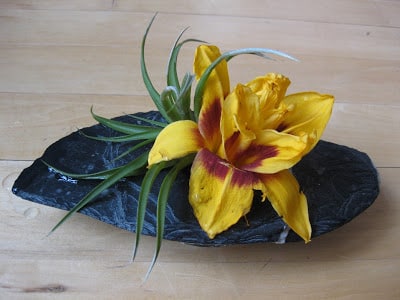 I really can't believe we're already on Week 12 of
The Garden Appreciation Society
. What do you think? Are you enjoying it? I think I'm a flowers-in-the-house convert because of this. I haven't missed the few flowers that I've brought inside each week from the garden and I love that there are always fresh bouquets inside. Even Mr. Much More Patient is commenting on them. I'm so impressed with the creative arrangements that some of you are coming up with.
For instance, check out this simple and very chic little arrangement that Sue made last week:
This was a great week for me, flower-wise. The hydrangeas are blooming! You all know how I love a hydrangea. The Limelights are just starting to show some buds, but the Annabelle, Invincibelle Spirit and Incrediballs are all blooming. This is the first year I've had "real" blooms on the Incrediballs and I'm pretty sure I'm totally in love. I was a little skeptical about them in the beginning but now that they've matured a little bit I'm really liking them. Especially after last night's rain, which left all the Annabelle stems laying on the ground but the Incrediballs were still standing proud (although thanks to the deer those don't have nearly the number of flowers of the Annabelle).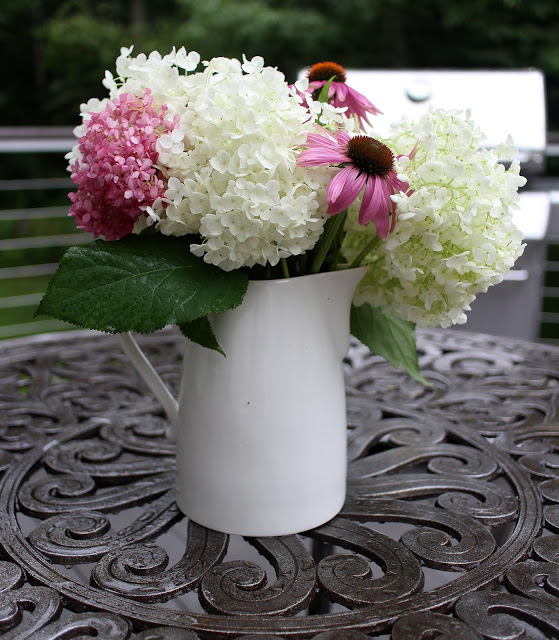 So it's no surprise that this week's bouquet prominently features hydrangeas. The white blooms were all snipped from the stems that were flattened to the ground this morning and the two pinks were from my one Invincibelle Spirit plant. They are a little smaller than I would have hoped, but I'm blaming that on a relatively immature plant and hoping that next year they will be larger.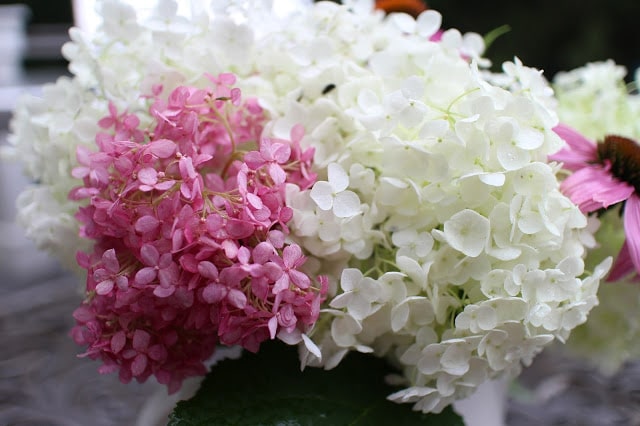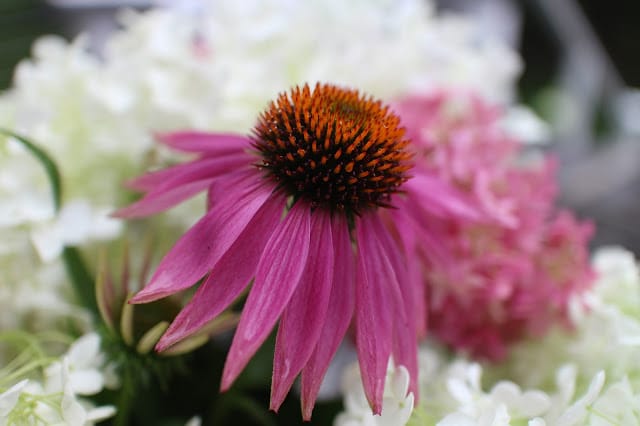 And the first of the echinacea are also blooming so I threw a few purple coneflowers in there for good measure. I also managed to avoid fondling the hydrangeas, but don't expect that to last for long.
document.write('