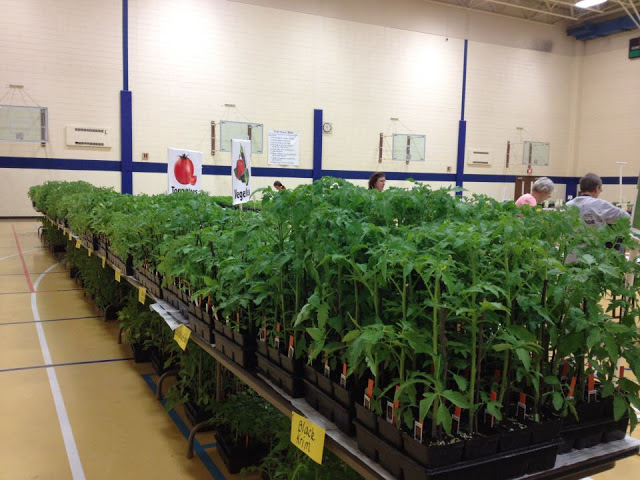 It's been a busy, busy, busy week so some of my planned posts didn't come to fruition. I spent almost all day helping to set up our master gardener plant sale. It is our major (only?) fund-raiser for the organization and it is a huge production but I enjoy it (and I get the majority of my required master gardener volunteer hours taken care of in two days). This year we got somewhere in the neighborhood of 13,400 plants, and all but a handful will be gone in three hours tomorrow.
It's quite an event for gardeners. The doors open at 9 a.m. but the line starts forming at 7 a.m. We give away the first 10 spots in line to the local public television station for their auction and in past years the first spot has gone for more than $100.
When we open the doors it's a scene a bit like that on Black Friday. These days most people run to the tomato and vegetable table (all heirloom varieties with the exception of a handful of peppers). Master gardener volunteers grow all the vegetables. All of the other plants are grown for us by local nurseries. This year we have 22 varieties of tomatoes. I limited myself to nine.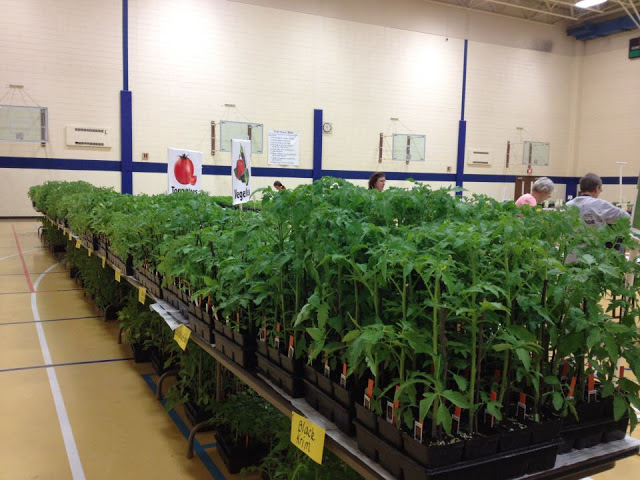 The tomatoes are huge.
I manage a table with herbs roughly classified as edible, but really it's sort of the ones that don't fit in any other category. The fastest sellers at our table are cilantro, mint and nasturtiums. Last year the nasturtiums didn't sell very well because we had a horribly cold spring and they were all pretty small. This year they were started a week early and we've had gorgeous weather so they are huge and flowering. I bet they sell much faster this year. Things with flowers always sell better.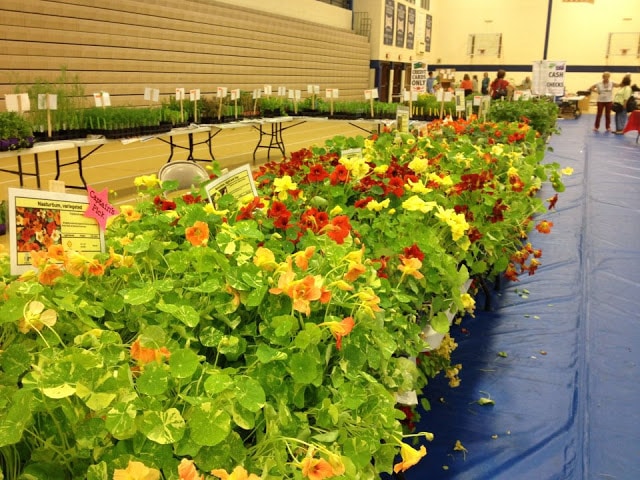 And so are the nasturtiums.
We also sell malabar spinach at our table and it has become quite popular in the three years we've sold it. It's a gorgeous vine to grow and the leaves, if picked young, are quite tasty. Someone told me today she uses the larger, older (and therefore thicker) leaves for vegetables roll-ups. I've noticed it being used on a lot of those foodie television shows.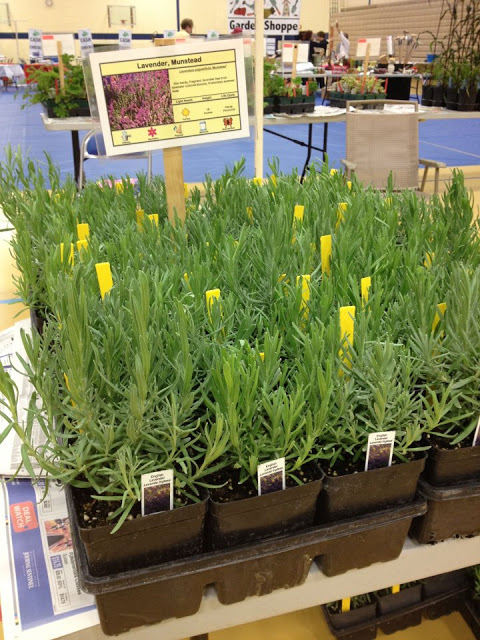 The lavender was looking quite healthy.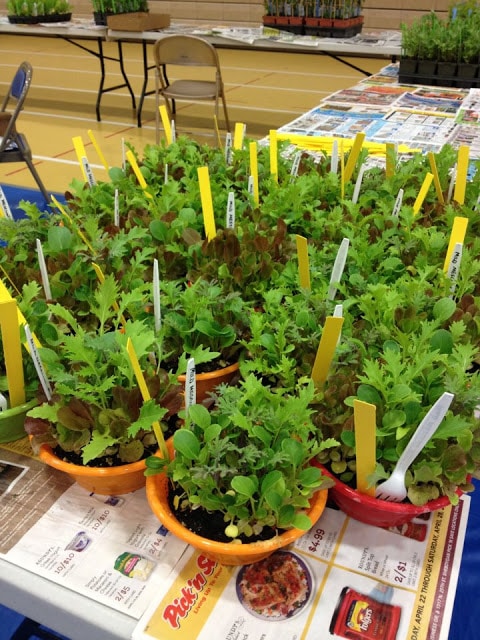 We sell these cute little mesclun bowls. Kids seem to love them.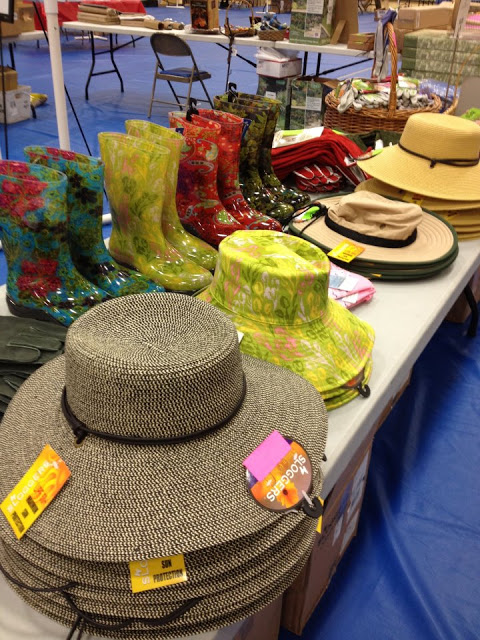 We also sell a small variety of garden merchandise.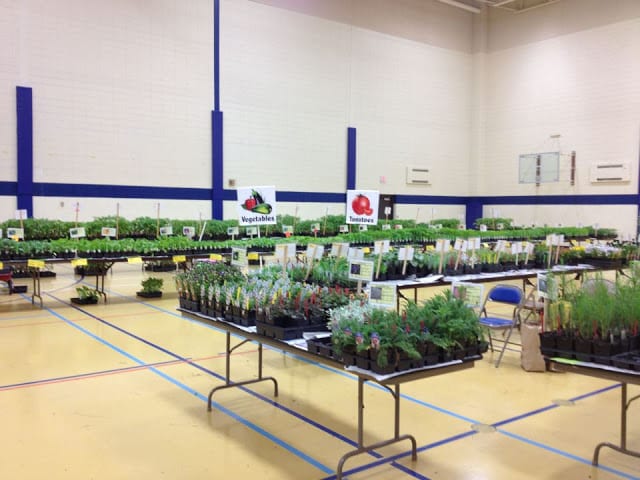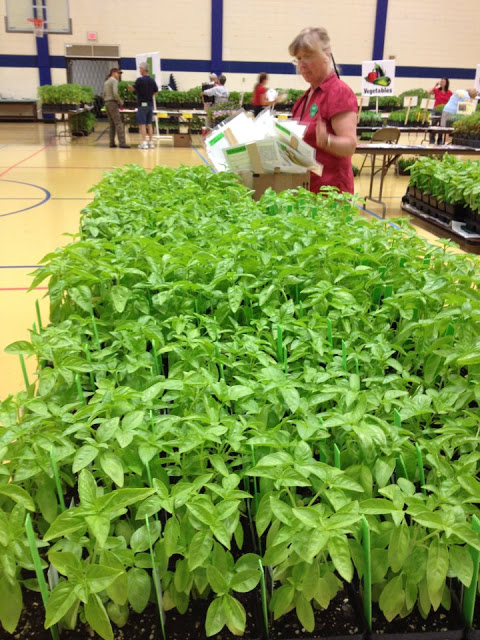 You might guess that we sell more basil than any other herb. The many, many varieties of basil we sell take up at least 100 linear feet.
If you are in the southeastern Wisconsin area, feel free to come check out the sale tomorrow from 9 a.m. to noon. It is at Concordia University in Mequon. Check out the
Ozaukee Master Gardeners Facebook page
for more information (and a link to a coupon).
Have a fantastic Memorial Day weekend everyone!