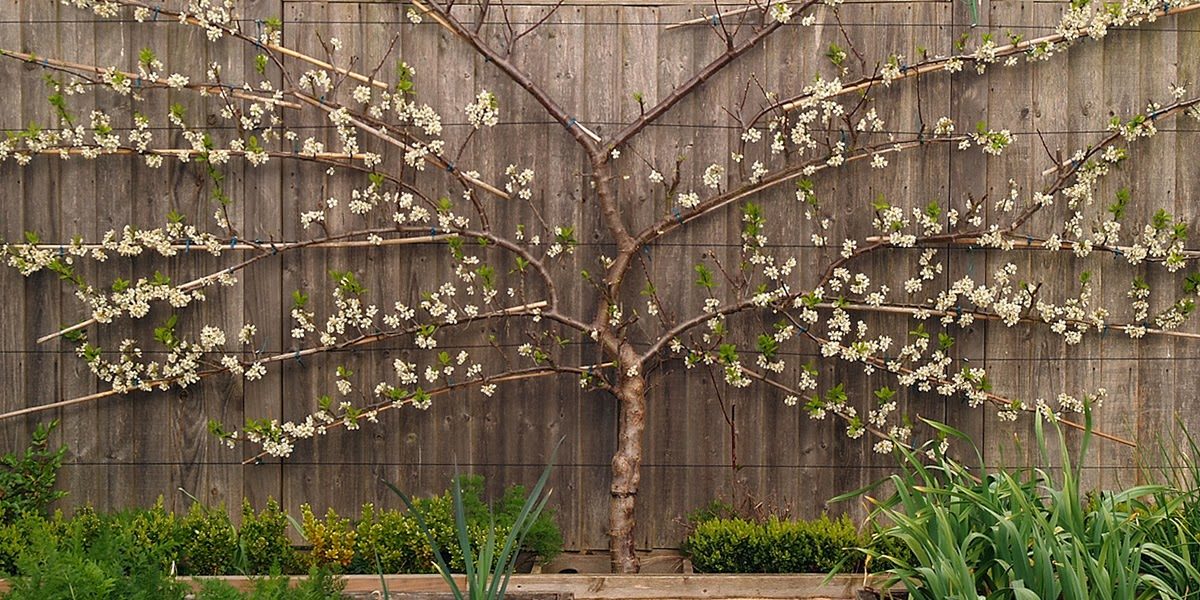 I saw a lot of gardening "trend" stories pop up around the beginning of the year. The concept of trends in gardening always seems a little off to me. I look at photos of gardens designed a hundred years ago and love them as much (or more) than one designed last year. But I know particular kinds of plants come and go. I don't know what all the fuss over fig trees is but I do know that just about every shelter magazine has about 50 photos of them in fancy interiors.
Anyway, I'm not sure that espalier trees are a trend, but I feel like I'm seeing them more and more. Or maybe they've been there all along and I'm just noticing them now. But I like them. A lot.
They seem to fit a purpose that few other kinds of trees, shrubs or plants could and therefore they are as useful as they are beautiful.
I think most people think of espalier trees growing along the side of a house or tall wall or fence.
This gorgeous tree has been trained into a fan shape.
The candlelabra form, I think, is what most people envision when they think of espalier trees.
Espalier trees are not for the hands-off gardener. They require a good amount of attention because all those branches have to be trained when they are young and malleable. And they aren't for the faint of heart either because there is a lot of pruning. And they probably aren't for the impatient because, as you can imagine, that kind of thing doesn't happen in just a summer or two.
Fine Gardening has an excellent article on how to grow and train espalier trees and P. Allen Smith has a good tutorial online as well. Of course you can start them from a seedling, but if I were to grow one, I think I'd start with a potted tree. That way I could concentrate more on the training and less on just keeping it alive.
I think my favorite use of espalier trees is as a living fence as this Belgian fence below. Would you rather look at this than a wooden wall?
But I have to think that something like that fence is easier to site when starting from scratch on new landscape plan. Obviously you need a lot of sun and, let's be honest, it's more of a visual barracade than a practical one.
An espalier tree is probably not the best fit for a gardener like me, given that I'm a less than steadfast pruner and we all know that patience is not my strong suit. Still, I love trying new things in the garden and I'm usually willing to try almost anything once.
Unfortunately I can't think of any place to put one. One place that comes to mind is the front of the house. It's a bright southern exposure and there's a good amount of space there. But I've also finally got some climbing plants going there and I'd hate to have to move those.
Perhaps some garden area in the future will lend itself to trying an espalier. I think it could be great fun trying to grow one.