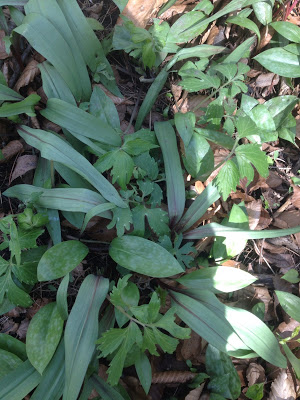 Last week I told you about how I
found ramps
(wild leeks) in our back yard and got a few more from a nice neighbor. I could hardly wait to try them but it was the middle of a busy week so I had to take a pass on all the fancy schmancy recipes I found for them online and go a bit more basic. So I sautéed them and added them to some roasted (organic) potatoes along with one of my favorite go-to quick dinners: fried eggs (the runnier the better) on ciabatta with feta and very lightly dressed spring greens.
The ramps were delicious and they mellowed into a very leek-y flavor with the sautéing. The only problem was that I was so worried about picking too many that I didn't have nearly enough and I'm worried about going back for as second round to make more delicious ramp dishes. All in all, an excellent exercise in eating from the back yard. And they were so good that I didn't stop to take a picture so please enjoy another picture of them before they met my good friend olive oil.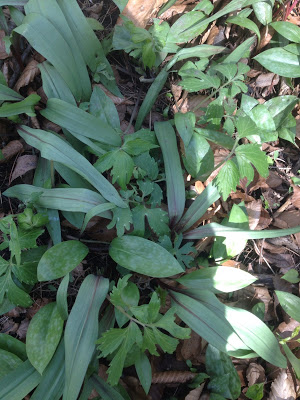 If you're looking for something a bit more exciting to do with ramps, check out these recipes. The buttermilk ramp biscuits sound amazing.