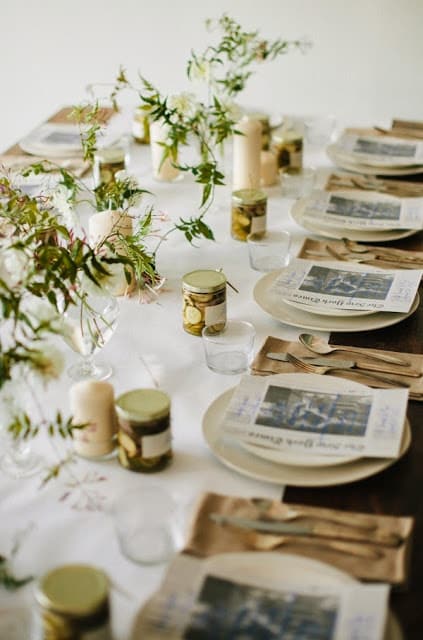 When I was a kid, Thanksgiving was a much more formal affair. We always went to my grandmother's house (just down the lane from our house), dressed up in uncomfortable clothes (oh how I hated tights), sat at a kids' table, which we all hated until my grandma wisened up and gave us our own bowl of mashed potatoes and hovered around my dad snitching bits of turkey as he carved the bird in the kitchen.
Those were big family gatherings that included extended relatives and they were very formal affairs.
These days, though, it's usually just my parents, us and my brother and his family, which means it's a lot like a Sunday family dinner. Because of that, it has gotten a bit more casual. Although my sense of nostalgia wants to relive those Thanksgivings of my childhood, the practical adult in me is very thankful for more casual gatherings that allow for dressy jeans and laughs instead of tears when some minor kitchen disaster occurs.
We go to my parents' house so my mom handles the lion's share of duties, including setting the table. But if I were setting the table, I'd want it to be special but reflect the casualness of what our holidays have become. No flower arrangement ordered a week in advance. Just pretty linens, a low centerpiece or series of small centerpieces (I hate when I can't see the people on the other side of the table), and lots of room for all the food.
I love the feel of this table, even if it's not particularly Thanksgiving-y. I don't know what the New York Times thing is but let's pretend that's a mini pumpkin or something, OK?
And I like this one too, although even more pared down because you have to have a place to put the turkey platter!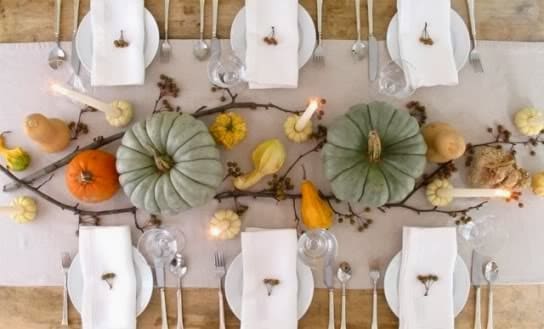 I guess it's clear that I like a little cleaner look, but that's only because I think the food is so beautiful that it should be the real star!
My contribution is always dessert. Even though we have a small group and we could get by with just one pie, I'll be making a few options. The beauty of being the baker is that you don't have to make anything you don't like and I really do not like pumpkin pie. Anyone else is welcome to bring a pumpkin pie, but it won't be me.
This recipe
appeared like magic on my desk so I'm taking that as a hint that someone would like me to make it for Thanksgiving and I'm willing to give it a try. I'm not going to make the slab version though, just a regular pie.
I'll also make a regular apple pie for the less adventurous eaters (and I make a pretty good apple pie). And if I'm feeling really ambitious, I'm going to make
Ina Garten's gingerbread cupcakes
because I love gingerbread and cream cheese frosting. I kind of hate raisins in things though, so I'm torn. Because the only thing you use the rum for is to soak the raisins and if you don't add the raisins, how are you going to get the rum in there? And I'm pretty sure you want the rum in there.
I hope you all have a wonderful holiday with your friends and families!
And one quick note: Libby won the Minted giveaway! Congratulations, Libby. Check your email!