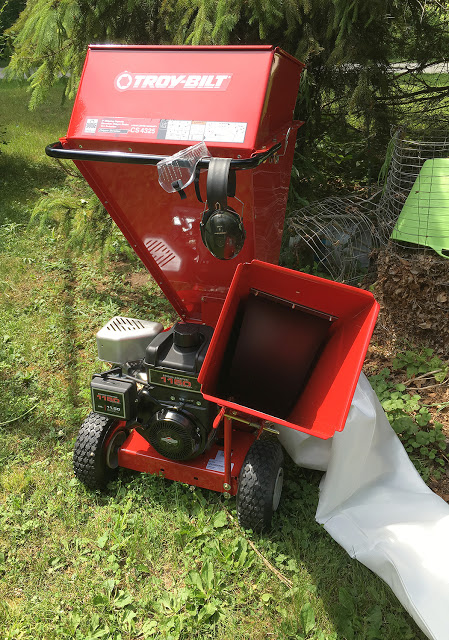 One of my favorite movies is "Fargo." The relevance of this will soon become clear.
I am alternately fascinated by and intimidated by large machinery. I go into using it afraid that I'm either going to break it or myself, but as soon as I start using it, I'm hooked.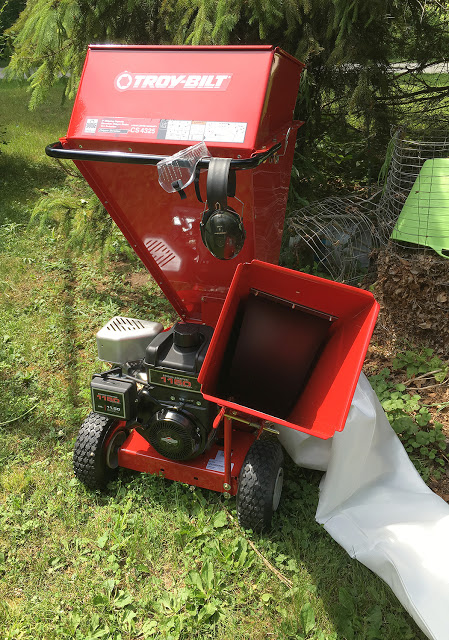 And that's about how it went with the Troy-Bilt CS4235 Chipper Shredder. This thing is a beast. Frankly, in my opinion, if you're going to get something like a chipper shredder, I think a beast is the way to go. You want it to do what you need it to do without ever needing to force it. And that means a big machine.
So how big are we talking? Well, in order to see into the brush hopper, I have to stand on my tiptoes. Granted, I'm 5'2″ on a good posture day. The branch chute is adjustable, so you can angle it in several different positions. And it's heavy, too. Fortunately, it has large, very sturdy wheels that make it easy to move. When I gave it its first real test, I wheeled it all the way down the driveway and across the grass over to the compost bin with no trouble.
Yep, the first time I tried out this chipper shredder, I was all alone, which is sort of a big deal for me as I usually require several walkthroughs with a piece of equipment before I'm comfortable with it. I read the manual and was happy to see that the starting procedure is repeated on a sticker on the front of the chipper shredder as well as a quick reminder.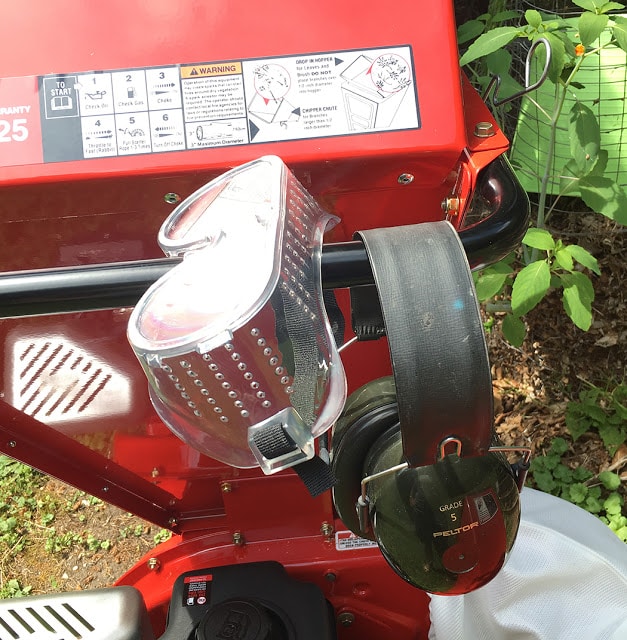 Don't mess around with safety with a machine like this. Safety glasses and hearing protection is required. A handy quick-start sticker walks you through the steps of starting and operating the chipper shredder.
Although I'll be the first to admit that I am sometimes lax with safety equipment, this is no machine to play around with. This is where the "Fargo" thing comes in. Anyone who has seen the movie will recall that one character meets his fate at the hand of a wood chipper, head first. And I'll be honest, I could not get that image out of my head when I first approached this chipper shredder. Fortunately this chipper shredder isn't THAT big and there are a lot of safety functions built in. Still, ear and eye protection is required when using this, so much so that it comes with safety glasses.
Having donned my ear muffs and the safety glasses, I followed the starting instructions to the letter: Push the choke all the way over, slide the "gas" over to the fastest setting (the rabbit), and pull. Despite not having a good pulling arm (something I've discussed ad nauseam here), it started up immediately. You have to love that.
This chipper shredder can accommodate branches up to 3 inches in diameter, which is pretty darn big. I didn't have any that large around, but I did have a small pile of 1.5-inch to 2-inch diameter branches. I slid one in the branch chute and the chipper shredder did the rest, seeming to (gently) grab the branch and guide it through. Frankly I was relieved that I could just put it in and let go so my hands never got close to even the end of the chute. (Again, I'm scarred by that movie, so I think I'm probably more nervous than most.)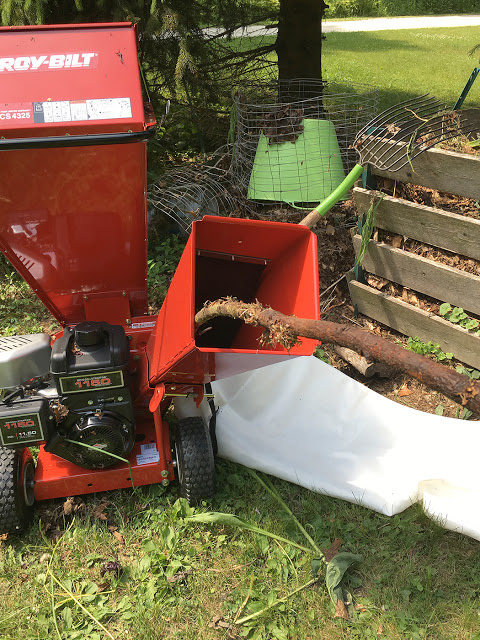 Branches are "sucked" into the chute so as soon as they start going, it's a hands-free operation. The white bag on the right is large and will hold a lot of material before it needs to be emptied.
The chipper shredder has a large bag that attaches to the outflow area if you like and despite continuing to feed branches in, I was surprised that it didn't seem like it was filling up very fast. And that's the beauty of this machine: It makes the most lovely little wood chips. I would estimate that the pieces were a half-inch or so. In fact, it reduces material so much that I think the bag would get pretty heavy if it were completely full. I was thrilled though, because this is the size of wood mulch that I will drive many miles to find by the bag. If we have enough material that needs chipping I can see saving a ton of money on mulch.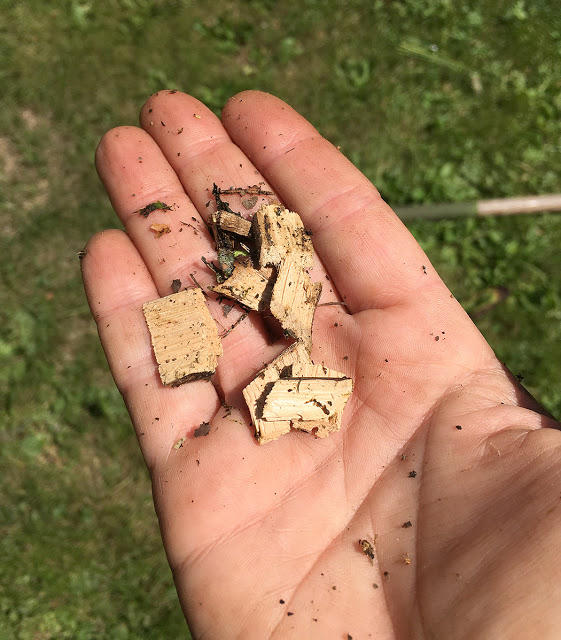 Branches were reduced to nice half-inch sized chips, perfect for mulch.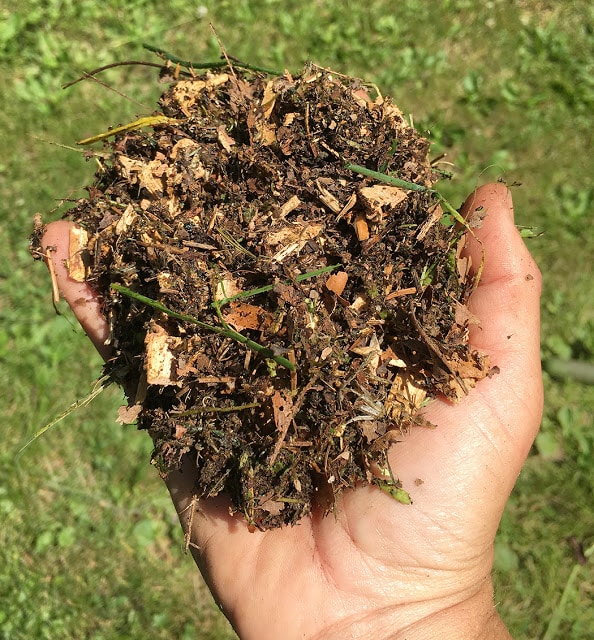 Leaves and brush were chopped into lovely tiny bits that should break down extremely quickly, giving compost and leaf mold a big head start.
With the branches dispensed of, I tried out a few other materials in the larger hopper, which works on a gravity feed. Some dry leaves on the top of the pile were dispensed with quickly. This will make composting and making leaf mold an absolute dream and I expect it to cut the decomposition process down by many months. I also tried freshly cut comfrey stems and leaves. Comfrey has very thick, water-filled stems and fuzzy leaves. I wasn't sure which chute would be more appropriate for it, but it seemed to work better to put it in the branch chute. What came out was sort of a gelatinous goo and the machine didn't grab it as easily as it did the dry leaves and branches.
Then I put some half-composted stuff in the big chute. This was mostly damp, decaying leaves plus decaying green material. It didn't really go well. In addition to getting caught up on the way down the brush chute, what came out looked more like the leftovers from a juicer. In fact, I ended up pulling out a wad of material that didn't seem to want to go through, AFTER the engine was shut off and after waiting a little bit just to make sure everything was done spinning. (Again, abundance of caution caused by watching "Fargo" too much.)
What I deduced from this experiment was that dry materials are best. Damp, partially decomposed material probably isn't the best.
I'm certain that this chipper shredder will be in frequent use in fall when we clean up leaves (the idea of all of that goodness breaking down in time for spring use in the garden is thrilling to me) and collect fallen branches and in spring when we do tree pruning. It's going to up my composting game big time and I can't wait for that.
I'll just limit my "Fargo" viewing for a bit beforehand.
Disclaimer: I am a member of Troy-Bilt's Saturday6 Program which provides compensation to me, and in the case of product reviews, tools or equipment are provided to me at no cost for the purpose of providing an evaluation and sharing my honest opinions.