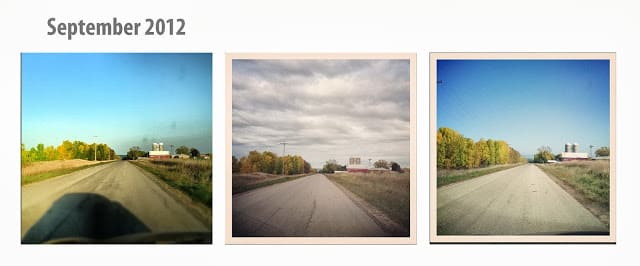 About a year ago I started a little photo project on Instagram. I would stop in the same spot on the way home and take a quick picture with my cell phone. I picked the spot for the photo because it's one of my favorite views in the world. There is only one way to get to our house. You have to drive past this spot to get there. It comes after driving past a couple miles of rolling farm fields and a few cows: probably what most people think of when they think of Wisconsin (if they don't know the state from personal experience).
But once you go over a little hill, it is literally all downhill to our house. The nearby farm has his house, barn and a field to the right, and the state park is to the left. And the second you get over that hill, after your eyes have become accustomed to the green and gold pallet of farm fields, Lake Michigan is dead ahead. Depending on the day, it will be sapphire blue, or deep green or perfectly gray, but it gradually fills your view, perfectly framed by the trees at the end of the road, and that's when I know I'm home. Being near the lake was the single criteria in our home search and for me, I can't imagine a home away from the water.
Here's what came out of a year of that photo project, which is ongoing. You can follow along on Instagram, or search for the photos with the hashtag #thewayhome.
You'll notice that some months have more photos than others. One problem I hadn't anticipated was that by winter, I'm always driving home in the dark, so it's hard to grab a photo and I often only get the chance on weekends.
It makes me a little sad to look at last year's October and know that it will soon look like that again here.
I hope you enjoy this little cruise through my year.