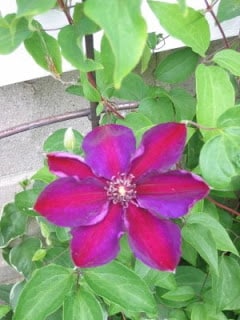 It really is. And there's nothing like becoming a gardener to remind you of that.
I've been gardening for about 15 years now. Well, 15 if you count the peppers I tried to grow in a pot on the front step of my first post-college apartment that I watched with eager anticipation of eating something I grew. Unfortunately the squirrels have less patience than I do and day after day I'd come home after work to find one more pepper with a bit ol' bite out of it. Actually that didn't last for too many days, because I only had three peppers to begin with.
My gardens grew over the years, and it wasn't until I had completely covered a small patio at an apartment that my husband declared we needed to get me a garden, preferably with a house attached. For the last seven years I've been gardening at our rural converted cottage near Lake Michigan, and slowly taking over the lawn for more and more gardens.
In my haste for a lush, garden-filled yard, I've definitely cut some corners. And paid the p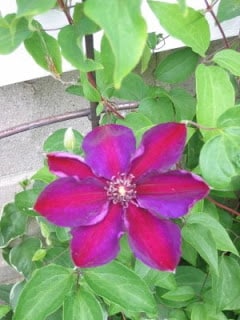 rice. I'll talk about some of those mistakes I made here, but don't worry, I'm sure I'll be making plenty more in the future.
But there are occasional reminders of why it's worth it to just hang in there and have patience. Here's one of them. This Mrs. N. Thompson clematis was the first clematis I purchased, as a lanky thing at a local nursery. I didn't have a clue what to do with clematis, so I plopped it in the ground and waited for the show. And waited, and waited. For three years. I didn't realize that I wasn't doing it any favors by not planting it deep to encourage new shoots, by not fertilizing it, but not pruning off all that lanky growth the first year. Fortunately, Mrs. N. Thompson hung in there, and three or four years after I planted her (and subsequently abused her), she forgave me and gave me this sweet bloom. Let's hope the rest of the plants are as gracious.