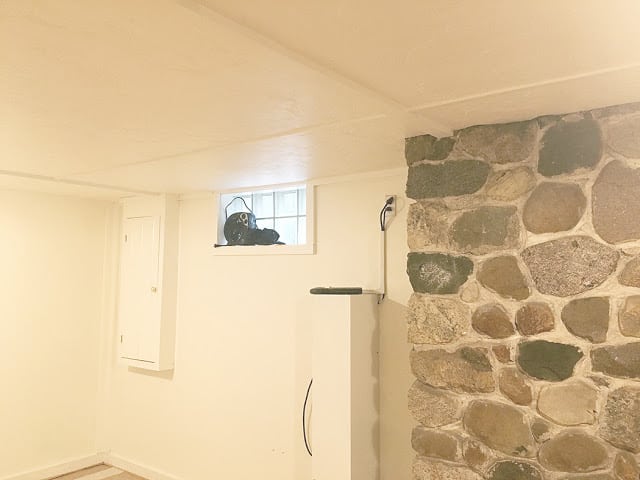 Ah yes, Week 3 of the One Room Challenge. I remember this week from when I did this last year. It is when the panicking properly starts. Because right now it does not feel like I'm even remotely halfway through this basement project.
You can catch up on Week 1 and 2, but most of the work is happening on the computer. I've made a list of the items I need to purchase for this renovation and I've been working hard to check things off. That's ironic since I've mentioned on more than one occasion that this is a low-budget affair. But when you're doing a space for the first time—and that's really what this is as we just sort of stacked stuff down there before—there are a lot of things that you need to collect.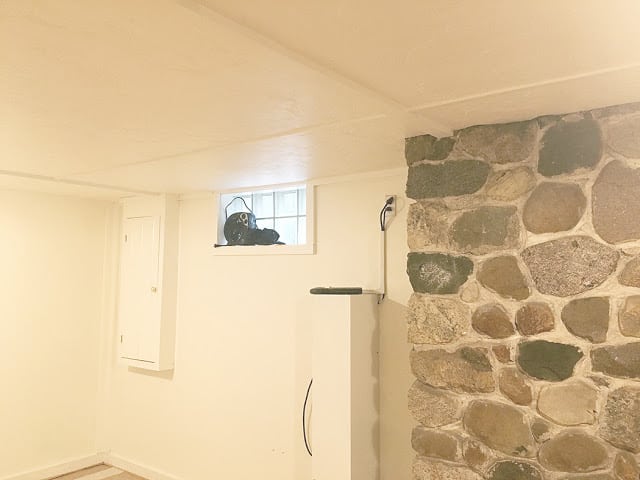 This is a pretty terrible photo, but it illustrates how we basically painted everything the same color, from the ceiling to the walls to the trim.
The biggest change in the space is also the simplest: paint. I'll never know what I was thinking when I decided to paint the walls down there raspberry and baby blue, but I'm far more in my comfort zone going with a cream color. We chose Benjamin Moore Mascarpone, which I've used for the trim and some of the walls in most of the rest of the house, for two reasons: 1. We had a lot of it left over from other projects so I didn't need to buy much, and 2. I just didn't have it in me to go through the whole "Which shade of off white should I pick?" thing. Honestly, it's a little warmer than I might have liked, and interestingly, the less expensive paint we went with for the walls, which we did have to buy, is far more yellow than the trim paint that we already had, even though they are all Benjamin Moore formulations, but it's OK.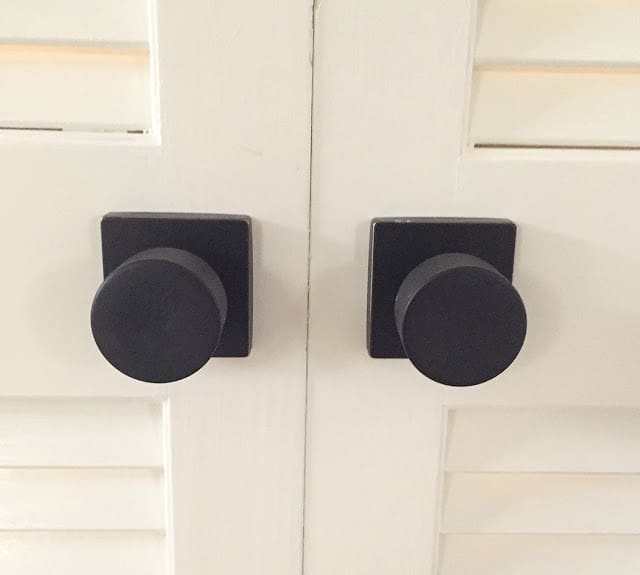 I also changed out the door hardware from the bright, cheap gold to a more classic black. I originally decided on black accents in that space for the same reason I chose the paint color—ease—but I'm very happy with the decision. It's not just simple, not to mention black is often a less expensive finish than some others, it also works well with the space.
I chose these simple door knobs with a square rosette for the closet door and the louvered doors to the other half of the basement. (Here's an affiliate link for them.) Sidenote: Painting louvered doors is like visiting the seventh circle of hell and I don't recommend it.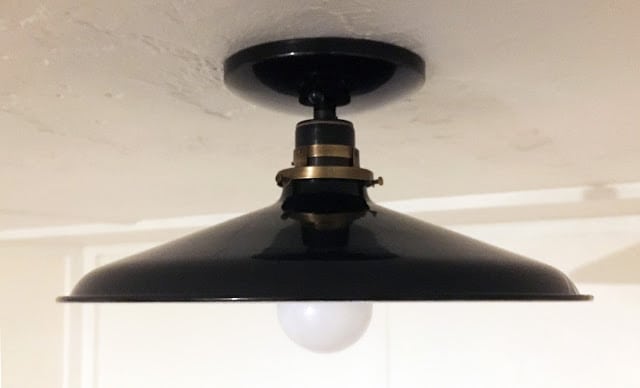 And of course, my favorite bit so far is the industrial lights I made for less than half of what I could have purchased them for. It was a much easier project than I anticipated and I detailed the whole how-to here.
Next week is a big one: Floor time! I'm certain that more than anything a new floor is going to transform this space.

Make sure to check out the featured One Room Challenge participants as well as the hundreds of guest participants making huge changes to one room in their house in this crazy challenge.