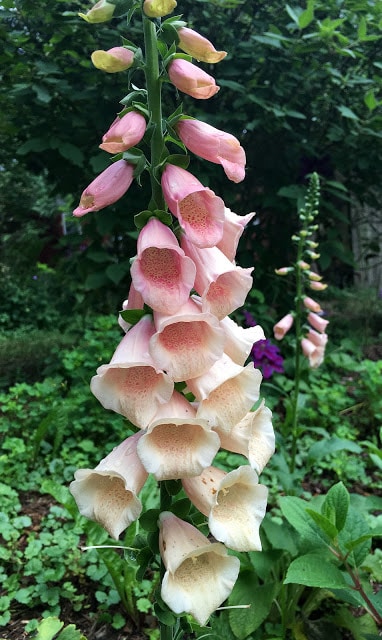 I have a good reason for coming back to the blog rather slowly after the holiday weekend: I'm down to one eye. Somehow I went on a sailboat race Friday night and before the race was over midday Saturday I had brewed up a cornea ulcer which my very nice eye doctor saw me for on Sunday when the clinic was closed. It's getting better but it had me laid flat out for most of the weekend and I'm still sort of limping along. Gardening is difficult at best and impossible at worst because I can't tolerate any light whatsoever and I only have the use of one eye right now. I can't handle a lot of screen time either, so if you've written me an email and haven't heard back, that's why.
So instead of getting into some larger posts, I thought I'd share a few peeks at what's happening around the garden right now. By and large it's a banner year with warm weather and not quite enough rain but no a full-on drought either. Things are growing fast and furious.
I grew these apricot foxgloves from seed (from Floret Flower) and only five of them germinated and grew to a size that could be transplanted. I wish they'd been more successful because I would love a huge patch of these. I'll try again next year.
I've already cut back the nepeta that lines the path and it has grown back to be nice full puffs of blue-green. The chive hedge in the circle garden got the whack the other day (save for a few plants which we'll eat off while the rest regrows), as did the 'Rozanne' geraniums, which were still pretty with their blue flowers but had grown so big and splayed out so wide that they were flopped on top of other plants. My affinity for 'Rozanne' is waning because of this habit.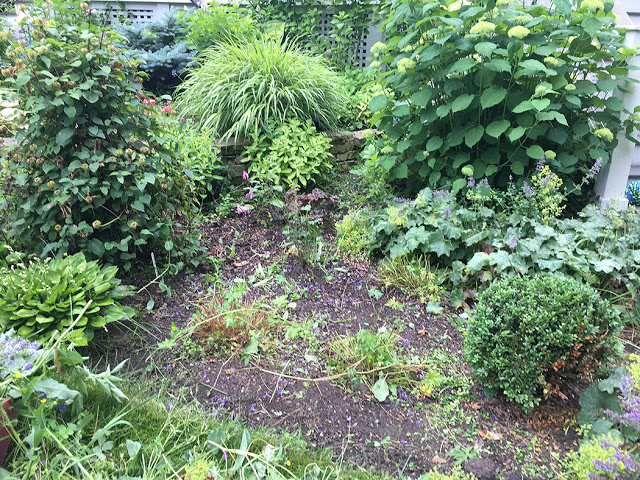 The messy bare patch left behind from cutting back the geraniums.
When I start whacking stuff back I generally just have at it and then clean up afterwards. Unfortunately the other night it was too dark by the time I was finished (since I have to garden after sundown) to come back and pick everything up and there was quite a mess to deal with in the morning.
The poppies, which I mostly let seed themselves, are going nuts. It's a bit unkempt but sometimes I like a little wildness in the garden.
The climbing rose 'Autumn Sunset' continues to put on a show. I'm very happy with it this year, just its second in the ground.
One of the clematis I planted in the trough container by the garage is 'Alba Luxurians'. It's new to me and I find it rather intriguing. The buds are tiny green dangling things that almost look like chrysalises, but they gradually open up to a small flower. The description said the flowers were white tipped with green, but so far they have a decidedly lavender look to them. Maybe they will change as they develop, or maybe the color is a factor of them not getting a ton of bright light. It's interesting to me, though.
I started pruning the boxwood by the garage and then stopped because I realized there was no way I was going to get it even with one eye, so I stopped mid-prune and it will have to look a little lopsided for awhile.
That's what's happening here. How's your garden looking right now?