Thank you to Ball Horticultural for partnering with me on this post. As always, all words, opinions and plant preferences are my own. 
I can't help but feel a bit like a kid in Willy Wonka's chocolate factory (a Charlie-type kid, not one of the bratty ones) when I get a peek at new plants before they are sent out into the world. It's exciting to see what plant breeders have come up with and plant hunters have found. 
New plants are sometimes improvements on existing plants, offering disease resistance, or more flowers or stiffer stems. Sometimes it's just a new color or a different size. New plants aren't always better, but they are definitely exciting.
I recently spent some time getting to know some of the new plants coming on the market next year from Ball Horticultural, one of the world's largest independently owned plant development companies. As I toured their display gardens at their West Chicago headquarters, I couldn't help but pick a few favorites that will be available next year. Feel free to start dreaming.
PETUNIA SURESHOT BLUEBERRIES AND CREAM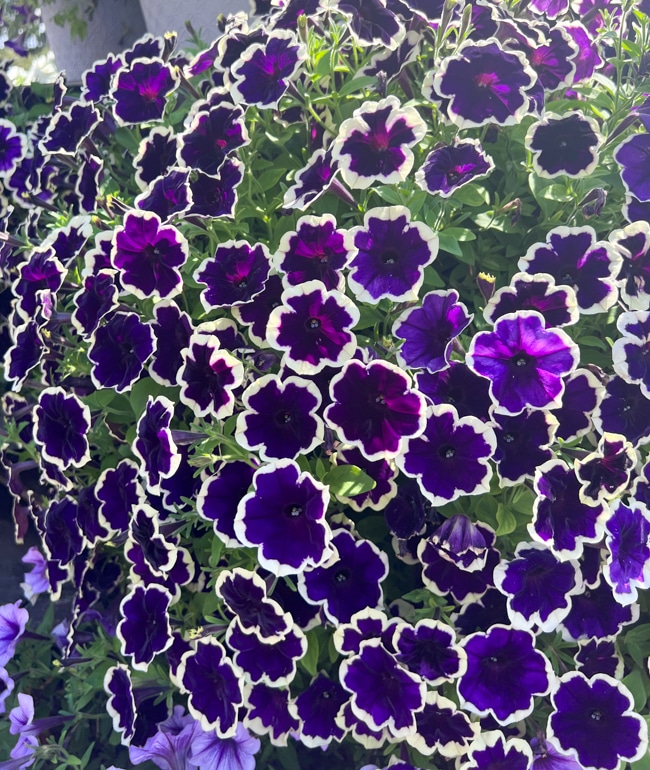 Congratulations to whoever was in charge of naming this new SureShot petunia, because it really does evoke blueberries and cream. The picotee edges of the flowers are a true cream, not white, which makes the color combo particularly pleasing. Unlike some multi-colored petunias, the cream edge appeared to be consistent on these flowers regardless of exposure. Sometimes flowers on the shady side of a plant lack good color, but that didn't appear to be the case with this plant. 
DOUBLE IMPATIENS GLIMMER SERIES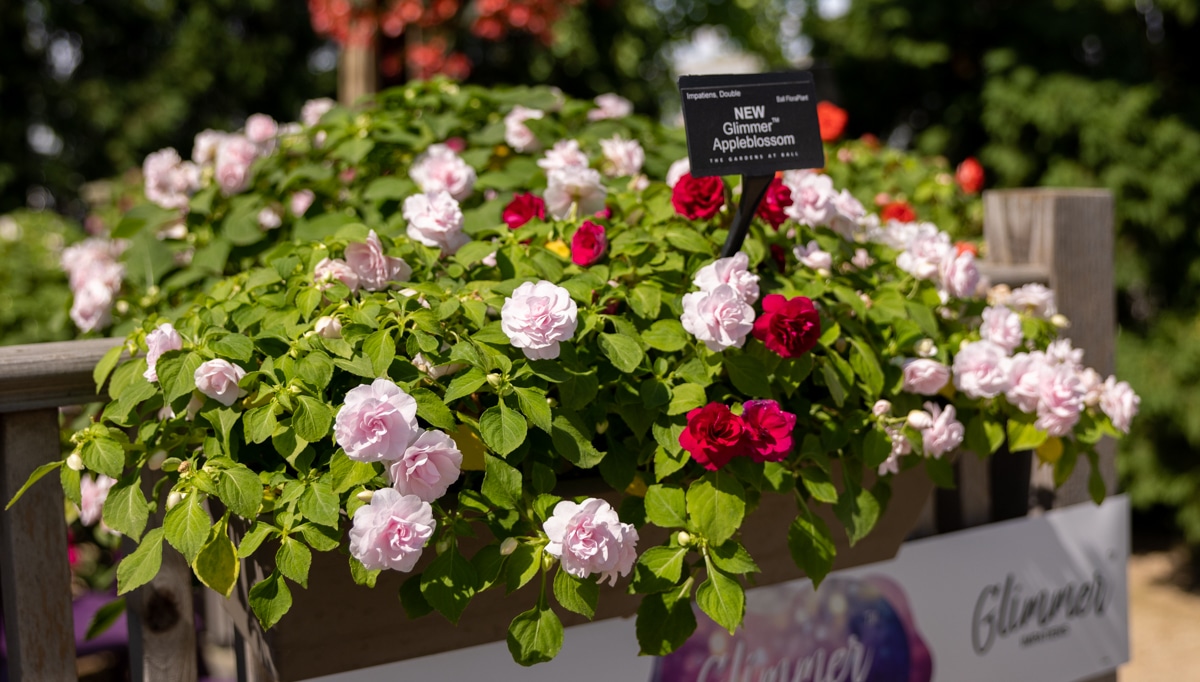 I'm going to go out on a limb here and predict that this new series of downy mildew-resistant impatiens called Glimmer Double Impatiens is going to be a huge hit. The flowers look like mini roses, which is fun, but now think about that growing in shade. There are seven colors in the series, but the soft pink Appleblossom is definitely going to win over hearts. They can be grown in part sun as well, but it will be fun to have this as a shade option. They'll grow 10 to 16 inches tall and about a foot wide.
ACHILLEA MILLENIFOLIA MILLY ROCK YELLOW TERRACOTTA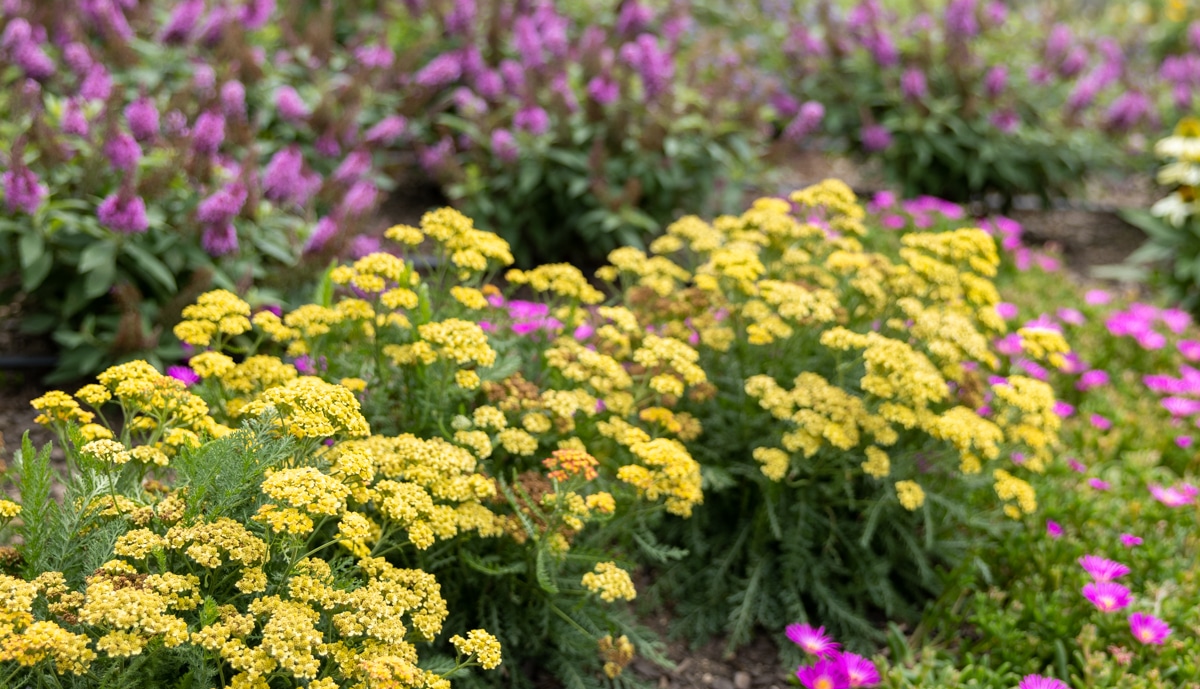 The No. 1 complaint I hear about Achillea (aka yarrow), is that it's too tall or it flops, and maybe both. But how would you feel about an Achillea for the front of the border? I feel very good about it.
Achillea millefolium Milly Rock Yellow Terracotta, which is hardy in zone 4 to 9, gets only about a foot tall. With a nice, mounding habit, it appears almost fully covered in flowers. Of course it has all the wonderful attributes of Achillea: deer and rabbit resistance, pollinator attraction and low maintenance. I really like this color combination, which fades to a great terracotta color. I'll be saving a spot for this one in my garden.
PEPPERS FROM HEAVEN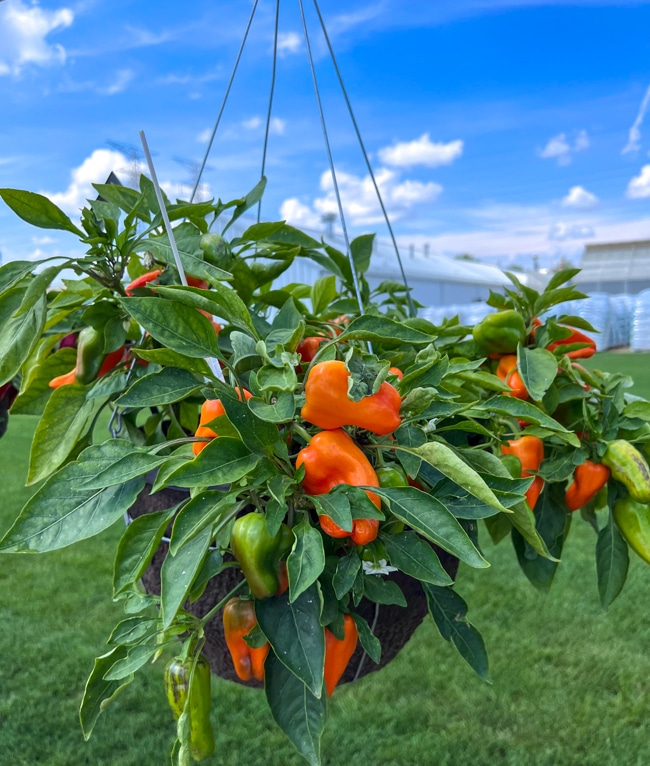 I already knew about the cute snacking peppers called Peppers from Heaven before I saw them growing in the Ball garden, because I received all three colors—red, orange and yellow—as trial plants. I'm growing them all in the trough planter by the back door but after seeing them growing in hanging baskets at Ball I think that might be a better way to grow them. They were so beautiful, certainly as ornamental as they are delicious.
These are sweet peppers, perfect for dipping, and the plants are small, but there's still a good harvest. I don't have great luck with sweet peppers in my not-very-hot climate and these have produced better for me than any other peppers that I've grown, even though the plants are a fraction of the size of a "normal" pepper. And because it's cute, it will be a great one for kids to get excited about.
SEDUM LITTLE SHINE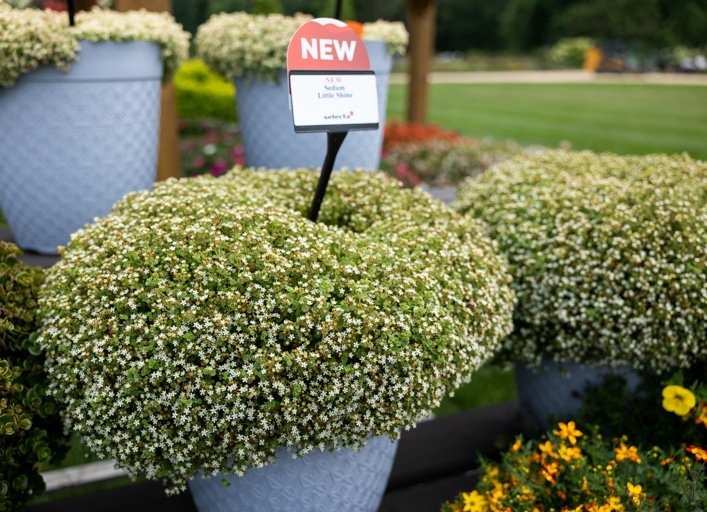 I spotted this little helmet-looking plant from a ways away. Its dense canopy of growth was irresistible and I needed to touch it immediately. Sedum Little Shine will trail out of a container or act as a groundcover, and will do it quickly. Its vigor is responsible for all that dense foliage that is covered in the cutest little star-shaped flowers. 
It is hardy down to zone 6, which makes overwintering it a stretch for me in zone 5, but I'm certain you could overwinter it inside in a pot.
RUDBECKIA AUGUST FOREST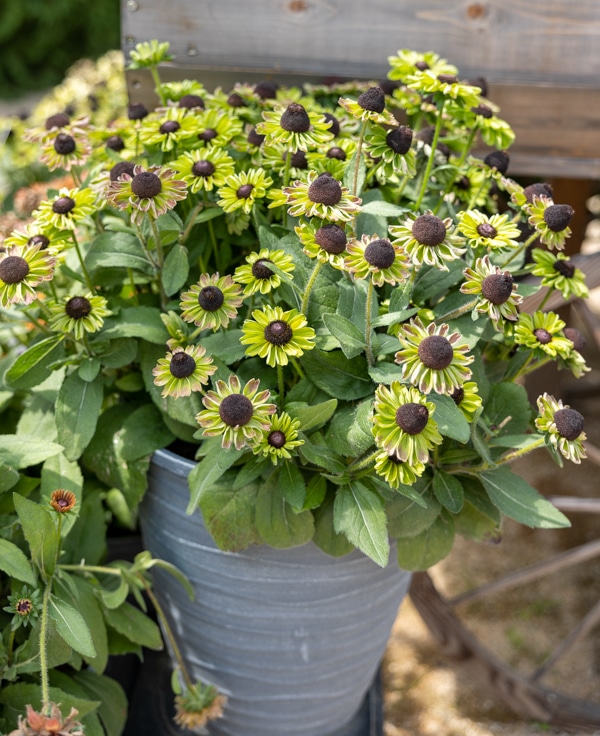 Maybe its the ever-so-slightly cooler days that have me half thinking about fall containers, but Rudbeckia August Forest caught my eye. You probably know by now that I am not a fan of fall mums (here's how I avoided them a couple years ago), so I'm always looking for interesting plants for fall containers, and this one is perfect. I love the greenish tinge to the petals on this Rudbeckia, which is hardy to zone 7 so it's an annual for me and that's just fine. As the flowers age, the tips turn a bit purple and of course those dark centers are just perfect. It's bushy and short—14 to 18 inches— and I'm dreaming of all the container combinations I could come up with for it.
TOMATO SUN DIPPER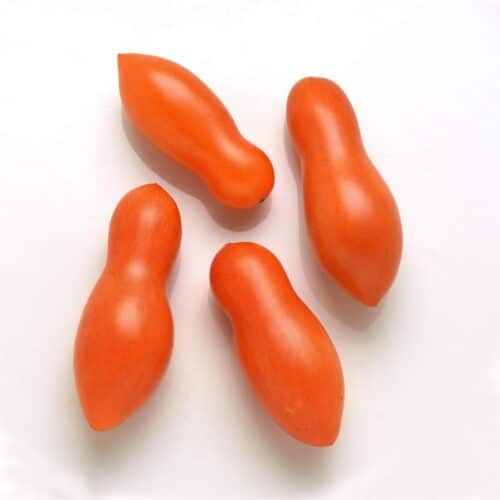 Adorable Sun Dipper tomato is another plant that I'm trialing this year, so, importantly, I know how it tastes, but I want to start with how it looks. The fruit gets to be a bit more than an inch long and has this bowling pin shape that is so interesting. It also happens to make the perfect little handle for dipping (in ranch if you're from the Midwest and probably something more exciting if you're not). It ripens to a deep orange—not red—and has fabulous flavor, not too acidic and not too sweet (honestly I really don't care for a tomato that's too sweet). I usually eat it in two bites and the skin has the perfect amount of give to it so you never get the exploding tomato effect.
It's indeterminate, which means it's a big plant and needs to be staked accordingly, but I'm rather enamored with it and I think I'll be adding it to my small tomato line-up for quite some time. It would be a hit with kids, too.
ANGELONIA ANGELDANCE BICOLOR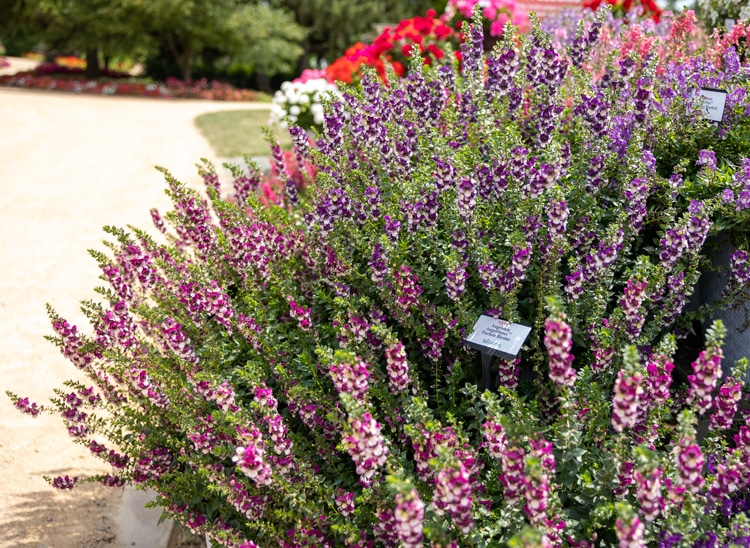 I was so impressed with two new bicolor Angelonia AngelDance varieties: Fuchsia Bicolor and Violet Bicolor. Not only were the bicolor flowers interesting and a bit different from your typical Angelonia, but this plant was a stunner. Its 18-inch stems were stiff and very upright and showed no signs of being stressed by some serious August heat (in fact, it thrives in those conditions). 
Give this baby full, hot sun and I think you've got a star on your hands.
BONUS (NOT NEW) PLANT I LOVE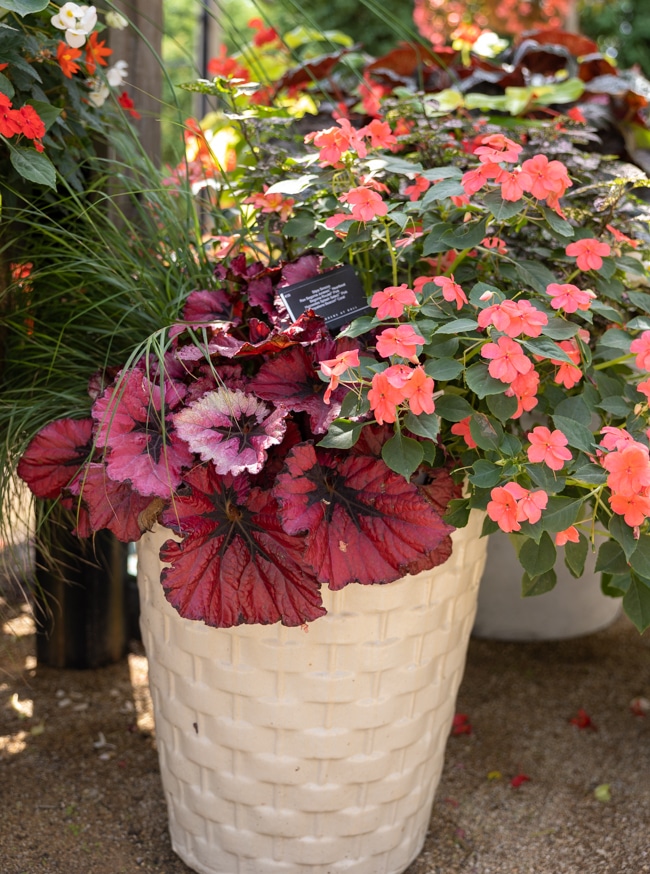 I couldn't resist throwing in one not-new plant because holy smokes were there some amazing rex begonias on display and I sort of fell in love with this one—Jurassic Heartbeat—and another called Jurassic Pink Splash. I think the photo speaks for itself, and I can think of so many great ways to use these rex begonias in containers. This container, which includes Impatiens Beacon Coral and Stipa Sirocco, is great inspiration.
Look for all of these plants in local garden centers and seed catalogs (for some) next year. 
So now the big question: Which one do you have to have (not that you're limited to one, of course)?