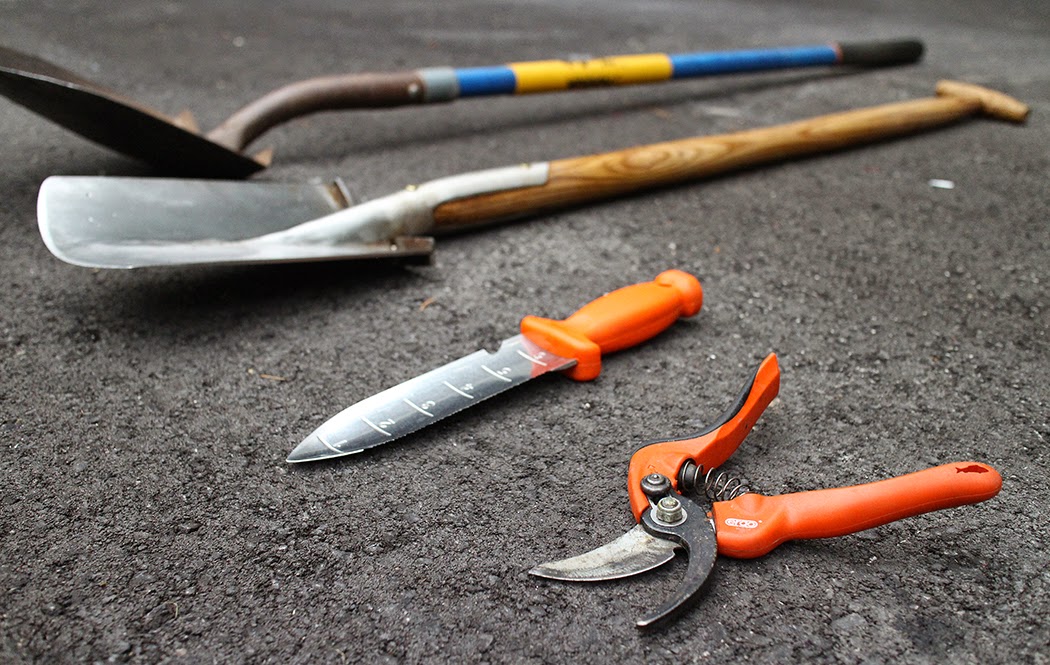 I love tools and gadgets and I'm always searching for the next great thing. There is such satisfaction that comes from having the right tool for that job. In my quest to have the right tool for every job, I have accumulated a shed full of tools, about half of which I ever use and maybe 10% of which I use frequently.
So I thought I'd share with you the tools I use for each job in the garden and I hope, at the end of this, you'll share your favorite tools me with.
As a quick aside, I want to say that every piece of equipment I'm talking about was purchased by me; nothing was supplied as a test or a trial. So I'm factoring in cost when I consider how much I like these tools.
I'm going to start with the tools I use the most. These are my core tools and the ones I use almost every time I'm in the garden.
1. BAHCO BYPASS PRUNERS
I know that Felco pruners are supposed to be the be-all and end-all of pruners for serious gardeners and I've seen gardeners nearly come to fistacuffs over which pruners are best. I have never tried Felcos, but I have a hard time thinking I'd like them better than my Bahcos.
The main reason I love these pruners is because they come in sizes and mine happen to be small. I never realized how fatigued my hands were getting from repeatedly opening a pruners that was too big for my grip until I got a set of pruners that was properly sized. I have had these $25 pruners for four years I think and while I'll likely ask for a new pair for Christmas, these will still serve as a good backup pair. I keep them oiled and sharpened and they do their job nicely.
It doesn't look like Bahco is making this specific pair in the small size anymore, but they do make a slightly nicer (and more expensive) version (the ergonomic PX-S2) in a small size. I've given these to both my mom and sister-in-law and they both swear by them. They are about $45 on Amazon and it's money I'd happily spend.
2. A.M. LEONARD DELUXE SOIL KNIFE
Earlier this year I wrote about my love of hori horis (aka soil knives) and mentioned that I was trying this one out this year and promised I would report back.
Well, I love it. It combines all of my favorite features of the various soil knives I've tried into one tool. I've not had to sharpen it yet, which is rather surprising, and just the other day I was cleanly and easily cutting back some spent stems when I didn't have my pruners on me.
It's about $22 from A.M. Leonard.
3. SNEEBOER LADIES SPADE
This is the newest addition to my gardening tool arsenal and the one I'm most enthusiastic about. I wanted to get a proper spade, something with a handle that was an appropriate length. I also sort of coveted a shiny stainless steel blade, something I'd read a lot about.
I found myself at Garden Tool Co.'s website, where they had several high-quality spades to choose from. Since I was completely flummoxed about which one I should get, I sent them an email and got an almost immediate reply from one of the owners, Blake. He went through the differences between the spades I was considering and then recommended that I go with the Ladies Spade. I'll admit, I was skeptical. Having only used very large shovels in the past, I thought I would get frustrated with a significantly smaller blade, but Blake pointed out that the theory is that you want to get maximum effectiveness without undo strain or tiring too quickly (I'm sure there is a bell curve for this).
And that's when I realized that buying a spade is just like buying a paddleboard paddle. When I researched what paddle to get for my paddleboard I spoke with a lot of people who knew a lot more than me about it. My thinking was, why wouldn't I get the biggest paddle they make? I'll move more water with it and go faster. But the experts explained to me that only the biggest and strongest paddlers get the biggest paddles (and this is why the come in different sizes, by the way). Most women use a smaller paddle. It still moves a lot of water, but it takes much less effort to paddle, so you tire less quickly and you don't hurt yourself in the process.
So I ended up with the Ladies Spade and it was love at first dig. It was a ton of money to spend on a spade but I really feel like this is one of those heirloom tools that I could have forever. Plus, it is a joy to use. It has great balance, the handle feels great and it has a step protector on the blade (a must for me).
I see that it is on sale right now for $112. I have no idea how long that sale lasts, but if I didn't already have one, I'd buy it without a second thought for that price.
As for the Garden Tool Co., Blake wrote back to me a few days after I received my spade and said I was welcome to exchange it for another if I didn't absolutely love it. That's the moment I fell equally in love with the company as I did with the spade.
4. FIBERGLASS HANDLE SHOVEL
I don't know what kind of shovel this is or where it came from (other than probably a random big-box store), but it's a workhorse. I don't use it as much anymore (and never for any digging since I got my Sneeboer spade) but it is good for moving mass quantities of material, such as a big pile of soil. We've had this one for at least six years after breaking several wood-handled shovels.
Those are the four tools I reach for the most. In the coming days, I'll show you what I use for edging, watering and pruning, but in the meantime, what's your favorite gardening tool?
Check out Part 2 (Pruners and rakes) and Part 3 (Weeding, edging, watering and wheelbarrows).