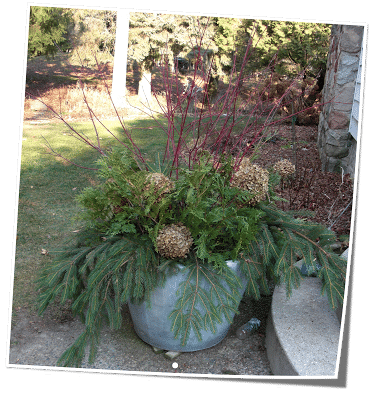 C hristmas, apparently, is right around the corner. Apparently even though I have calendars in front of my face constantly, that is a fact that has eluded me until this weekend. What really got me in gear was the threat of our first real snowfall, and I thought I had better get some decorations up, if they're going to go up.
Like the rest of the world, we're on a budget this year. So, especially on my outdoor decorating, which is done primarily for the residents of the house (since we're not planning on hosting any holiday parties this year), I'm on the hunt for budget-conscience decorations.
Here's two projects I whipped out Sunday in about 45 minutes for a grand total of ZERO dollars!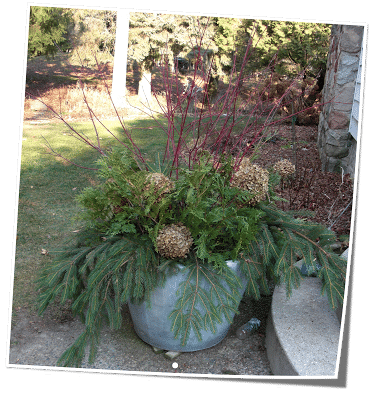 The first was just a little merrying up of the large fiberglass container that I leave out all year (don't try that with clay pots) by the front door. I waited a little long on this project, so the dirt was already frozen in there and I had to drill holes to get the greens stuck in. The red twig dogwood came from a field near my parents' house, and the rest of the greens were trimmed from our trees. It was looking a little boring so I stuck some dried hydrangea blossoms in there as well.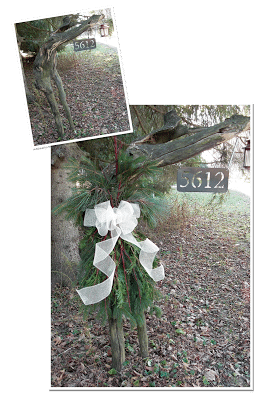 And here's the before and after of our little address post. I call it "The diver." Can you figure out why? Squint your eyes a little, and maybe that will help. I see two legs and a person with their arms over their head bending over to dive (like how you learn to dive as a kid). It's a driftwood find I snagged off the beach several years ago. It's not in great shape, so I know it won't last forever. The actual address plaque was made by my husband out of carbon fiber. I like the juxtaposition of the seriously rustic driftwood along with the super high-tech carbon fiber. The solar lantern at the end is something my husband added. I don't really like it, but hey … he lives here too!
Anyway, to give it some holiday flair, I just used the same greens I used in the pot and wired them together. Then I grabbed some net-like ribbon I found in the basement (red would have been better, but I seem to be all out of it!), made a bow and stuck it on there. I like how it turned out, and when it cost nothing but a little time, I definitely can't complain.