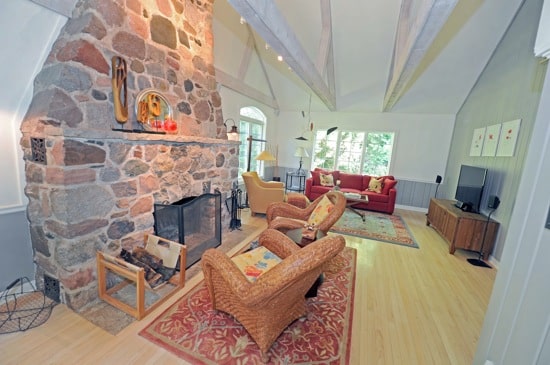 Slowly but surely the living room transformation from a warm modern French country feel to a more casual, slightly nautical feel has come together.
I showed you the new main seating area (our living room is long and narrow so we have three seating areas). I also showed you how I reupholstered the set of chairs by the game table over near the front door. In between those two areas is the fireplace.
We've had two Pottery Barn Malabar chairs there since we bought the house. PB stopped making those chairs after everyone in the world bought them and there was no one left who didn't own one. I don't care if they are ubiquitous, I still like them and they are one of the few wicker chairs on earth that is actually comfortable.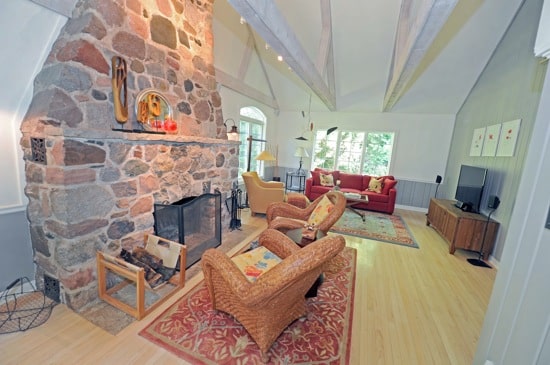 Here's what the living room has looked like for the last 10 years.
When I redid the main seating area of the living room I was hoping that the old rug in front of the fireplace would still work, but it quickly became obvious that was not the case. Fortunately I've found a good home for it (I really loved that rug) at my brother and sister-in-law's house. With all of the pattern happening between the striped rug and the navy chair and ottoman I was looking for a rug that was a solid color but with lots of texture to keep it from looking boring. Jute or sisal would be my first thought but our light floors rarely look good with natural fiber rugs. When I found this chunky braided wool rug (at rugsusa.com at a really nice price thanks to a good coupon) I loved that it picked up the off-white from the stripe of the main rug and reminded me a little of a fisherman's sweater.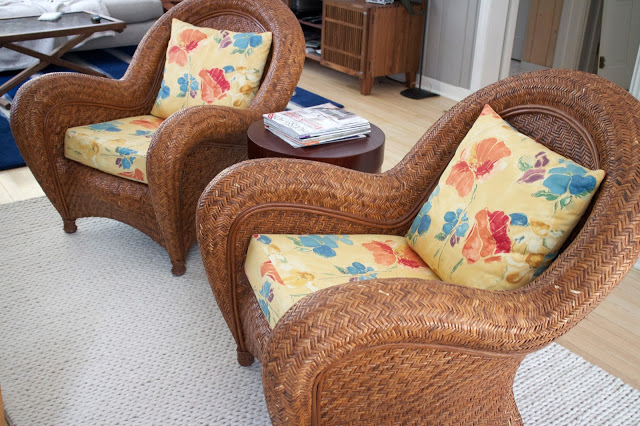 The chairs before with the great cushion covers my mom made for me, on top of the new braided rug. It just doesn't work.
So the rug was a keeper but then it became obvious that the yellow large-scale floral on the chair cushions wasn't going to work. That made me sad too because my mom made those covers for me out of leftover fabric from her family room couch and I still really like the pattern. Also, as you can imagine, even though I got pretty good deals on almost everything new in the room other than the sofa, the "budget" (I use that word loosely because I never really set an amount to spend on it) for this room was pretty much used up. Fortunately I remembered that I still had the original cotton canvas cushions that came with the chairs.
But off-white canvas on an off-white rug? Boring. So a little cushion sprucing up was called for.
I really liked the racing stripe pillows from Serena and Lily, but at $64 a pop, I wouldn't exactly call that budget-friendly.
I've painted a few strange things (including speakers and hinges), but I have never been really keen on painting fabric. But I couldn't possibly add another sewing project to my rapidly growing list of things that need to get done when I finally pull the sewing machine back out.
So paint it was. I sampled some fabric paint on a canvas drop cloth (I figured that was close to cotton canvas) but I hated how crispy it was. Plus I was not satisfied with the colors I could find in true fabric paint, so I bought acrylic craft paint that I mixed to a color I liked and fabric medium, which is sort of liquidy white stuff you mix with paint so it stays somewhat pliable on fabric and doesn't crack like a bad 1980s T-shirt.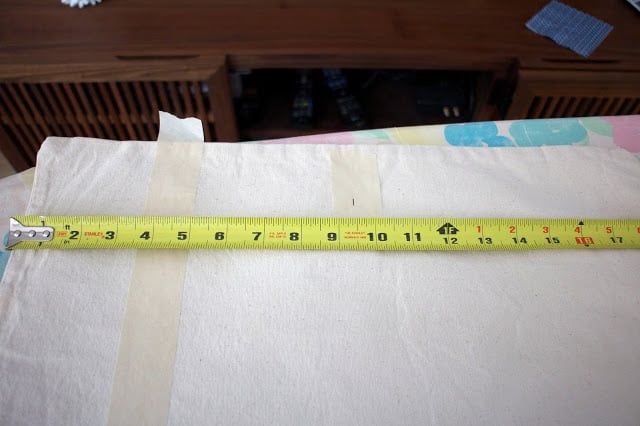 I marked the center of the pillow and then measured 4.5 inches on either side for a 9-inch stripe. Later on I got smarter and put a piece of tape vertically down the center and drew the centerline on it to make it easier to get the lines straight all the way down.
After washing and air-drying the covers just to make sure they were clear of any kind of coating that might keep the paint from sticking, I used 3M high-adhesion painter's tape and after I figured out how to keep the line straight and centered (the hardest part of the project by far), I used a flat wooden spoon to run over the edge to make sure it was really stuck down. For the most part the line stayed pretty crisp, but there was a little creep under the lines where I couldn't push it down as well, such as where the box cushion covers curved. You can't really see it unless you look very closely.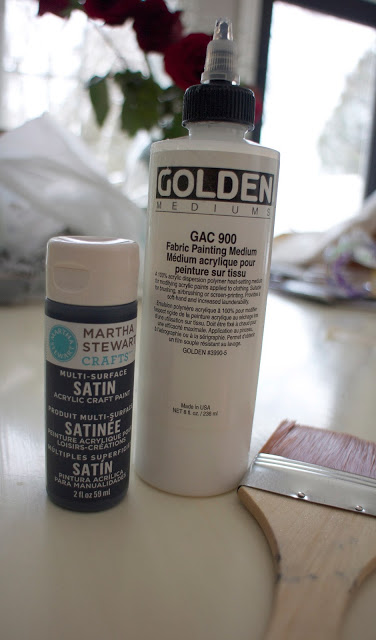 I mixed together three different colors of blue Martha Stewart craft paint to get a navy I liked, then followed the instructions on the fabric medium and mixed it in 1-to-1 with the paint.
Although I've read about a lot of people rolling paint on fabric, I used a broad cheap artist's brush I picked up in a three-pack at Michael's.
I let everything dry overnight just to be extra safe, then I just followed the directions on the back of the fabric medium bottle and ironed everything at medium for 3 to 5 minutes. To be extra sure that the color was set, I also threw the cushion covers in a hot dryer for about 15 minutes.
When I pulled them out of the dryer they were soft and you couldn't even tell that there was paint on the fabric, but as they cooled they stiffened up a little. If you run your fingers across the pillows you can tell its paint, but it's not an unpleasant crunchiness like I was worried about. And you can't tell at all when you sit in them.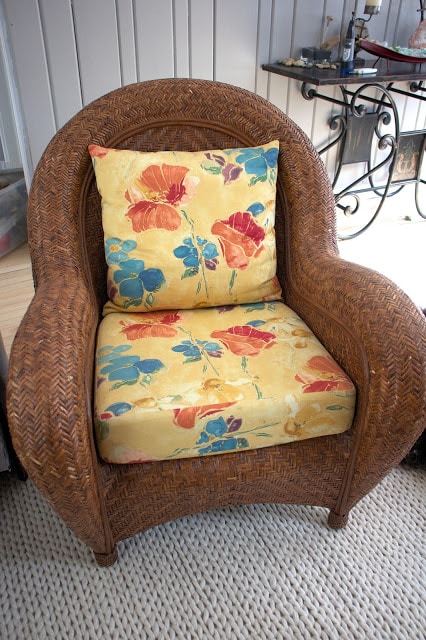 Before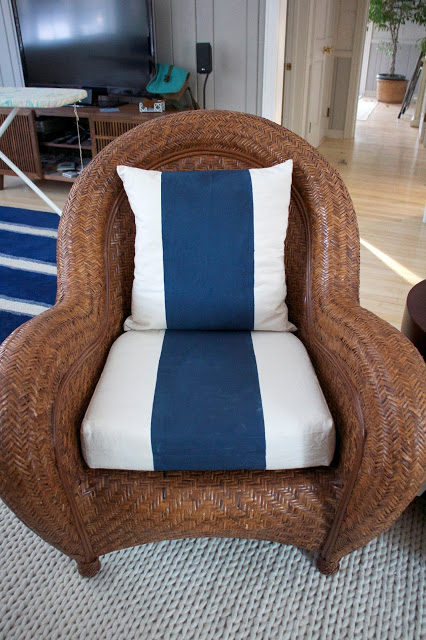 After (P.S. When am I going to learn to pick up the house before I start taking pictures? Yes I iron in the middle of my living room.)
All in all I'm really happy with how they turned out and even more happy that I was able to transform those chair for about $15 in supplies and maybe 90 minutes of work. Everything is looking a little too neutral to me now so I really need to get on my pillow making projects and get some pillows sewn for on those chairs (as well as a few others).
Have you ever painted fabric?