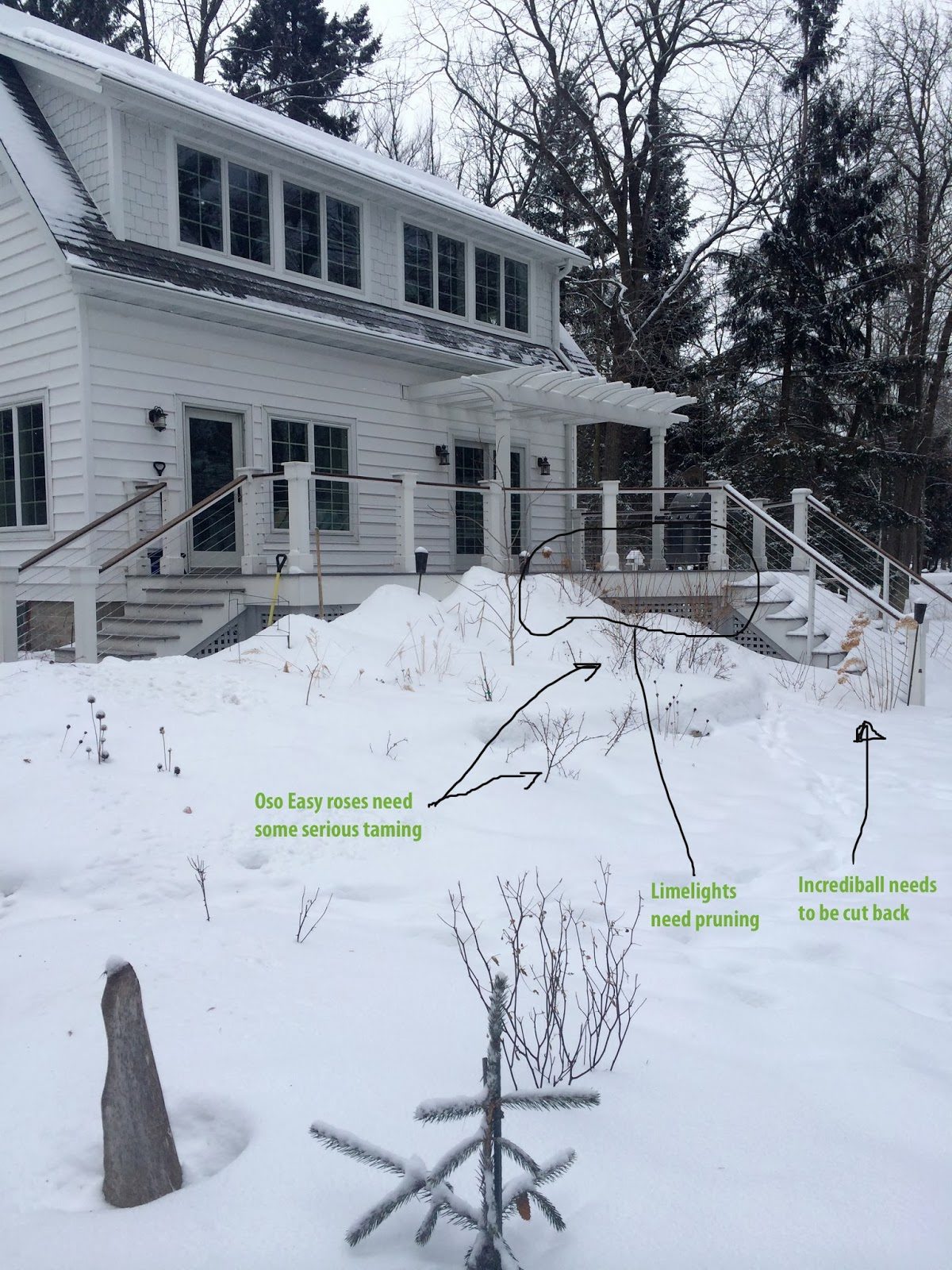 Don't forget, dear readers, that late winter is the best time to prune many shrubs (but not anything that blooms in spring).
I can't wait to do a bit of pruning for health, shape and size in my yard.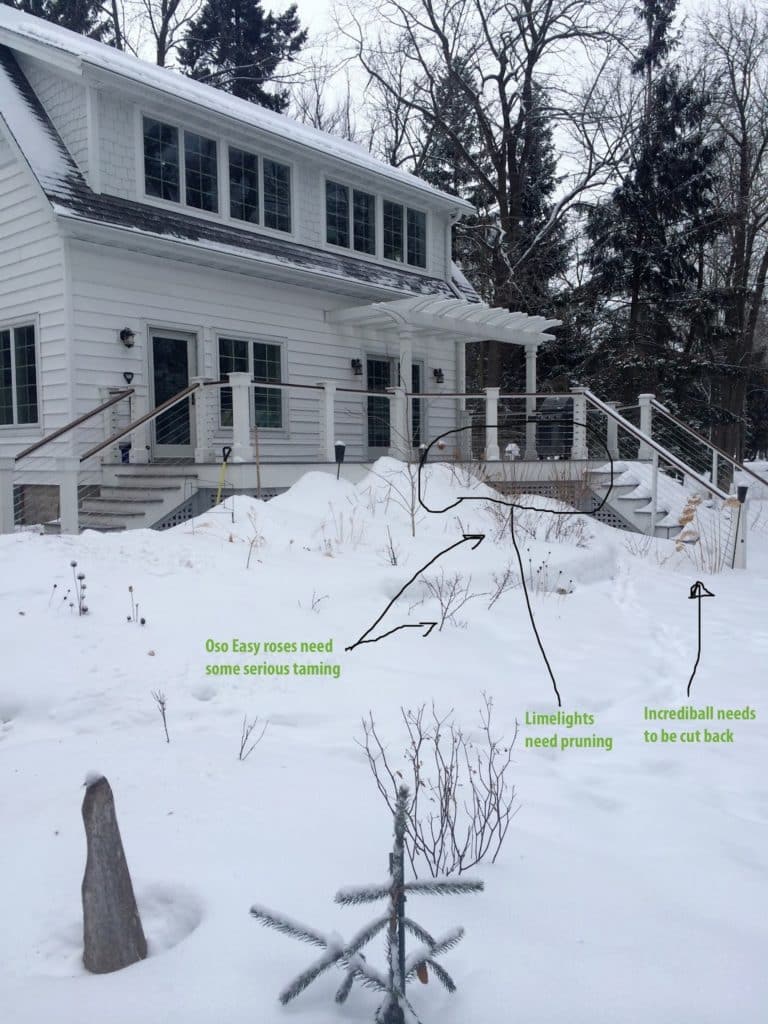 First off, that is not a black and white photo. Isn't that sad? The whole world is still shades of gray now. Even the sight of a brown lawn would be welcome at this point.
Secondly, you can see that unless I plan on digging out the shrubs prior to pruning them, there will be no pruning anytime soon.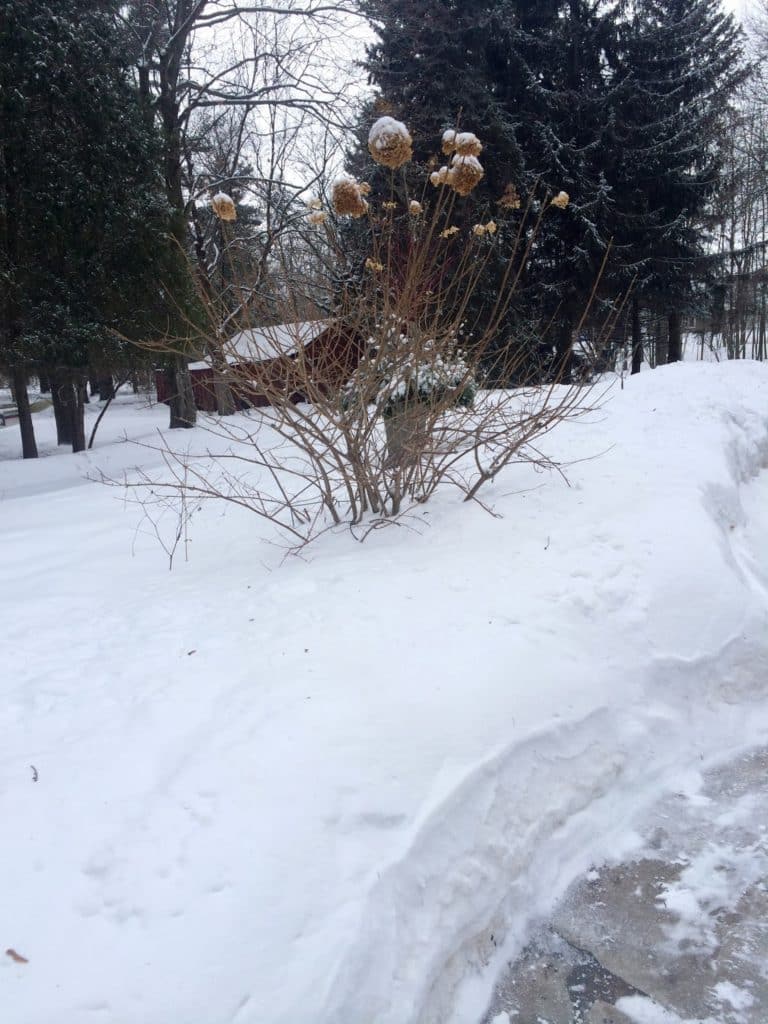 One of the shrubs that gets pruned every year just to control its size is this Limelight hydrangea. It's a give and take, though. A good pruning (remember the year I cut it all back?) helps keep the size in check (by the way, the better option here would have been to plant a shrub whose mature size was more appropriate for the location but at the time I had no idea that a Limelight in a sunny spot would grow quite so much) but reduces the amount of flowers you'll have that year.
I won't do anything so drastic to it this year, but I will try to follow the one-third rule. I'll take out no more (and probably less) of the oldest branches and do a small amount of pruning individual branches for shape as well as cutting it's height back by about a one-third.
I will do the same thing for most of the other hydrangeas I have which fall under the panicle (Limelights, Little Limes) type or the smooth (Incrediball, Invicibelle and Annabelle) type. The exception will be my old Annabelle on the northwest corner of the house which is generally a mess. That will cut cut back to about 18 inches because it needs a complete reboot after years of no pruning.
If you need more guidance on pruning hydrangeas (or when to prune other types of shrubs), check out Proven Winners pruning guide.
The other plants that are in serious need of pruning this year are my Oso Easy roses. I love these roses. Well, I love all roses, but I've had a difficult time with most of them. These Oso Easy roses (which I've found to be superior to the Knock Out roses) grow and flower like crazy. And they got way too crazy last year. By the end of summer they were huge (and still blooming) but had lost all sense of shape and the occasional thorny branch would reach out and try to grab passersby.
Those will wait until spring for their pruning, when I can clearly tell where there is dead wood that needs to be removed.
It's sort of a sad world when I'm so desperate to garden that I actually look forward to pruning, isn't it?
So what's it like where you are? Can you even find your garden yet?