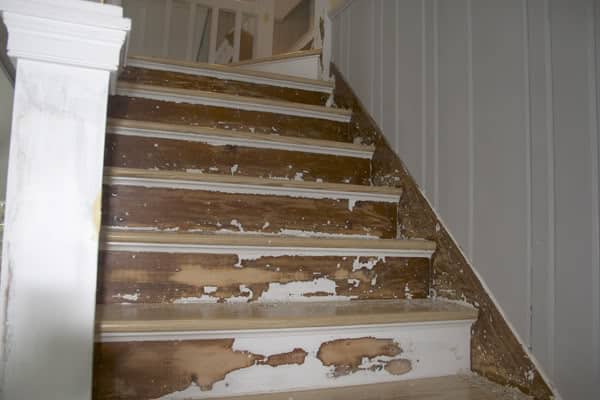 Like a lot of projects, painting the stairs is one of those that has gotten a lot worse before it can get better.
Let these pictures serve as a lesson. Any time you feel like skipping some prep steps in a painting project remember this:
Not exactly inviting you upstairs are they?
At some point in our house's history some previous owner decided they couldn't stand the dark finishes everywhere so they whipped out their paint brush and painted everything they could. For that, I thank them, because I'm not sure I could have seen the charm of the house if it weren't for that. Still, I'd like to find them and hunt them down and force them to come undo all their damage. Apparently they were so eager to paint that they skipped the whole sanding and priming process and just stuck paint over stain and polyurethane. And that was the last thing that stuck, because the paint certainly didn't.
The knots in the wood on the risers bled through the paint and looked nasty. If you kicked the riser on the way up the stairs (not an uncommon occurrence), paint would fall off. I made it worse by not checking what kind of paint was used on them and putting water-based paint over the oil paint right after we bought the house. So I decided if I was going to paint these stairs (which they badly needed after the trashing they took during the renovation), I was going to do it right.
And that meant removing all the loose paint–most of it — and sanding them thoroughly. So that's what I've been doing for awhile now.
The little paint flecks are from the paint scraper, but when I went in there with joint compound knife I was able to scrape sheets of paint off in some places. Let this be a lesson, kids: sand and prime before you paint!
After sanding, I spot primed the knots with Zynsser BIN shellac primer and I'll prime them all with Benjamin Moore's Fresh Start primer. This might go down as one of the most tedious projects I've done on the house, but I am looking forward to a beautifully painted staircase.