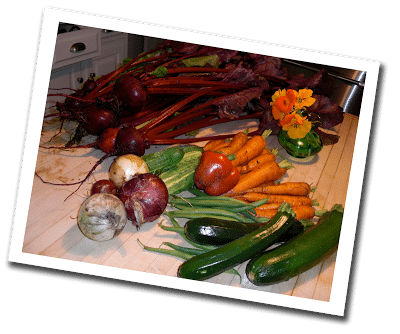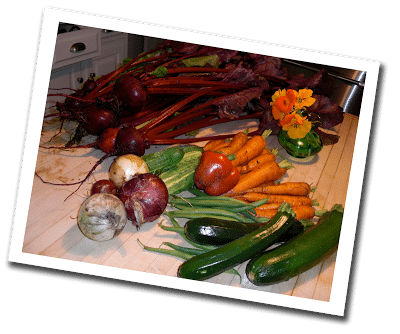 Since I was less than faithful about posting this summer (and trust me, it pains me to even think about refering to it in the past tense) I thought I'd just hit on a few highlights and lowlights of the season.
First off, the veggie garden: This was a hoot this year! Thanks to my new veggie garden, I really enjoyed growing veggies this year. It was so easy, since weeding was super simple and didn't require any bending over so that helped a ton. And even though there were a few times when I wished I had more space, it really produced the perfect amount of food for the two of us.
A quick review of my thoughts on the various stuff I planted:
– Onions (from Dixondale farms). Awesome. Great tasting, easy and fun to grow. Wish I could have planted many, many more. In the future I may consider a new, ground level bed specifically for onions and garlic since (hopefully) that should be safe from critters.
– The zucchini plant that tried to eat the world. I bought an heirloom variety called black beauty and that thing took over the world. When I finally pull it out I'm going to try to stretch it out and measure how long it is. It got so unruly (and I stupidly planted it right at the entrance to the garden) that I had to sacrifice my only pair of pantyhose to rein it back in. Let's hope I don't have to dress up anytime soon.
– Carrots. Eh. Oh sure, there's a great deal of satisfaction when you pull them out of the ground and they tasted great, but it's an awful lot of work for a small return. Maybe if I had a huge garden, but when space is at a premium, I think I'll pick up my carrots at the store.
– Peppers. I plants four or five plants. Way too many. The sweet bananas were the biggest success. I'll plant them again, but not as many.
– Peas. These took forever to get going and I was eating my first pea weeks after most people were done with their harvest. I'm not sure why, other than that we had unseasonably cold weather all year.
– Cucumbers. I planted the small kind for pickling. I don't make pickles, but I prefer the smaller ones. These were fun to grow (they hide on you!), but I'll try a different variety next year .. the seeds were too big, even when picked with they are small.
-Beets. I planted a mixture of different varieties: a red, a yellow and a "bullseye." They were great! I'd love to plant more in the future.
– Lettuce. All great. Can't get enough of it and this year I actually staggered it more or less properly to have a fresh batch on hand for most of the summer.
– Basil … not a great year. It was ok in the beginning, but then it sort of stalled. I think it was too crowded by other things.
– Tomatoes. And this is the sad part of this year's story. After all that work making a new garden, mostly for the tomatoes, I had the worst tomato year of my life. The two cherry tomatoes (Sungold and Black Cherry) that I put closer to the house produced a couple handfuls each and never really thrived. The six plants (all heirlooms) I put in the new veggie garden were largely a disaster. I read some about tomato/potato blight being found in Wisconsin so I'm wondering if that wasn't it (I really hope not). The leaves started dying, mostly from the bottom. I trimmed off any diseased looking areas. By the end of the season, it was most stems with tomatoes on them, and the tomatoes were starting to have something horrible happen to them too. I bought dirt for the bed, including compost, from reputable nurseries, so it's possible something came in the dirt, or there could have been something else. I think I maybe had 20 tomatoes.
I'm going to have to do my best to figure out the tomato situation and rearrange things for next year, but all told, I'm declaring the veggie garden a success!