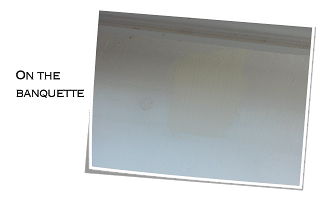 Is it possible to request your own intervention? Because I need it. Perhaps it has become clear through some of my posts, but I have a tendency to get hung up on things. Like REALLY hung up. Once I set my mind to solving some issue, I become obsessed with it. All free time is spent thinking about it, researching it, pondering on it and generally getting bored with myself for not being able to think about anything else.
This happened a couple months ago with lights for my kitchen. The lights I was obsessing over finally came and you know what? They are great, but they aren't like the holy grail of lights or anything like that. But that was one of those things where I scoured the Internet for weeks until I found something I liked, and then I kept looking to make sure I didn't like anything more. It also happens annually with Japanese maple trees.
So today's obsession, I'm sad to report, is one I'm revisiting. You'll recall my question for the "perfect" white (by the way … stop looking. It doesn't exist. A pretty good white or a usually good white is about as good as it's gonna get so save yourself some therapy and just use it) here. Thinking I had solved this earth-shattering mystery, I chose Benjamin Moore's Cotton Balls. Then I painted the back door with it (after buying a full gallon, of course). And when I was finished I stepped back and thought hmm … well that's quite bright, but I have grown tired of my current gray-undertoned trim and I figured it was just brightening things up. Then I painted the new banquette the same color. And wow, that was REALLY white. Like uncomfortably white.
But after all that work, was it so bad that I couldn't stand it? Not really, but it was just something I knew would bother me forever so better I deal with it now before I start hitting the trim in the house and eventually the cabinets.
And that's when it started getting really bad. The hours I've logged on the Internet searching for specific paint colors would be enough to get some sort of master's degree in color theory. I keep paint samples in my purse and took them ON VACATION. I notice white everywhere I go. Today I fought the urge to take my paint samples up to the trim of a random house I passed to see what what they used. My house is starting to resemble a patchwork quilt as I test colors all over (at last count I had them in four rooms, plus the stairwell and on a large piece of drywall). Larry, the paint guy at the local True Value store (my favorite store) that sells Benjamin Moore paint now knows my name and asked me today how the Bavarian Cream sample I bought Friday worked out. When I told him it was a bust even HE told me I was overthinking this white thing (the same thing my husband and mother told me earlier in the day). I have enough tester pints of different whites that when it comes time to paint my new closet (which will be the world's smallest walk-in closet, but probably will end up being the perfect white) I could put on 20 coats if I wanted to.
A few of the places I have samples of paint in my house (and this isn't all of them):
Part of my problem is that I'm way too influenced by other people's comments on color or by the name of colors. One color I'm considering is called Mascarpone but someone commented that it was "very creamy" and now I'm worried that it's too creamy. I looked for awhile at a color called Pointing by Farrow & Ball (which has no stores in my state) because so many people declared it "perfect" but then realized it's way more creamy than I want. Designer Sarah Richardson uses ICI Natural White in every house she does and I seriously almost just ordered a can of it because I figured it must be perfect. Well, I doubt it is. None of them are.
Even photos don't help. I'll look at a picture of a kitchen online or in a magazine and decide "it's perfect" then I find out what color was used and I realize I've already sampled that color and I don't like it. Whites are fickle: they photograph horribly and are entirely dependent on white and the other colors in the room.
What I want is a color that does not read as "cream" or "white white." When someone looks at it I want them to say "oh that's white" not "oh, I love your cream trim" even if they do. And it needs to look equally good in my light-filled, eastern-and-southern exposure kitchen as it does my rather dim living room.
I narrowed it down to two: Cloud White and Mascarpone. Cloud white seems not off-white enough and Mascarpone seems possibly too yellow. I jumped out of bed at 7 a.m. this morning as inspiration struck: I'll just mix them together and have the perfect color. And you know what, it might be perfect, or at least pretty good. And then my husband reminded me of how this journey all started: I wanted a "named" color so that I would never have to worry about keeping track of custom mix or about paints from different brands not matching (I'm planning to buy a higher quality paint for my cabinetry).
I might still try Sherwin Williams Dover White but unless inspiration strikes with that color, I'm thinking Mascarpone is the way to go. Maybe.